Full Glossary to Slot Game Terms
Slot Machine:
Slot Machine, also known as a fruit machine, is a casino game of chance. The game creates a chance for its customers to win prizes. The game consist of set of reels that are hovered by different types of symbols.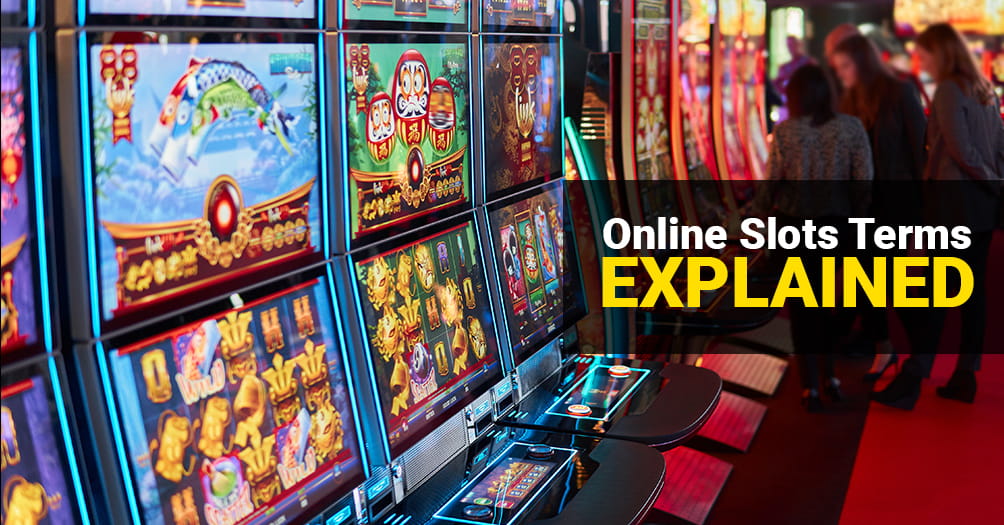 The slot machine games have seen a rapid growth in the recent times. Every time there is something new for the customers. The game has its own language which a player need to understand if he wants to master the game. There are particular slot machine terms that are incumbent for the player to apprehend for better experience of the game.
How Slot Machine Works:
In the slot machine, there is a slot in which one or more coins or tokens are dropped. Then there is a handle and a push button which is used to activate the reels which are one to three or more and are marked into horizontal segments and various symbols.
There is a cup or trough in which all the coins fall which is the pay off by the machine. But it mainly depends on how much symbols line up with the rolling reels that stop in the end. Symbols are different pictures that include stars, numbers, bars and various fruits including oranges, lemons, watermelons, plums and cherries. The words like jackpot and bar are also used as symbols.
Further, bonus wining options are also available in the slot machine games. One can win bonus by fulfilling certain conditions. There is a separate bonus policy in which different terms and conditions exist for slot machine game. For this purpose you need to understand slot bonus terms which will help you to comply with the bonus policies and win a bonus prize.
How to Play Slot Game:
To play a slot game here we are describing a guideline. You can follow this guideline. Even though if you are a beginner the following guideline will be helpful for you.
First you need to choose an online slot machine of your own liking and you can open it in any device you want to use. You will see that your screen is filled up with the reels. There will be buttons like "spin" and 'max bet'.
Secondly, take a careful look at the pay table of the game. The pay table of the game will let you know about the cost of each symbol.
In the next step, choose your amount you want to bet from the pay line. You can press 'max bet' button if you want to use all the pay lines at once.
Fourthly, press the button of 'spin' to spin the reels. Once you win the game you will be able to see your winnings on the screen. This will also allow you to play in gamble and win bigger prizes.
Lastly and most importantly, you can continue spinning reels as long as you want but be careful and keep an eye on the bankroll.
As there are various slot game terms, therefore here we are describing the glossary of the most common online slot terms that will allow you to understand the game and will enhance your interest.
Glossary
3-Reel:
It is a common online slot that contains three reels with three symbol rows.
5-Reel:
5 reel is an online slot that contains five reels with three to four symbol rows.
Action:
A slot action means that the total time a gambler plays the game during the complete session.
Annuity Winner:
Annuity winner states that one can collect all one's winnings at once when a yearly slot machine jackpot is offered, but for this purpose there is a specific amount of tax to be paid.
Basic Slots:
Basic slots are also known as straight slots. These are the slot machines that contain only one payline and a static jackpot. The amount of the jackpot does not change as seen in progressive jackpot,
Bet-Max:
Bet max is a button that can be seen on the screen of the slot machine. By pressing this button a player can select an amount which he wants to bet per spin.
Bet-One:
Bet one means that the player can bet only one credit per spin of the slot machine. It does not allow the player to select maximum credit per spin.
Cashback:
Cashbacks are basically the rewards that are provided to slots club card players.
Coin In:
Coin in are basically the number of units which are played.
Coin Out:
Coin out are the number units that are won.
Coin:
Coins in slots can be selected from penny to five dollars or more.
Comps:
Casinos reward with free rooms, meals and other gifts in the amount of slot machine to the slot players who become member of a slot club.
Doubles:
When two or three symbols on a slot machine come up at a time then double or triple amount is won.
Fixed-Value Slots:
In fixed-value slots, one cannot change the betting amount and the coin size.
Five Liner:
In five liner slot machine players can win five payout lines. It contains only three reels but five payouts can be won.
Games per Hour:
On a standard coin operated slot machine, players generally can play five hundred games per hour. But games per hour can vary depending on the slot machines and player.
Hit and Run:
Hit and run states that a slot player plays a single pay line slot for max credit and bets for few spins and if the machine does not payout any credit he can move to the other slot machine.
Instant Winner:
An instant winner is on the spot jackpot winner which means that he can win the jackpot at once without any delay.
Jackpot:
A jackpot in slot machine is the highest amount of prize that a slot machine can payout.
Loose Slots:
Loose slot refers that how often a particular slot pays out.
Multi-line Bonus Slot Machine:
A multi-line bonus slot machine offers more than one payline and sometimes can give fifty paylines.
One Armed Bandit:
One armed bandit refers to slot players slang for a slot machine.
Payline:
Payline refers to is the line where winning combinations of the slot machine must land in for the payout.
Reels:
Reels are the disks that contain symbols on them and spin inside the window of the slot machine. Matching of the symbols leads slot player to win.
Spin:
Spin button or the liver at the side of the slot machine turns on the spinning of the reels which determine if you win or not.
Symbols:
Symbols are different shapes and pictures on the reels that can include different numbers, words and pictures of different fruits.
Three Liner:
In three liner slot machine there are three reels and players must line up with three identical symbols to win the prize.
Video Slots:
Video slots do not contain physical reels inside them. Rather there is a computer program that run the computer screen.
Well:
At the bottom of the slot machine there is a bin that picks up the coins when a player cashes out.
Zig Zag:
Zig zag is line that does not go straight on the screen. This line can be created on multi-line payout slot machines.
These are some of the most common terms of the slot machine games which we have tried to define here. For the better understanding of the game and more winnings one must take a deep look of these terms and these would definitely help you out.
Our Most Popular Slots Articles