Howard Andrew, the Longest-Serving Player at WSOP, Dies
January 30, 2021
Scott Bowen
Just a few days ago, Howard Tahoe Andrew, a legend within the World Series of Poker, passed away at age 86, as he played it continuously from 1974 to 2018.
Andrew was a stalwart in the world of poker, in fact, along with Doyle Brunson, they were the longest-running veterans who remained as regulars of live poker in the United States.
More About Howard Tahoe Andrew Career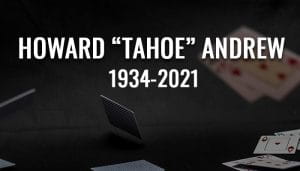 Tahoe began his career at the age of 21 and since then has accumulated earnings, according to The Hendon Mob, of $ 1,505,000 only in face-to-face tournaments from 1976 to the date of his death. The database also indicates that he has won numerous tournaments each year since 1986, a testament to his longevity, durability, and passion for the game.
The math graduate won two WSOP gold bracelets in 1976 on consecutive days. First, he won 1st: the US $ 1,000 No-Limit Hold'em for US $ 28K, and the next day he won 2nd; the US $ 25K NLH for the US $ 24,000.
ITM last I got came just before the pandemic put in check live tournaments when got min-cash in Event # 8 Circuit Thunder Valley of the WSOP 2020: Monster Stack.
Poker World Players Share Tahoe Stories
He won two WSOP bracelets and participated in the main event for 45 consecutive years: at the age of 86, Howard Andrew passed away. Won two WSOP bracelets and holds the main event attendance record, Howard "Tahoe" Andrew has died at the age of 86.
Andrew has further etched his name into the poker history books for his immense longevity, playing in every WSOP $ 10,000 buy-in no-limit hold 'em main event since 1974-2018 and a 45-year consecutive record. His best performance in big dance was eighth place in 1984 for $ 26,400.
The mixture of Howard Andrew's long life in poker and his willingness to travel over the years has brought him to touch the lives of lots of dealers and poker players. A fact is proven by those who have expressed and shared their condolences and memories on social networks.
Linda Johnson wrote that Tahoe was truly a legend in the world of poker and he was the one who built the trust and confidence within the sector. According to her, he was a very nice person and she has shared some great memories with him.
According to Dan Ross, a poker media journalist, Tahoe was one of his beloved people in the poker world. They spent a long time with each other at competitions the past 5-6 years. He never wishes to be at his Omaha table.
"This makes me sad. I have played with him so many times and have always kept a wonderful behavior and custodian of a large amount of poker history as he did so alone. I will miss you Tahoe" – stated Lon McEarchern, the commentator of WSOP.
Howard Tahoe Andrew remains to be one of the most prominent figures in the poker world.