Blackstone Sells Cosmopolitan of Las Vegas for $1.625 Billion
October 11, 2021
John Isaac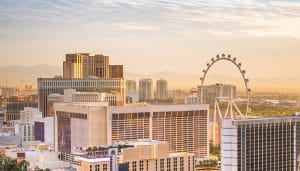 Blackstone announced the sale of The Cosmopolitan of Las Vegas for a total of $ 5.65 billion. MGM Resorts International will purchase the resort (and casino) operations for $ 1.63 billion. And will then sign a long-term leasing agreement with the consortium consisting of Stonepeak Partners, Cherng Family Trust, and Blackstone Real Estate Income Trust, which instead will take over the properties. Blackstone acquired The Cosmopolitan from Deutsche Bank in 2014 for $ 1.73 billion and, Reuters points out, had subsequently invested $ 500 million in improvements, including renovating nearly 3,000 rooms and adding new restaurants and bars. Blackstone closed a 1.53% decline on Monday on the NYSE against a 1.03% gain from MGM Resorts.
MGM Resorts Buys the Cosmopolitan Hotel
MGM Resorts takes a big hit by buying the Cosmopolitan hotel in Las Vegas for $5.6 billion. The agreement with The Blackstone Group will finalize next year. The MGM already owns some of the largest casinos in Las Vegas. The purchase price represents a multiple of approximately eight times earnings before interest, taxes, depreciation, and amortization (EBITDA).
With the deal, MGM will buy the resort itself for $1.625 billion. The rest of the $5.6 billion is in underlying real estate. That then sold to a group of investors, including an investment fund of The Blackstone Group. The Las Vegas Review-Journal reported a few days ago. It was previously known that Cosmopolitan was for sale for $5 billion.
MGM Resorts and Cosmopolitan Casino
The deal is expected to be completed by mid-2022. Then there is a lease agreement for MGM Resorts to rent Cosmopolitan for 30 years. That is initially at an annual cost of $200 million, with an increase of two percent. After that, it increases by two percent annually, or with the consumer price index (maximum three percent).
Cosmopolitan has just over 3,000 rooms, a 110,000 square-foot casino, 26 F&B outlets, a 3,200-seat theater, a Marquee nightclub, 243,000 square feet of meeting space, 21,000 square feet of leased retail space, and 40,000 square feet of retail space, spa, and fitness facilities.
The hotel Cosmopolitan has been around for a little over ten year after the Blackstone Group bought it for $1.7 billion in 2014 and invested another half a billion dollars in it. As a result, it is now equipped with every luxury. And the hotel has almost 3,000 rooms to spend the night in.
The Cosmopolitan is conveniently located for MGM. It is perfectly located near their major casinos. Think, for example, of the Aria Resort and its own MGM Grand Casino. They both belong on the list of the largest casinos in Las Vegas.
Even before the takeover of The Cosmopolitan, MGM Resorts was already a strong player. The American company has been known for years as one of the largest gambling companies in the world. Only a handful of other parties, including Evolution Gaming and Las Vegas Sands, are even bigger.
The Cosmopolitan opened in December 2010 and has undergone significant capital improvements since Blackstone acquired the property in 2014. According to Jonathan Halkyard, CFO of MGM Resorts, these improvements have made the business particularly attractive.