George Papanier's Twin River Worldwide Holdings Incorporated to Acquire Illinois Casino Worth $120M
October 19, 2020
John Isaac
The Twin River Worldwide Holdings Incorporated recently announced to acquire the Jumer's Casino and Hotel by paying almost $120 million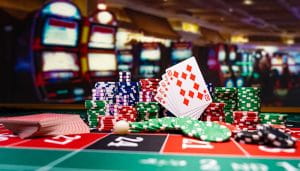 American casino operator Twin River Worldwide Holdings Incorporated in Thursday press release, declared that the western Illinois facility is currently a property of Delaware North Companies Gaming and Entertainment Incorporated but is soon expected to change the ownership by the end of June after few formalities and approvals and other customary closing conditions' and customary working capital adjustments.
All the Details about the Facility
According to the Twin River Worldwide Holdings Incorporated the property contains a 205-room hotel with eleven luxury suites. The 40,000 sq ft casino offers almost 870 slots and 25 gaming tables. It is further accompanied with an events center, 4 restaurants as well as a nightclub.
The president and CEO of Twin River Worldwide Holdings Incorporated, George Papanier stated in the press conference that the transaction for Illinois facility will be made by cash on hand and will advance his firm's 'ongoing portfolio diversification strategy' by providing instant access to the fascinating Illinois gaming market.
George Papanier stated, "This acquisition further expands our geographic reach into yet another attractive market. It provides access to a growing gaming market in Illinois with the potential to capitalize on lucrative sports betting opportunities. We look forward to the opportunity to leverage our operational expertise and proven integration approach to drive incremental revenues and cash flow improvements."
The Twin River Worldwide Holdings Incorporated Has Been Expanding its Venues in the Last Period
The Twin River Worldwide Holdings Incorporated at the moment has nine casinos in various states around the US.
The New York-listed Twin River Worldwide Holdings Incorporated had previously acquired Colorado's Golden Gates Casino, Golden Gulch Casino, and Mardi Gras Casino venues. Interestingly, they are soon planning to make the same thing with the operational Eldorado Resort Casino Shreveport, Spa Lake Tahoe, Montbleu Resort Casino, and 1,251-room Bally's Atlantic City properties.
According to the George Papanier, over the past few years, they have been successfully showed the ability to acquire the casino assets. George Papanier stated that they believe that current experience will provide value to their overall growth as they look forward to increasing their financial performance of Jumer's Casino and Hotel.
He stated that they are confident that there is an opportunity to make some improvements in operations and enhance revenues at the property as it will allow them to lower the acquisition multiple. Papanier further explained that they have preferred to operate with lover leverage and high level of liquidity in order to remain flexible to consider opportunities that are attractive to shareholders and match their requirements for expanding their portfolio of properties.
The transaction is expected to close in the 2021 second quarter. At the moment the casino industry as many other industries is facing a major crisis due to the lockdown that took place in March after the World Health Organization declared COVID-19 for pandemic.