Jackpocket Announced Partnership with The New York Jets as Official Digital Lottery Courier
September 29, 2021
Jessica Whitehouse
Jackpocket and the New York Jets of the National Football League announced a long-term partnership on Thursday to make Jackpocket the official lottery courier service.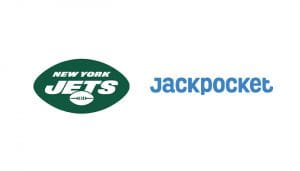 With the start of the 2021 National Football League regular season, Jackpocket offers gamblers a new possibility to enjoy the lottery. According to a 2020 YouGov survey, over 20% of Jets lovers using the lottery every week. And the number of digital lottery winners growing 387.1% over the past year. It is a turning point for such an association.
According to Jackpocket CEO Peter Sullivan, being the 1st sponsor of the National Football League digital lottery, Jackpocket is pleased to associate with the New York Jets. 87% of Jets members live in New Jersey or New York, so they are delighted to bring this loyal fanbase a new way to give away grand prizes from their mobiles.
Due to this partnership, New York Jets users and pocket users will get tickets on their mobile app, MetLife Stadium game day assets, and prizes, and VIP gaming events including free tickets to games, and more.
Through this collaboration, Jackpocket will integrate with multiple Jets channels. It includes paid promotion, social media, website, and email. The official Jets mobile app features a Jackpocket scratch card that enables 360-degree connectivity between the 2 mobile platforms.
"We are excited to bring Jets fans more experiences and opportunities through our partnership with Jackpocket," said Jeff Fernandez, Vice President, Business Development & Ventures for the New York Jets. "From unique content to on-field experiences, we look forward to everything this partnership can offer our fans" – said the vice president Jeff Fernandez.
Started in New Jersey in December 2019 and New York in January this year, Jackpocket has enjoyed memorable achievements in both marketplaces. The application offers a safe method to obtain official Mega Millions, Cash4Life, and Powerball tickets. Jackpocket users have gained almost $ 65 million in prize draws to date. It includes five users who have got awards of $ 1 million or more.
About Jackpocket
Jackpockets' purpose is to build an easier, more fun, and effective method to use the lottery. Jackpocket is the first lottery application licensed in the USA to offer a "simple and safe" process to get lottery tickets. Jackpocket's services are at the moment available in New York, Washington DC, Oregon, Arkansas, Minnesota, Ohio, Texas, New Jersey, New Hampshire, and Colorado, and is entering many new marketplaces.  
About New York Jets
The New York Jets was established in 1959, one of the initial members of the AFL. The New York Jets beat the NFL's Baltimore Colts and won Super Bowl III in 1969. In 1970, New York Jets became members of the NFL in the famous union of the NFL and the AFL, which laid the basis for the current league.
Along with promise to follows through with modification and expertise, the company has launched actions such as the groundbreaking Jets Rewards plan, Jets 360 Productions, a cutting-edge mobile app, a platform for teams through all digital platforms. The company prides itself on its longstanding dedication to its fans throughout the year.
Sponsored by the New York Jets, these programs are designed to truly change the way of living of young women and men in the Tristate area, especially in underserved communities.