NCAA Gambling One Step Closer as PointsBet Agrees Deal with College
November 17, 2020
Matt Speakman
The University of Colorado (CU) took a bold step into the world of NCAA gambling this September after signing a $1.62M deal with Australia-based sportsbook PointsBet. As part of the agreement, the bookmaker will advertise betting markets during CU games in the next five years.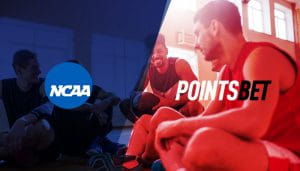 States throughout the US have been legalizing sports betting since 2018. But the NCAA has always been against sports betting in colleges. It was against the industry before the Supreme Court Struck off PASPA. And it has remained anti-betting to date.
In fact, the Atlantic Coast Conference, an arm of the NCAA, recently requested congress to ban college sports betting at a federal level. So, why did the University of Colorado partner with a betting company?
Tax Relief
According to Bloomberg, the University of Colorado won't pay taxes for money received in its deal with PointsBet. This has something to do with the language used in their agreement. The pact is enshrouded with neutral advertising language—and NCAA colleges aren't taxed for income from sports sponsorships.
With that in mind, no other college has signed such a large pact. Still, the deal could motivate more colleges to partner with sportsbooks. It might not be a priority for many universities in these COVID-19 times.
But sooner rather than later, colleges will take offers from betting companies. After all, they don't have to pay taxes if they claim it is money from advertising. Case in point: The University of Colorado paid just $1231 in taxes in 2018 out of the money it made through adverts.
Financial Boost
The University of Colorado says that seeking financial boost to ease the impact of COVID-19 was one of the reasons it partnered with PointsBet. And in all fairness, many NCAA colleges have been hurting financially this year.
For starters, they canceled March Madness games—the time they profit the most from sports—and also fall sports. The explanation was to help fight the spread of COVID-19. These tough decisions dealt a blow to their budgets.
Some colleges might side with the Athletics Association on banning NCAA gambling. But if their financial budget worsens, there's a chance more college will follow Colorado's lead.
Saving Jobs
Without money flowing into NCAA colleges, they will need to make layoffs. But universities can diversify their income sources with betting deals, they could help save some jobs. And in that sense, striking deals with sportsbooks will be worth it.
Importantly, these deals provide more than just money. Precisely, PointsBet will also help prepare student athletes for careers beyond their playing days.
More Investment into College Sports
College sports are big business in the country. In the 2018/19 season, the University of Colorado spent $98.4M on athletics. Most of the money went towards paying coaching staff, maintaining facilities and organizing games.
Many NCAA colleges also invest some of their sports money into academic programs. So, when finances dwindle, it's not just athletics departments that suffer. Varsity programs also experience declines in funding.
A case in point is Stanford University, which got rid of eleven programs because it couldn't fund them appropriately. Stanford cited COVID-19 "hard realities" as a major reason why it had to make the unusual decision.
Gateway to more Lucrative Deals
Although Colorado's pact with PointsBet is the biggest in college, it's no match for NFL betting and baseball or basketball. The Major Leagues make billions of dollars through partnerships with betting companies.
For example, the NFL made $1.47B through sponsorships on 21 teams in 2019. The NFL also provides exclusive player data to sportsbooks. According to analysts, colleges aren't far from earning better deals from bookmakers.
When colleges begin to share player data with bookies, more money will flow in. Additionally, competition will drive betting companies to spend more money to top-level colleges. Precisely, there have been deals between colleges and sportsbooks in the past.
William Hill is the most well-known example. The British bookmaker signed a small pact with the University of Nevada in 2017. But it wasn't publicized due to its size. With online gambling in the USA still in its infancy, it is only a mater of time before these deals become more common.
It Doesn't Undermine Sports Integrity
The NCAA's opposition to sports betting is based on sports integrity. Can allowing sports betting encourage athletes to engage in match fixing? But as Colorado proved with its latest deal, not every university agrees with the NCAA.
Advertising agreements that help colleges supplement their budgets don't influence sports integrity in anyway. And due to that, it's going to be difficult for cash-starved colleges to reject advertising money from sportsbooks.