UKGC Establishes Partnership with Facebook to Protect Problem Gamblers
October 7, 2020
John Isaac
The UK Gambling Commission (UKGC) has established a partnership with Facebook to eliminate gambling-related content displayed to people vulnerable to gambling.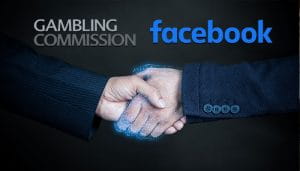 Facebook and the UKGC have established guidelines under the agreement they signed to guide users on how they should restrict the number of gambling ads and posts they see in their newsfeed on this social media network.
According to Facebook, the more gambling-related ads, accounts, and posts that a user clicks on, the more likely they are to see this type of ads and posts. Thus, Facebook handout shows users how to hide this type of ad, change their ads preferences, and control the use of information from third parties.
Gamblers Asked to Proof If They Can Afford Spending That Much Money on Gambling
In January, UKGC launched a campaign aiming to help the gambling industry to protect its customers during the COVID-19 pandemic. The Commission has identified three main challenges for the industry: to create safer goods, to restrict VIP rewards, and to promote safer online ads.
In August, the Social Market Foundation, a very reputable British independent political think tank, called the UKGC to place a limit on how much a person can lose on gambling per month. According to this policy, after someone has lost £ 100 they should show that they can afford to lose more money.
The gaming industry rejected this suggestion made and the Betting and Gaming Council stated that in no other sector of the economy the government decides how much a person can spend.
At the end of last year, UKGC estimated that 24 million adults in Great Britain were gambling at least once in a month. Of 24 million active players, the problem gamblers were listed as 300,000.
In April, the Gambling Commission provided £9 million for people who are struggling with gambling. The money was given to GambleAware, a charity operating a 24/7 helpline that provides assessments and care for vulnerable individuals.
The UKGC was founded in 2005 to supervise the gambling industry and ensure that this industry is safe for gambling consumers within the border of the UK. Along with Facebook, they have decided to reduce gambling ads on Facebook as they believe that it is one of the many ways how to prevent more people from developing a gambling addiction.
This Is Not the First Restriction Made to the Gambling Industry This Year
In fact, around 51% of all customers claim that, at least once a week, they see a gambling advertisement. Just 29% think that gambling is an industry they can trust. This is one of the reasons why the gambling industry has undergone many restrictions this year.
Similarly to this regulation, during the lockdown that took place after the World Health Organization declared COVID 19 as a pandemic, BGC members removed TV and radio gambling ads in order to protect problem gamblers. The funds which were set to be for that type of advertisement were given to a charity organization that deals with problem gambling.
When that taken into consideration, it is no wonder why they have now decided to restrict Facebook ads that involve gambling as the majority of people are spending a lot of their free time exactly on this social media network.