Best British Slots – Top UK-Themed Slots to Play in 2020
When it comes to slots, the advice generally given is to choose your game based on return to player percentages, win frequency rates and jackpot prize levels, to maximize the potential wins from playing. However, sometimes you just want to play a game for fun, to enjoy the visuals and gameplay. So, when you want to play British based slots, it probably doesn't matter than much what the underlying statistics are, but if you are going to play, why not find the best?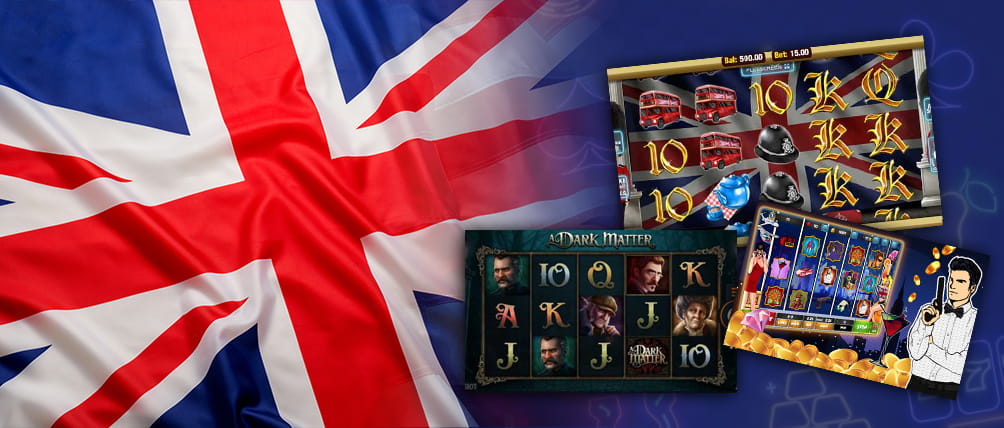 That is where we come in, we've scoured British slot machines for you to come up with the very best British slots you can play during 2020. We've tried them all to create a list of what we think are the best British based slots on offer right now. We've looked at gameplay, appeal, and of course the important metrics to find the best British based slots experiences available today.
Viz
The first of our British slot machines is Viz, named after the irreverent comic and featuring many of its characters. While it may not be familiar to the millennial generation, for those of the right age, Viz was the must-read comic, at its peaking selling over a million copies a month.
The game itself comes from Blueprint Gaming, and as with the majority of their output, focuses on bonuses to liven things up. The Viz theme sees familiar characters, a suitably coarse soundtrack and other visuals, making it a nostalgic experience for those who remember, and a glimpse into a different world for those who don't.
In terms of gaming, this is one of the best British based slots, using a 5 x 3 layout that features 20 pay lines. At 20p per spin minimum, and a maximum of £500, this is a game for players of all kinds, and it is important to remember responsible gambling and not getting carried away. It's also a rewarding game too, with the underlying return to player set at 95.5%, which is about average for the gaming industry today.
Sherlock Mystery
From the original books to films, computer games and everything in between, Sherlock Holmes has captured the imagination on every medium possible, so it should be no surprise we also find the world's greatest detective turning up among our choice of British slot machines too.
Created by Playtech, this British based slots game features characters from a number of books, alongside Holmes himself and his trusty companion Dr Watson. The gameplay features a 5 x 3 layout, making 20 pay lines to look for. With many bonuses available as you combat the arch villain Moriarty, there is a lot going on to make this one great fun to play.
The minimum stake is 20p per spin, going up to £20 at its highest, however, while the game looks and sounds great, and is a fun experience, the return to player of just 94.1% is at the lower end of the industry. As an experience it's a great game though, just remember the RTP.
Excalibur
Named after the famous sword King Arthur was gifted by the Lady of the Lake in legend, the British slots game Excalibur takes us to a world of swords, knights and golden chalices. Created by one of the biggest names in the industry, NetEnt, it is a quality game with a number of nice features.
The maximum jackpot is 1,500 times the stake, with stakes available from 20p to £10. With a standard 5 x 3 set up and 20 pay lines, the bonuses are where the action is for this example of British slot machines. You can win 10, 20 and even 30 free spins from the bonus system, and those free spins give 2 or 3 times win bonus, taking you to that 1,500 times stake jackpot.
A great example of British slots, the RTP on Excalibur is 95.1%, which is combination with that high jackpot makes it a useful machine to play on.
Lady Robin Hood
Telling the tale of the gallant Robin Hood, who legends claim robbed the rich to give to the poor, this is another of our British slots that has fun gameplay and a great pay out. Created by Bally Technologies, the leading gaming company from America., this is a game that is packed full f in-game specials all build around the wild symbols.
A standard 5 x 3 set up like many British slot machines, this one has a huge 40 pay lines available, with stakes from 40p to £400 per spin.
The game is based around the Lady Robin's talent for archery, the goal to gain bullseyes that build to free spins and multipliers. The maximum jackpot is 100 times stake, which is quite low compared to other British themed slots we have mentioned, but it provides a solid gaming experience all the same.
The RTP for Lady Robin Hood is 95.9%, which combined with the jackpot ration, stake and number of pay lines, makes this one a great example of British slots to play.
Conclusion
As we can see, when you choose to play British slots, you have a lot of choice. These are just a few we picked out for the experience and pay out, and they would be the ones to begin your British themed slots experience with.
Smart visuals, fun gameplay and decent winnings are something they all have in common, and with examples from completely different producers, there's a variety of gameplay too. These are definitely not just the same game reskinned as different slot machines.
Whether you like specials or bonuses, if you enjoy the classical history of King Arthur, the intrigue of Sherlock Holmes or the vulgarity of Viz, there is a game to suit your mood in these British themed slots. You can't go wrong with any of these picks, so if you are looking for British slots to try, just choose the one that appeals most, you're guaranteed to have a great time.
Our Most Popular Slots Articles