Music Themed Slot Games 2021
A person cannot deny that whatever you are doing for fun and entertainment, music adds to its flavor. It makes the experience a bit more engaging and exciting. So when you choose a music themed slot playing games, you are having more chances of having most epic and captivating game play experiences possible. It also lends itself to various branded games and invites bands and musicians from different places according to the budget. Casinos want their players to see each other winning jackpots. The excitement of a winning jackpot draws other players to the slots. You can find hundreds of loose online slots titled as online casinos. And you can also get access to the music slots on land at various places. What makes them more attractive is the edge of being a ,music slot where people can relax themselves a little more to lessen the tensions of winning or losing and entertaining themselves a little more far away from the worries of daily lives.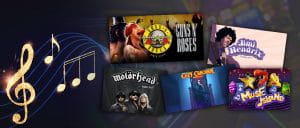 The music-themed slots are the ones you should never mute. They are pure heaven for gamblers with a passion for music and are usually dedicated to a legendary band, solo artist, music style or era. There are so many great music-themed games simply because music engages and creates the most loyal fans and audiences in the world.
There are some of the best music slots of the year 2020 where you can play for real money online. Some of the top music slots boast a range of special features. There are unique bonus rounds, free spins and of course catchy soundtracks that boast energy of the players. Songs common at such places include rock and pop music, legendry ballads, chart hitting songs and some gambling songs. People visit such places, plug in the headphones, crank up the volume and experience the best musically inspired slots. One of the famous music themed slots is "Guns N'Roses." It is a slot music that is based on an iconic rock band, Guns N'Roses. Player quickly gets immersed into the theme of the music as is cleared from its name, once he starts to play. It starts with a theme video that presents an introduction of the band belting out Sweet Child O'Mine. There is also a list of five hit songs from which the player can choose a song of his desire. It is to be mentioned that the sound and visual quality is beyond awesome.
Another popular slot music is "Rock N Roller. This is a classic amazing slot that is dedicated to the kings of rocks that is Elvis Presley, Little Richard and some other rock legends. Although these singers are not present physically, but you can feel their vibe as if they are presenting the music themselves. The theme is so beautifully presented and followed that you can definitely hear and feel their presence. It has three reelers, 5 adjustable pay lines and bets from 0.05 pounds to 25 pounds. However it doesn't offer bonus or free spins as it is purely aimed at providing a vintage effect of music to the players. (Sarah Jones, 2018)
Forget about Chris De Burgh's 'Lady in Red' song! This music-themed slot named "# 8Lady in Red" presents a totally new and exciting red-dress appeal! She is a singer at a dark jazz club and is wearing a highly seductive red gown. The 5 reels are black and covered with whiskey, red roses, jazz musicians, and most importantly with smooth jazz grooves. It's the perfect way to go to a bar without leaving your home! However, Lady in Red has way more than a sleek atmosphere! There are up to 25 free spins and Wild multipliers to be enjoyed. This is believed to be a perfectly amazing night to be spent at.
Another popular and amazing music slot titled as "The Jazz Club" earns its name. Playtech are inviting us to their greatly designed jazz club for a drink or two and Jazz. The fans of swing and blues will surely appreciate the authentic and classy look of the club but most importantly – the amazing jazz soundtrack. Each spin triggers piano chords that perfectly match the movements of the reels. And with jazz, it's definitely the small things that make the difference! The band consists of three soloists – piano, trumpet and cello and you can expect a mini-performance every time a winning combination shows up. To ramp up your satisfaction, The Jazz Club awards perks such as stacking Wilds, 14 free spins, and up to x4 multipliers. As the famous Herbie Hancock says: 'Jazz is about being in the moment.' This slot is going to make you want to stay in this moment forever.
We all know how much people love Michael Jackson and his music and so how is this even possible to not have a casino themed after this legend. He has left behind a legacy and there are thousands of slots playing Michael Jackson themes and entertaining his fans since forever. It doesn't only features one of his best songs and dance moves but also is a platform well-designed for its players. One such casino is present at Karamba Casino which plays "Michael Jackson: king of pop." It is a 5 reel video slot that offers free bonus and spins to its users which naturally attracts the players towards itself. The slot comes with 25 pay lines and a pretty high return to player percentage of 96%. Some of the special features that appeal the lovers of Michael Jackson include his gloves, moonwalk boots and his famous sunglasses.
It is to be noted that music in slots games is of great importance. Specific slot themes may appeal to a player's identity and become their preferred choice. The background music must be aimed to set the mood and the tone of the game so that the player can easily and instantly get satisfied with the overall feeling of the theme as it assures the positive reinforcement of sound tracks.
Our Most Popular Slots Articles