Top 10 Wild West Slots Online
Few historical eras, locations, and cultures are as infamous as the Wild West, which was one of the toughest and unforgiving places ever. Shootouts and duels were a part of everyday life, as were bandits and outlaws, making day-to-day life dangerous. However, it was not all doom and gloom as the Wild West was also about having a good time thanks to the amazing scenery, sexy saloon girls, and gambling.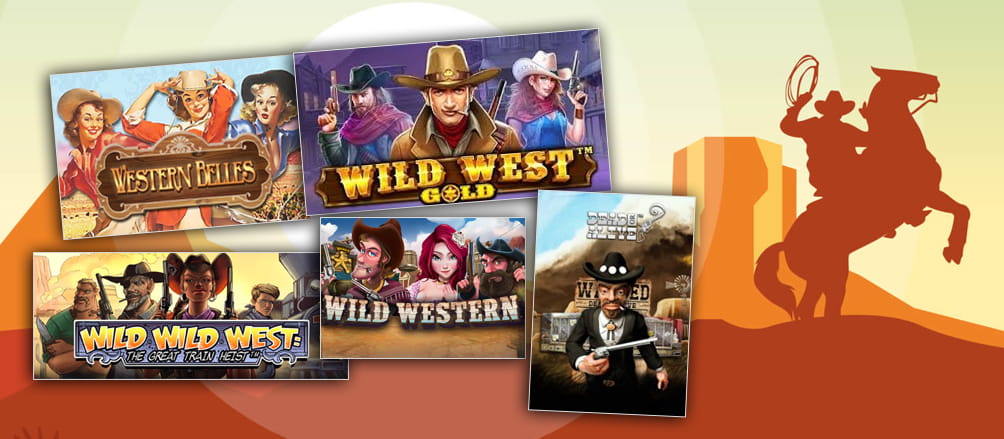 Yes, gambling and the casino became synonymous with the Wild West. People would gamble at dedicated casinos and even at saloons, favoring table classics like poker and blackjack. While slot games were new during the days of the actual Wild West, they have become hugely popular since. These days, the Wild West is one of the biggest inspirations for online slot developers
No area of the gambling world is as dynamic and varied as online slots, which comes in all shapes, sizes, and themes. In fact, there are hundreds if not thousands of different themes in the slot world. In other words, there's a lot of competition. Despite this, Western-themed online slots remain among the most popular games.
Best Wild West Slots
In this article, we will look at some of the best Wild West slot games available online, each offering a unique spin on the theme. There's just something about the West that appeals to people. Cowboys and Cowgirls create an atmosphere and people have always been drawn to the lifestyle, in movies and other types of entertainment.
Below we will discuss the best Wild West online slots that have been created by some of the best developers in the world.
Dead or Alive by NetEntertainment
NetEntertainment (NetEnt) is one of the best known and respected online casino game developers, famed for its fast-paced and high-octane games. For Dead or Alive, the company has put together an online slot that is both exciting and colorful. While it only boasts 9 paylines, this 5-reel slot can be very lucrative thanks to some big payouts. Admittedly, the Dead or Alive jackpot is challenging to hit as it only occurs during bonus rounds. Still, you will be able to win plenty of cash from the regular game, including the first jackpot of 2,500 coins. The free spins section is particularly rewarding, where up to 12 free spins can be won and then doubled.
As is usual with NetEnt online slots, the graphics and audio on Dead or Alive 2 are excellent. Reels are filled with plenty of familiar Western-themed icons, including six-shooter pistols, cowboy boots, a sheriff's badge, and some moonshine.
Freaky Wild West by CTXM
In terms of Wild West slot games, Freaky Wild West is one of the best. It adds a splash of comedy to the western theme online slot and combines its tongue in cheek design with a superb wild wild west slot RTP (Return to Player). Slot fans will find Freaky Wild West hilarious with plant icons dressed up as Wild West characters. Freaky by name and freaky by nature, this game is part of CTXM's popular Freaky series of slot games and is notable because of its fun bonus round. Players are sent to one of three realms, an Indian Village, Sheriff Town and Bandit's Valley. Various combinations in these realms will trigger bonus games.
If you want to win really big, the Banker symbol is your best friend. Scoring five of these will give you access to the progressive jackpot, where the coins can really stack up. Free Spins are also generous, with 30 available to lucky winners.
Western Wildness by Rival Gaming
One thing Rival Gaming does is always produce games that are exciting and lucrative. With Western Wildness, the developer has crafted one of the leading Wild West slot games. This is a fast-paced and action-packed title that provides plenty of fun and reward. While other wild wild west slot games focus on whacky characters, Western Wildness is instead inspired by a classic western theme of cowboys, cowgirls, and other familiar characters. People who value a full entertainment experience when playing an online slot will enjoy the movie opening to the game, including a story between the Cowgirl and the Villain.
Wild West-themed symbols include shotguns, cowboy boots, and sheriff's badges, while the Cowgirl and Villain also show up. It is worth noting the maximum jackpot is a relatively small 500 coins but the game compensates by giving you more ways to win big through bonus games. On this game, you can win up to 100 Free Spins which come with a 3x multiplier.
Cash Caboose by Vegas Technology
Cash Caboosh is one of the fan-favourite Wild West slots games free and paid online. This is a unique game because it focuses on one specific aspect of the west, the famous railroads. With 5 reels and 25 paylines, this feels like a traditional game and has some interesting bonuses. In terms of design, reels are filled with symbols including trains, bandits, and horses. While the 5 Free Spins (from the Caboose Scatter symbol) available are not the best, they can help you to win the 5,000 coins jackpot.
Players should be on the lookout for the Train symbol, which is the most important icon in the game. When you hit five of these symbols across the payline, the 5,000-coin jackpot will payout instantly. Furthermore, the Train symbol also acts as the wild on Cash Caboosh, replacing any other symbol on the payline.
Coyote Cash by Real Time Gaming
Coyote Cash is an interesting wild wild west slot because it is a cross between a western theme and a cartoon, complete with Looney Tunes-style music. It's clear to see the game takes its inspiration from Wylie Coyote, but instead of facing off against the Road Runner, the Coyote in this game is chasing after an eagle. Both these characters feature on the reels, as do other symbols such as a naughty snake, money bags, cactus icons. Animations are slick and colorful, while the game is loaded with features, including a standout RTG including a 10,000 fixed jackpot.
Real Time Gaming has also included a progressive jackpot that can be triggered randomly. Your Coyote services as the wild symbol that will double any win you enjoy on this game. Well-designed and plenty of fun, Coyote Cash is a wild wild west slot game with charm.
Diamond Valley Pro by Playtech
Playtech is one of the best at taking a theme and crafting a world-class online slot around it. The developer has hit another home run with Diamond Valley Pro, which is a fantastic take on the Wild West slots games concept. This 5-reel and 20 payline slot features a progressive jackpot and transports players to the outlands of the Wild West. Playtech has leveraged its Novel Slots software on Diamond Valley Pro, which means you can land five Scatter symbols (a cactus) to win a jackpot of 10,000 coins.
However, there are plenty of other ways to win, such as Wild and Scatters combining for bonus games. The Free Spins game is also solid, providing 20 free rolls with up to a 10x multiplier for wins.
Fortune Finder by Microgaming
Microgaming is one of the top online slot software developers and Fortune Finder is a wild wild west slot that lives up to the reputation of the company. One of the most famous periods of the Wild West culture was the Gold Rush when people flooded the west in search of riches. In Fortune Finder, you will be a gold digger hunting for nuggets in the mountains, complete with pickaxe symbols on the reels. Like all Microgaming slots, this game has stunning HD graphics and crisp audio that provides a truly immersive online slot experience. Of course, you're here for the payouts, not the style, so you will be pleased to know Fortune Finder delivers amazing gameplay.
For a start, the bonus round is exciting and rewarding in equal measure, allowing you to win up to 25 free spins. Like all the best Free Spin games, you can also retrigger the round and potentially have unlimited free spins across multiple rounds.
Gold Rush by Pragmatic Play
Another wild west slot game inspired by the gold rush is aptly named Gold Rush and is made by Pragmatic Play. Fans of wild west themed slots will enjoy the visuals of this game, which places the reels within the wooden frame of a mine entrance. Some of the symbols you should look out for include the Dynamite Wild symbol and the Mine Scatter symbol. Speaking of the Scatter, each one on the reels will award two free spins and hitting three across the 2nd, 3rd, and 4th reels will give you 10 free spins.
If you hit the Golden Nugget symbol during the bonus round, you will win a point. To reach the jackpot you need to accumulate enough points to pass through 4 bonus levels.
The True Sheriff by BetSoft
One of the best-looking Wild West online slot games is The True Sheriff, which looks, feels, and plays like an ultra-modern slot experience. It boasts slick HD graphics that make the symbols eye-catching and colorful. Speaking of symbols, here you'll find pistols, a sheriff's badge, a cowgirl, the sheriff himself, and judge. That pistol symbol acts as the wild and only appears on the third reel and needs the villain and Sheriff on the first and second reels to trigger. Free spins are opened on The True Sheriff when three sheriff badge symbols land on the paylines. This slot has a solid pay spread and can deliver jackpots of 750,000 coins.
Reel Outlaws by BetSoft
Another excellent BetSoft Wild West slot is Reel Outlaws. This game looks and feels similar to The True Sheriff and is built on the same software. That's good news because it means you're playing an online slot that is sleek and modern and is also amazing to play. While there are not many bonus games on Reel Outlaws, it has some consistent symbol success. The scatter feature is wonderful because you can land the symbol without the line needing to be active. That's rare and the standout feature of the Reel Outlaws online slot.
How Online Slots Are Inspired by the Wild West
Few themes are as rich as the Wild West. So much happened in the west that online slot developers are spoilt for choice. This reflects the hundreds of Wild West slots available across online casinos. Simply put, the Wild West is a genre that always creates excitement and is perfect for the online slot realm.
Because the genre is so inspirational, slot software developers can create a wide variety of games to suit all types of players. As you can see with the online slots above, some developers have gone for colorful and fun, while others have gone for a more cinematic approach. Equally, some creators have kept their games relatively simple, while others have created complex online slots with an array of bonuses.
No matter what approach a developer takes, Wild West slots are usually amazing fun. Certainly, the games named above are among the best slot titles you can currently play online. One thing they all have in common is they immerse you in the Wild West, almost like you were sitting in a saloon yourself.
You won't see a slot developer that does not have wild west slots games, with many have multiple games in the genre.
Of course, much of the love we have for the Wild West comes from Hollywood. The western movie has immortalized the Wild West and made everyone a fan of cowboys, saloons, duels, shootouts, and horse riding into the desert. Luckily, online slots allow you to experience the Wild West and even win some money along the way.
You don't need to be a Hollywood star to get a taste of the cowboy life thanks to Wild West slot games. While the games above are a good representation of the Wild West online slot genre, they are only the tip of the iceberg. Below are some other notable Wild West slots worth checking out:
Wild Wild Chests
The Lovely Outlaws
Western Belles
John Wayne
Bandits Bounty
Fistful of Dollars
Frontier Fortunes
Fortunate Saloon
Buffalo King
Eagle Riches
Gunslinger Reloaded
Even this list leaves hundreds of other wild west slots behind. If you want to play online slots with a western theme, you really are spoilt for choice!
How to Make the Most of Wild West Online Slots
When playing online slots, there are some important steps you can take to get the best experience. This is also true when playing a wild wild west slot game, but it's important to remember that slots remain a game of luck. You have no control over which symbols land on paylines. That said, there are things to learn about slots that can help you have more fun.
Free Spins – You will see in the list of the best Wild West slot games above most slots have free spins. Almost every online slot game has a free spins bonus round and it has become an industry standard. Within slot games, landing certain symbol combinations will trigger a free spins round. As the name suggests, you will get free spins to play the game.
How many spins you get depends on the game, with some offering just a few and others offering dozens. The best free spins rounds allow you to re-trigger the bonus, which allows the possibility to have unlimited free spins.
You may also have seen free spins mentioned at online casinos. What you need to know is the online casino market is very competitive and companies look for ways to attract users. Offering free spins on an online slot game is a good way to get people playing and paying. If a casino offers free spins, take them and enjoy your favorite Wild West slots.
Local and Network Jackpots – Slots games have two types of jackpots: Local and Network. While this may be confusing for beginners, these two jackpots are easily explained:
Local jackpots are generated by the online casino and the players that play on them. In other words, only the money generated by players on that online casino will contribute to the jackpot. This means you can play the same game across two online casinos and see different jackpots.
Network jackpots are also called progressive jackpots and allow the game to pool money from participating online casinos where the game is held. A group of casinos will all contribute to the jackpot, allowing the potential payouts to get extremely high because they are always increasing.
While it may seem like a progressive jackpot is better because the payout is potentially higher, that is not necessarily true. Local jackpots may have a smaller payout, but you have a far greater chance of winning because you are not competing across a group of casinos.
Should You Hit the Max Bet? – Online slot games having a betting range from minimum to maximum bets. For example, 0.01 to 1.00 per payline. If a game has 20 paylines this means you can bet a minimum of 0.20 or a maximum of 20.00. Many outlets advise you to always max out the bet, believing there's a chance of cashing out across multiple lines.
That can certainly be the case, but it is always worth remembering that the chances of winning online slots are always the same. You don't have more chance of winning by betting on more paylines. Slot volatility is also something you should consider:
Some slots have a high degree of volatility which means they will not pay out as often, but when they do the wins are much bigger.
Online slots with low volatility pay out more frequently but the wins are typically smaller.
For high volatility games, higher bets are helpful but there is no rule to always bet the maximum across paylines.
Be Familiar with Pay Tables – The best wild west slots and indeed all reputable online slots games are transparent about how much they will pay out for specific symbol combinations or bonuses. These "paytables" are located on the main menu of an online slot and you should always look at these when deciding which wild west slot game to play.
What's the importance of paytables? Well, they can help you to decide how much money you spend on a specific slot and even which games you choose to play. On paytables, you can see how wild, scatter, and other bonus symbols work on a slot and available multipliers.
You Can Play Wild West Online Slots for Free – One of the best things about online slot games is they are available for free. This little detail has helped slots become an increasingly popular recreational activity, with even casual gamers enjoying them. For people who want to play for money, the ability to roll for free is a fantastic way to practice, learn strategies, and get familiar with the game and its paytable.
Knowing how bonus rounds work before betting real money is a helpful tool. However, there are some negatives to playing for free. For example, when playing for free it is easier to make decisions you may not be willing to make when real cash is on the line.
Enjoy Wild West Slot Games Now
You're now ready to explore the world of the Wild West slot. With our list of the best Wild West slots, you can play an exciting and potentially rewarding game that will give you a memorable experience. Don't forget to make the most of the online slot tips above to have even more fun playing these games.
Remember, playing online slots is fun. Don't push yourself beyond your financial means and understand that you are playing to have a good time, not to get rich. Who knows, maybe one day you will land that life-changing jackpot, but if not, these games are still worth visiting time and time again.
Our Most Popular Slots Articles