Atlantic Lottery in Canada Aims to Expand Online Casino Gambling
January 27, 2021
Jessica Whitehouse
Atlantic Lottery Corporation (ALC), already working in 4 Canadian provinces, plans to launch two more casino products.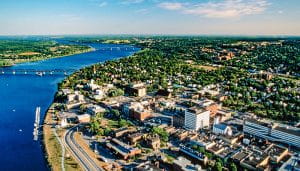 In August, ALC launched a pilot online casino game in New Brunswick. Prince Edward Island (PEI) also launched a similar plan in December, and Nova Scotia is looking to do the same. Officials from the last Atlantic province of Newfoundland and Labrador are still on the sidelines.
Almost all forms of betting are generally legal under Canadian law, but only provincial lottery companies can offer them. In practice, the available forms of gambling depend on the provinces that offer their lotteries.
There are five such companies in total. The three largest provinces – British Columbia, Ontario, and Quebec – have their own. All three already provide online betting games.
Everyone's Doing the Pandemic Shuffle
Like their counterparts south of the border, Canadian politicians are quickly rethinking and redefining their position in the game due to the COVID-19 pandemic. Canadian casinos closed in the spring at about the same time as American casinos and remained closed for longer. Of all the coastal counties, only Prince Edward Island reopened its only casino this summer.
Other types of retail betting income, including lottery ticket sales, fell in most places. In contrast, poker rooms and online casinos have grown exponentially as people find new methods to have fun at home. In the United States, states with legal online casinos contrast daily with those without online casinos. For the latter, during the lockdown, their gaming income fell to almost zero.
New Brunswick Criticized for High Stakes
The New Brunswick pilot project currently includes 44 games hosted by IGT and several other companies. Several table games are compatible with a variety of slot machines, including three-card poker blackjack, pay-go, and roulette. Its initial results seem so encouraging that its neighbors are tempted.
Simultaneously, the unavoidable pushback has started. In particular, the province has been criticized for the high betting limits set for games. For most of the offered slot machines, the maximum bet per round is from 40 to 80 dollars for the game "Gladiator of Rome" and "Spartacus" – the maximum is 100 dollars. Some board games are even higher, with IGT Blackjack enabling bets up to 500 dollars per hand.
Critics noted that the ALC posted a $ 2.50 maximum bid per spin at provincial video lottery terminals. They argue that if such a restriction is necessary for the VLT, then online betting certainly offers even higher risks. In response, the lottery noted that it had to compete with illegal offshore websites, where the limits are even higher.
There is also a fine line. One of the main reasons for legalization is that it offers players a more reliable method to play. And also, recommendations that make the product more secure will disappoint some players. Unfortunately, this can redirect you to illegal websites. New Brunswick may find that the sweet spot is slightly below current limits but above the VLTs limit.
Path to Follow
Atlantic Lottery Corporation has been trying to persuade provinces to legalize the use of online casino products for almost a decade. As noted above, Prince Edward Island was next, and his cabinet approved the idea on December 22nd.
ALC expects online casino products to generate approximately $ 750,000 in net revenue per year in the PEI during their first year of operation, excluding fees. When the four counties are combined, net sales will end up more than $ 10 million per year.