Hawthorne Will Open a Casino in Illinois
August 1, 2020
John Isaac
For around thirty years, Illinois has been home to only ten casinos. However, the new casino is about to join them soon. Hawthorne Race Course has been unofficially approved to start operating within the borders of the state. It will be $400 million worth of investment.
Just a few days ago, the Illinois Gaming Board voted that Hawthorne can obtain a casino license.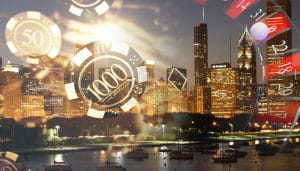 For people not familiar, Hawthorne is the most significant legal gambling company in Illinois. It is also considered as the oldest sporting venue. In case the company receives the license, it will open a fully operational casino with table games, sports betting, and slot machines. Hawthorne is also promising to improve Illinois horseracing and create a one-of-a-kind experience for casino visitors in the area of Chicago.
"It's really hard to put into context what this means for the very hardworking people of the Illinois racing industry. It means horse riders will be able to keep their businesses and families in Illinois. It means showcasing this historic sport to a new generation of fans. It means creating a truly unique, first-of-its-kind entertainment experience that won't exist anywhere else in Illinois," – stated president and CEO, Tim Carey.
Hawthorne's CEO Promised to Convert Chicago in an Entertainment Destination with Their Casino
Kevin Kline, Hawthorne's CEO of Gaming, has added that although some might have only expected them to put slot machines and tables, they will make an actual boom in the Chicago casino experience. According to him, as an independent operator, they will lead with innovation, excitement, and a culture that provides exceptional customer experience and empowers their team members. He promised that they are going to "to break the mold on what an integrated regional casino, racing, and entertainment destination can do."
Illinois is one of the states that also legalized sports betting, both physical and online after the Supreme Court removed the federal ban in 2018 and permitted the states to choose for themselves whether they want sports betting in their states or not. Considering this, the opening of the new Hawthorne Casino in Illinois could be real game-changing in sports betting as well.
More About the Company
As already mentioned, the company is the largest and the oldest gambling and sporting venue in the state, which has been around for 130 years. However, Kline, who has been leading the company since 2019, said that they still consider the company for an old-startup as they always strive to lead with innovation.
This could be a real boost to the gambling industry in the Chicago area because it will bring new customers and boost the industry's revenue that has been harmed due to the casino closures nationwide in March. The lockdown occurred due to the new coronavirus outbreak, which is still a major threat to people's health worldwide.
After the casinos' opening, gamblers could enjoy a really exciting experience that perhaps no other casino in the area could beat. What will happen next and whether Hawthorne Casino will be officially opened is still yet to be discovered!