Ladbrokes and Paddy Power Allowed a Disabled Person to Gamble More Than He Can Afford
August 29, 2020
John Isaac
Two of the biggest bookmakers in the UK have been blamed for allowing a disabled person to waste most of the settlement money that he received from a botched medical operation on gambling. The person's lawyers sued the two companies after he faced severe family issues.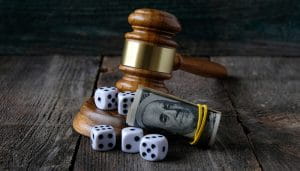 Liam McCarron's lawyers argue in court that the two British gambling companies did not cover his suffering. For all the signs they argued, it was apparent he wagered a lot more than he could manage to lose. McCarron is believed by his lawyers to have been a prosperous businessman before a surgical procedure went wrong in 2007, triggering "disastrous" disturbances in his behavior and voice.
The lawsuit argues that Paddy Power and Ladbrokes have gone the other way, wasting over 500,000 pounds (654,475 dollars) from his hospital center.
McCarron has state that the impact is way beyond finances since it has produced significant damage to his family relationships. Additionally, he also mentioned that he had lost his dignity and self-respect.
"It has had an enormous impact on me. There is the obvious financial impact, in that the money I used to gamble was intended to be for my ongoing living costs and care needs, which are significant," – noted him.
Carolyn Harris Says That the Bookmakers Should Have Stopped McCarron
Parliament has the campaign to reduce the unhealthy gaming of marginalized individuals. The campaign follows Labor MP Carolyn Harris, leader of the Legislative Committee on Gambling Related Harm All-Party.
According to her, disability should not prevent anyone from enjoying the activities they like, including gambling. Yet in this situation, these bookmakers should have known that Mr. McCarron couldn't afford to gamble that much money.
Harris said that bookmakers needed to stop McCarron, but they managed to collect his money for years instead. She added that it is all even more tragic that he wasted the funds that were compensation for an operation that has had such a devastating impact on his life.
The UK Gambling Commission is reviewing the case. The regulator can't address customer disputes or reclaim damages for gamblers who say they have accidentally lost them. However, the agency can penalize licensed gaming operators found not to respect rules, including protections against gambling problems.
Harris has been a pioneer in proposing that high-street betting shops that their daily bets on stationary wagering terminals (FOBT) from £ 100 to £2. The cut in the pay was rendered last year, and hundreds of betting shops were shut down.
Richard Holden Believes 2005 Gambling Act Should Be Reviewed
MP for North West Durham, Richard Holden, has also stated that it is very evident that the system isn't working. He believes that the government should bring forward an urgent and broad review of the 2005 Gambling Act as it was initially promised.
This is not the first time that gambling companies in the UK are not following the rules and allowing people to gamble more than they could afford, which is why many believe that the laws should be stricter in cases like this one.