Massachusetts Senate Turned Down Sports Betting Legalization
November 30, 2020
Matt Speakman
After two days of hearings, the Massachusetts Senate approved Wednesday a nearly $46 billion state budget for the fiscal year.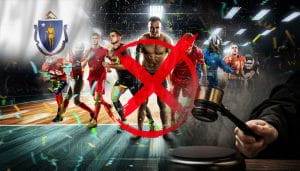 While the vote to support the budget was overwhelming, the discussion showed some of the tension that persists as policymakers attempt to solve the pandemic's economic and social issues by marshaling state government, including the question of whether to allow sports wagering in the state.
The proposal will soon go to a committee of the conference where three senators and three representatives will work together on the disagreements between the two budget bills and bring up a consensus version for both branches to vote up or down.
Without a committee vote, a proposal by Minority Leader Bruce Tarr to allow sports wagering in Massachusetts was defeated. The amendment would have made it easier for casinos, racetracks, and internet providers to qualify for a sports betting license. Tarr stated his proposal would have defined the income from the initial processing fees for the existing economic growth fund.
He and other senators addressed the significance of raising money from a company already accepted by surrounding states. 
Around $20 Million to $35 Million Annual Income Might Earn Massachusetts From Sports Betting
Estimates varied from around $20 million to $35 million for annual income from sports betting in Massachusetts. The two casinos in the state and slots parlor carry in $21 million per month on a combined average. In its economic growth measure, the House allowed sports betting, but the Senate was much less involved in legalizing sports betting.
"If we don't do it in this bill, we should absolutely get to work before we end this year to make sure this is done. I am very concerned that we are going to be missing the boat on this. Right now, the focus is going to be on conference committees, resolving the budget, and COVID. We'll see though," – said Senate President Karen Spilka. 
On the other hand, Senator Patric O'Connor believes that it is like free money while Senator Marc Pacheco stated that Massachusetts is losing the revenue that the residents need because other states will take those bets.
Many States in the US Have Already Legalized Sports Betting
Sports betting has been a controversial topic in the United States ever since the Supreme Court removed its federal ban and permitted the states to decide for themselves whether they want to legalize it or not. Previously, sports betting was only legal in Nevada.
After the removal of the federal ban by the Supreme Court, many states have legalized sports betting and have allowed their residents to place bets on their favorite sports teams without having to go to Nevada. However, in many others such as Massachusetts, sports betting is still a matter of discussion and has still not legalized sports betting after the state's upper house has decided to turn down the legalization proposal of Minority Leader Bruce Tarr.
If their decision was different, casinos, racetracks, and online operators would have been eligible to apply for a license and start accepting sports bets after their application was to be approved.