New Jersey Surpassed Its Own National Sports Betting Record
October 24, 2020
Matt Speakman
The sports betting industry in New Jersey smashed its own national record of over 748 million dollars in betting at the NFL's return in September.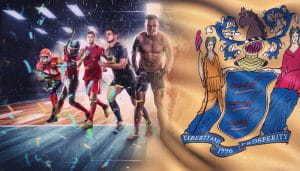 Statistics obtained by the New Jersey Division of Gaming Enforcement indicate that the nine casinos of Atlantic City and the three-horse racing tracks offering a gaming bet handled more than $748 million have already surpassed the nation's monthly record set in August when $668 million went into sports. 
In 2020 casinos and tracks in the state have brought in sports bets of almost $3.3 billion only. That is equivalent to what Atlantic City earned before sporting betting was legalized in the whole year from casino gambling.
Sports wagering winnings were $45 million in September in casinos and tracks.
The gambling sector in New Jersey won in September 323,2 million dollars including casinos, a rise of 6.5% during September 2019 when casinos were fully operational as the pandemic was still not present. At the moment casinos' occupancy is only 25% to prevent further spread of COVID-19.
Internet Gaming Revenue Win More than Doubled Compared to 2019 In the Last Six Months
In Atlantic City's nine casinos, overall gaming revenue increased by 3% over the course of the year to nearly $291,7 million over the month of September and the economic impact of the coronavirus pandemic contributed to a six-month sequence of declines. The rise is solely due to the income of the online casino. A 113% increase in the revenue from online gaming helped to minimize slot machine losses of -9,6%, sports bets of -28,5% and table games of -28,7%. 
"For the sixth month in a row, internet gaming win more than doubled compared to last year. Casino gaming taxes grew more than 16% compared to last September, providing needed funds for programs that aid New Jersey's senior citizens and disabled residents," stated Casino Control Commission Chairman James Plousis.
The Ocean Casino Experienced the Biggest Rise in Revenue in Atlantic City in September
The Ocean Casino reported the biggest rise in revenue in September in Atlantic City, which was attributed to a few factors. CEO Terry Glebocki revealed that the combination of a weekend of Labor Day and a 25% return to indoor dining provided them with a chance to continue the "momentum" they created at Ocean. He explained that their customers liked to dine again in their Casino resort in their favorite restaurants and our gaming sales growth of almost 27% year-over-year shows the momentum they achieved.
Online gaming sales in September amounted to $87.6 million and 113% up from Sept. 2019's $41.1 million. Overall, it produced $685,6 million over the first nine months of this year, up 102,2% from $339 million in 2019 through the same span. Some analysts claim that the annual online revenue of a record $950 million this year is feasible.
On September 24th, the Freehold Raceway started making bets on the 3rd horse racing course of the sports betting industry in New Jersey. Mobile sports betting has not yet been licensed there which is why the last week of the month announced a loss of almost $45,000. This comes as no surprise considering that this year people turned to online gambling more than ever due to quarantine.