Pritzker Finally Signed the Bill to Legalize Mobile Sports Betting
July 1, 2020
Matt Speakman
After almost a year from the moment when Governor J.B. Pritzker signed the bill bringing the legal sports betting industry to the state as part of a major expansion of gambling, Illinois finally legalized online sports betting. Interestingly, this happens after three months since the very first wager made in the state. Illinois gamblers are feeling happy that they will now make bets from their mobile phones after the state's first electronic sportsbook was introduced last Thursday morning.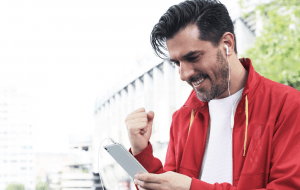 The company that opened the state's first retail book on March 9, Rivers Casino in Des Plaines again made the first move with their smartphone betting app BetRivers by affiliate Rush Street Interactive.
This move offers billionaire Rivers chairman Neil Bluhm first dibs on Illinois' electronic sports betting market, which makes up the majority of the handle in states where this industry is legal.
"We are excited to make history in bringing the first online sportsbook to sports fans in our home state just in time as American sports are coming back into action" – stated Richard Schwartz, Interactive President of Rush Street.
Lobbyists mobilized by Bluhm and other casino groups in Springfield last spring guaranteed Illinois' gaming legislation was updated to bring casinos a head start on the sports betting industry over online-only.
Six More Casinos Were Given Betting Licenses in Illinois
Last week, the Illinois Gambling Board granted six more casinos, in addition to Rivers, sports betting licenses for a fraction of the amount. Each may apply for permission from the administrator of the regulatory agency to begin providing online betting. From Thursday morning on no further requests had been submitted, a spokesman for the Gaming Board said.
Rivers and downstate Argosy Casino Alton welcomed wagers on their brick-and-mortar sportsbooks. This was largely affected by the shut down that happened on March 16 due to the pandemic.
State law started that bettors are required to register personally at a casino before they are allowed to place bets online, however, as part of his coronavirus disaster proclamation, Pritzker issued an executive order where this order was removed for a certain period of time. The administration of the Democratic governor is keen for any potential gaming revenue stream after a $2.7 billion loss as a result of the lockdown.
That implies Illinois bettors can register online for an account where they would be able to place bets immediately.
Legalizing Sports Betting Is Something Widely Discussed in the US in the Last 2 years
The majority of state casinos are charged at 15% of their sports betting income, with another 2% being worked on for Rivers and all other casinos that potentially break ground in Cook County. The legalization of sports wagering also opened six new casinos including those in Chicago and the southern suburbs. The Gaming Board is analyzing applications and is scheduled to begin issuing licenses in the autumn.
Sports betting has been one of the major topics that the American gambling industry has been dealing with within the last couple of years. This comes after the Supreme Court finally in 2018 removed the federal ban and gave states the permission to decide for themselves whether they want to legalize sports betting or not.