Record Sports Betting in New Jersey in 2020 – $ 6 Billion
February 1, 2021
Matt Speakman
The state raised nearly $ 1 billion in sports betting in December, ending a year when the COVID-19 shutdown and bans slashed total betting income by nearly 17%.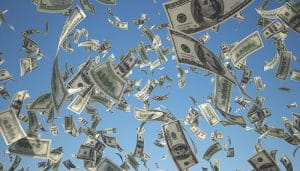 The New Jersey Division of Gaming Enforcement released the figures on Wednesday. It shows the New Jersey state took nearly $1 billion in sports betting in December. That was the end of the year in which more than $ 6 billion were drawn. The coronavirus shutdown and restrictions have reduced overall betting revenue by nearly 17%.
In December, nine state casinos and three racetracks that accept sports betting won over $ 996 million on those bets. This is the latest in a series of monthly US sports betting records, AP News reported.
Sports Betting in New Jersey Breaks Us Record With $ 6 Billion in 2020
Revenue from slot machines and table games, including online gambling, was $ 2.64 billion in 2020. When gambling revenue was added, New Jersey generated more than $ 2.88 B for the year.
It represents a 16.9% decline in the year the casinos were closed for 3.5 months. Even when they were permitted to resume operations in July, they had to limit their services to 25% of capacity, and these restrictions persist to this day.
According to James Plousis, "significant profits were lost in those early months, and the renewed public health crisis continued to take its toll on Atlantic City's business in the second half of the year. Atlantic City participants have worked hard to lay a solid foundation for recovery. As the company moves closer to its normal state, Atlantic City will be poised to restore its current positive momentum."
The Golden Nugget is the only casino, made more revenue in 2020 than it did in 2019. It raised over $ 415 million, almost 10% more than the previous year.
Harrahs posted the biggest drop in 2020, dropping 46.8% to $ 166.3 million. They were followed by Caesars, which fell 43.8% to $ 100.2 million. Resorts shares fell 43.8% to $ 152.3 million.
Online Casino and Poker in New Jersey
New Jersey has been a leader in sports betting within its borders for several months now. With the NFL playoffs leading to the Super Bowl, January 2021 will almost certainly hit the $ 1 billion mark in total betting.
However, this number is independent and far exceeds the income from sports betting or the amount withheld from sports betting after the winning bets and other expenses have been paid. State casinos and gaming centers generated nearly $ 400 million in gambling income last year, up 33% from last year.
And its supremacy seems to be under threat: Last week, New York State announced that it will approve gambling on mobile devices this year that will no doubt reduce the number of gambling in New Jersey. Business insiders say about 20% of sports betting in New Jersey is made by New Yorkers. This is money that New Jersey will soon stop receiving.
Online sports betting earnings doubled, from $ 482 M in 2019 to $ 970 M in 2020. It is another bright spot for the business still fighting to recovering from COVID. Online gambling has been around in New Jersey for many years, but it has grown even more this year as betters had no choice but to gamble on their laptops or phones.