Rush Street Interactive Invests in Premier Game Developer and Technology Provider Boom Entertainment
August 28, 2021
John Isaac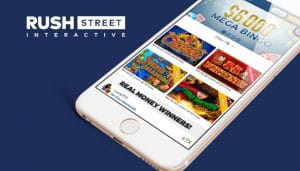 US online casino and sports gambling company Rush Street Interactive Invests in technology and game developer Boom Entertainment.
The Chicago-based company announced in an official press release on Wednesday that rumors would involve a "global trade deal" that would list its BetRivers.com and PlaySugarHouse.com domains in its portfolio of real money and social business live casino games.
What is Rush Street Interactive?
Rush Street Interactive is a branch of land-based gambling company Rush Street Gaming and announced that he integrate Boom Entertainment with its game server and develop some custom games. The partnership will remain for at least one year. The company asserted to offer its iGaming players "unique and special games," such as NBC Sports Predictor.
About Richard Schwatz's Statement
Richard Schwartz, CEO of Rush Street Interactive, states that the new agreement allows his company to expand Boom Entertainment's current connections with casinos in Louisiana, New Mexico, and Mississippi. The chief said that this portion of the agreement would give the market access to online casinos and sports betting.
According to Schwartz, this partnership provides the clients with the largest selection of games and the best customer experience in the industry. Plus, he is excited to add New Mexico, Louisiana, and Mississippi to the list of states where he gets market access as he wants to expand this in the whole country and position himself to reach game enthusiasts everywhere.
More About Louisiana Launch
Founded in 2015 by a group of gaming and technology veterans, Boom Entertainment has announced that Rush Street Interactive will now launch a mobile-optimized sportsbook for Louisiana players before the next football season. The CEO Stephen Murphy said this came after southern state lawmakers approved a measure in June that could grant up to 41 licenses for online sports betting through the Louisiana GCB.
According to Murphy, they are delighted to partner with Rush Street Interactive. They have talked extensively about partnering with Rush Street to introduce new games and products, and they are looking to follow this partnership for a long time.
About Boom Entertainment
Boom Entertainment is a world-class premier game developer and technology provider in the USA. Its premier product, NBC Sports Predictor, became a partner with famous brand blue-chip in casinos, media, competition, and retail.
New York-based Boom develops and operates world-class, modern, and affordable games that delight millions of gamers and create partner value through mobile, user engagement, governance, and online earnings. Boom's gaming servers highlight the quality, speed, and reliability of the service.
About RSI
Rush Street Interactive's investment in Boom Entertainment shows the company's new effort to grow its relation in the American gaming space.
The company has offices in West Virginia, New Jersey, Colorado, Indiana, Michigan, Pennsylvania, Virginia, Illinois, Iowa, and New York.
Rush Street Interactive announced Tuesday that Mike Ditka, former football player, coach, and television commentator, will be the NFL brand ambassador for its online bookmaker BetRivers.
Ditka's appointment was because the operator wants to enhance its position in the state of Illinois. 81-year-old Ditka will participate in different events on BetRivers social networks.