UKGC Slams EU Lottoland with 760 Thousand Pounds Fine
October 9, 2021
Jessica Whitehouse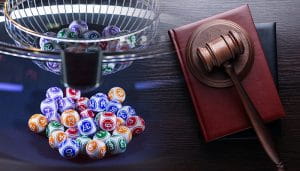 The British Gambling Commission has fined EU Lotto, operator of Lottoland, for 760 thousand pounds for deficiencies in social responsibility and the application of anti-money laundering rules. The defaults occurred between October 2019 and November 2020: Regarding social responsibility, the problems included the failure to report customers who frequently change deposit limits, the lack of adequate financial and accessibility ratings for players, and the in-sufficient interaction with at-risk players.
Operator Failures to Meet Regulations
Following an investigation by the Gambling Commission, a gambling firm has been fined £ 760,000 and will have to undergo an extensive independent review for money laundering bankruptcies and social responsibility. EU Lotto, which runs the lottoland.co.uk website, also got a legal warning for AML.
For the anti-money laundering legislation, the operator was sanctioned for inadequate analysis of customer bank statements. This case, like other recent law enforcement actions, is the result of a planned activity. All operators should be aware that, according to the executive director of the Commission Helen Venn, they will not hesitate to take decisive action against those who do not meet the high standards we expect for players.
The failures of the social responsibility requirements included the failure to consider the Commission's formal guidelines on interacting with clients. Anti-money laundering bankruptcies included: failure to review and analyze customer-supplied bank statements to prove address; failure to restrict client accounts as a result of requests for sources of funds (SoF); allow customers to register third party debit cards (such as those with a name other than the customer) in their account.
According to the regulator, it could get miner proof of client interactions are commensurate with the magnitude of the potential damage.
Lottoland from Gibraltar is an online betting operator famous for providing online betting on the outcomes of various worldwide lottery draws.
The Company Fined for Violating the AML
As part of its investigation into Lottoland, the UKGC also found several flaws in the online betting brand's fight against money laundering, including a lack of effective scrutiny and analysis of Account statements given by users to verify their addresses.
In a posting on its website stating the new fine imposed, the UK operators also said that EU Lotto does not limit client accounts following funding applications and enables users to register other user's credit cards to their account.
The gambling operator was also criticized for depending very much on useless trigger points for failing to give sufficient data about betting limits based on earning, net worth, or other risk factors.
Regarding the EU Lotto fine, Helen Venn said that the case, like different new administration action against fraudsters, was the outcome of "planned enforcement actions."
Ms. Venn continued by saying that all gambling operators should be alert that we will not stop cracking down on those who do not fulfill the rules we demand from them.
Regarding the fine, Lottoland chief executive officer Nigel Birrell stated he is confined to ensure the rules of the agreement, including anti-money laundering and social responsibility commitments, across all operating jurisdictions.