Best Fruit Slots Available in 2021
Fruit is more synonymous with slots than anything else. Back in the late 1800s when physical slots were invented, symbols on the games were fruits. There was a good reason for those fruit slots. Betting for money was illegal back then, so people would literally play slots for fruit sweets. The trend stuck, and fruits became the standard symbols for casinos.
While slot games diversified to many different genres and themes, the fruit symbol remains famous. That's no different in the online slot realm where free online fruit slots are widely available and beloved by slot fans. Most people, even those who don't play online slots, recognize the classic fruit symbols, such as cherries, melons, bars, and lucky sevens.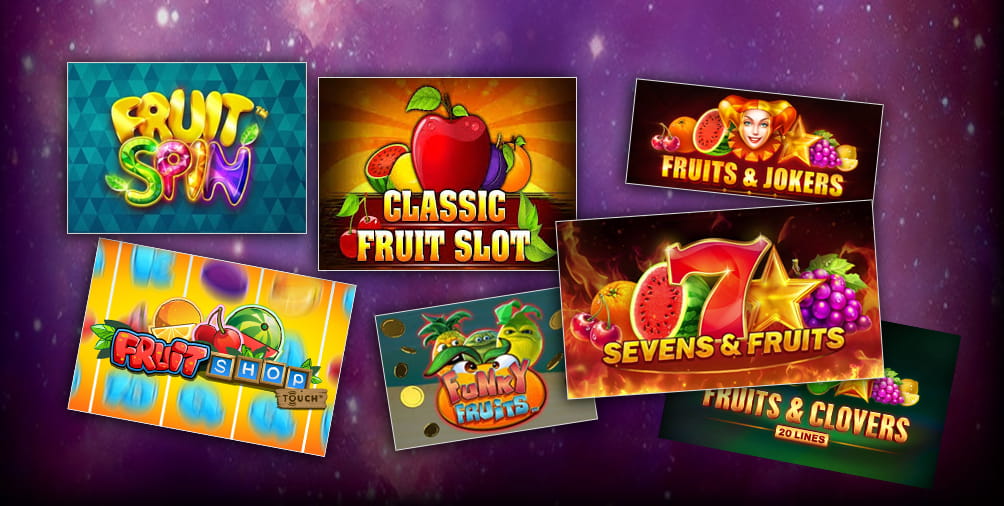 Some of the very best online slots available are fruit slots. In this article, we will look at some of the best examples you can play at online casinos.
What are fruit slots?
As mentioned, fruit slots are the iconic slot machine variant and helped to define the mechanical slot era in Las Vegas. They are the most known and loved slots fruit machines because people value their simple gameplay. This is the same for online fruit slots, which are easy to understand. This makes them ideal for beginners to online slots, but because many payout huge amounts they are also good for high rollers.
Also called "Fruities" or "a Fruity", a typical fruit slots game will have between 3 and 5 reels across 3 to 4 rows. Yes, this makes it a fairly standard online slot experience as it is uncommon to see a fruit slot with features such as hidden reels.
Paytables for an online fruit slot will rank fruits and other symbols by how likely they are to land on the pay lines. For symbols most likely to land, the payouts are minimal. For those symbols least likely, the payouts can be massive. Perhaps the cherry symbol is the most famous fruit slot symbol because it pays out the most money. However, it is so well-known for hardly ever landing in winning combinations that it's something of a meme in the slot industry.
Best Online Fruit Slots
As you can see in the list below, some of the biggest developers in the online slot market have created Fruities. This slot genre is so iconic that software developers know they will attract players. In fact, most companies have more than one free online fruit slots game. It is worth noting, we call these games free because they can be played completely for free with no money changing hands.
Of course, they can also be played for real money and it's the simplicity of fruit slots that makes them attractive to players. There is a wide variety of online fruit slot games available. Some developers have got back to basics and just present a classic three-reel slot version of the Fruity, while others have been adventurous with exotic twists on the fruit slot.
Either way, whether you like the simplicity of three reels or the advanced gameplay of a five-reel slot, there's a fruit slot game for you.
Berry Burst MAX by NetEnt
NetEnt (NetEntertainment) is one of the leading slot developers and its Berry Burst series is perfect for fans of fruit machines. There are two games in the series, but the only thing separating them is the jackpot. The standard Berry Burst game pays out a maximum of 100,000 coins, while Berry Burst MAX doubles the prize.
Naturally, that means there is a larger maximum bet on the MAX version, which makes it perfect for high rollers. In all other aspects, the Berry Burst slots are the same. This fruit slots game is beautiful to look at, thanks to NetEnt's typical commitment to visual style and quality. It is a 5 x 3-reel setup that does not have pay lines.
Instead, Berry Burst uses clusters to pay out. In terms of volatility, the regular and MAX variants are classed as medium volatility with an RTP of 96.56% (standard) and 96.23% (MAX).
Fruitoids by Yggdrasil
A relatively modern take on the fruit slot, Fruitoids is a faithful fruit slots game that delivers plenty of fun across its 5 reels, 3 rows, and 25 pay lines. Fans of another Yggdrasil game called Winterberries will see obvious similarities on Fruitoids. It seems both are in the same family of titles and share many of the same features.
For example, the frozen fruit theme is the same across both slots and they offer medium volatility gameplay. Borrowing off one of your best games is not a bad thing because it means Fruitoids is a hoot to play. It really feels like a classic Fruity and is centered on a good old sticky wins bonus, which will gain you extra spins and solid multipliers.
Online slot fans often give Fruitoids good reviews, and with a generous RTP of 96.70%, it's clear to see why.
Fruit Xtreme by Playson
As mentioned earlier in the article, one of the things people like the most about fruit slots is their simplicity. They work and provide a solid gameplay experience. When developing Fruit Xtreme, Playson decided not to try anything fancy. Instead, the company focused on nailing the things that people love about Fruities.
So, you get a simple free fruit slots game that allows you to win through multipliers and stacked symbols. There's no extensive bonus or free spins here, you just get a basic slot experience that is excellent at building excitement.
Multipliers can certainly be lucrative on Fruit Xtreme, with up to 5x your wager available through each spin. This is another medium volatility game and has an RTP of 96.3%, cementing its position as an excellent all-round performer.
Hot Chilli by Pragmatic Play
If you want a fruit slot game that gets you all hot under the collar, Hot Chilli is probably the game for you. Pragmatic Play's fruit slots game is another title that keeps things simple but has a fiery side to it. Despite the simple layout and oriental theme, the 3 x 3 slot grid pays a lot of homage to classic Fruities.
Pragmatic has done a good job with the visuals, with some excellent graphics full of colorful symbols and slick transitions. Again, glossy features like free spins are absent but you can enjoy the hot 5x multiplier this chilli-focused game provides. With a healthy 96.52% RTP and medium volatility, Hot Chilli will have you coming back for more.
Fruit Shop by NetEnt
Remember when we said fruit slots are so popular that some developers have multiple free online fruit slots? Well, NetEnt is back on this list with Fruit Shop, which is a back to basics online slot that thrives within its own simplicity. However, this being NetEnt, there is also an aesthetic flair and some interesting features.
There are free spins available, although admittedly only 5 at a time. This may seem poor, but it is worth noting free spins can be triggered by any fruit symbol on the pay line. Furthermore, the free spins tend to activate frequently and allow Wild symbols to create big multipliers (up to 4x). If you stick with Fruit Shop, the gains can be massive.
Fruits by Nolimit City
Simple by name but definitely not by nature. Fruits by Nolimit City is an innovative ground-breaking online fruit slot. That's because it does not have static pay lines. Instead, you can change the pay lines as you want when holding a device in portrait or landscape mode. Yes, that means this slot is geared towards mobile gameplay.
While this is an advanced modern game, Nolimit City has stuck to some traditions of classic fruit slots. For example, you will see all the familiar 12 symbols you know and love from fruit machines. However, this is all about presenting the fruit slots to the modern online world with a new mystery wrappers bonus, free spins, and sticky fruits.
You'll also have a solid 96.23% RTP on your side.
Imperial Fruits: 100 Lines by Playson
Playson wants to shout about the standout feature of this fruit slot, so we get Imperial Fruits: 100 Lines. This does what it says on the tin and gives you more ways to win. Elsewhere, the developer has stuck to a tried and true method for fruit slots… keep it simple.
You won't find any bonuses or free spins here as Playson has aimed for efficiency over flashy features. Still, all the classic symbols are there, including 7 low-ranked fruit symbols with a payout between x20 and x100 your wager. Higher ranked symbols like the Gold Scatter, Lucky 7, and Diamond Scatter could score you up to x400 your bet.
Inferno Star by Play'n GO
While the name Inferno Star does not suggest a fruit machine, this Play'n GO game is one of the best fruit slots you can play. Indeed, it is dedicated to a classic Fruity experience with all the usual symbols.
That said, there is a theme here that extends beyond the traditional fruit slots. The flaming sun (the Inferno Star in the title) is central to this game. This is evidenced by the gamble feature that lets you wager up to 4x your initial bet when winning.
The Raging Sun Re-spins are also excellent and can potentially take you all the way to 2,500x your first bet. It is important to note this is a very high volatility game with a decent but not spectacular 96% RTP. That may all be too much for beginners but should have high rollers giddy with excitement.
Fruit Case by NetEnt
NetEnt is back with its Fruit Case online slot game, which takes a different twist to the company's other slots on this list. Specifically, Fruit Case has a more cartoon design, with cute symbols across the reels. While there are not many features to speak of, the game has a good 96.47% RTP and has medium volatility, making it ideal for all types of online slot players.
NetEnt has mixed the classic free fruit slots game concept and integrated it with the modern Avalanche reels system. This means symbols cascade down the screen and drop into place, instead of rolling on a reel. When a winning combination is made, the symbols disappear and more will fall into the now empty space.
Extra Juicy by Pragmatic Play
If you are chasing big wins, Extra Juicy by Pragmatic Play may be the game for you. It has a good 96.52% RTP but is one of the most volatile fruit slots available. You will have to bet high, but the rewards can be explosive.
One of the features that make this game unique on this list is its pay line management. A winning pay line can land in the middle of the reels and does not need to arrive from the first reel. Pragmatic Play has also included a chance to gain a 60x multiplier on your wager through a progressive multiplier for Free Spins.
Why are Fruit Slots Popular?
Fruit slots are arguably the most popular type of online slot, and certainly the most popular in the physical slot world. Explaining why people love these slot games is easy, and reasons include:
Usually have manageable volatility and good RTP.
Fruit symbols are universally recognized, making understanding paytables easier.
Simple but effective game design.
Efficient mechanics that makes gameplay easy.
Perfect for beginners, high rollers, and everyone between.
Simplicity and efficiency are the defining factors of online fruit slots. Even people outside the world of online casinos know the fruit symbols and may even understand some basic combinations. Because online Fruities are typically limited in reels and pay lines, they are good for casual players or those who want a streamlined experience.
Certainly, if you're new to online slots, a fruit game is an excellent place to start. Thanks to generous RTP's, you can practice at low wagers, and easily understand how to play. This ability to deliver a good casual gaming environment is why many slot aficionados still play fruit slots for relaxed gambling.
Best Ways to Enjoy Fruit Slots
Perhaps the first thing to remember about online slots is that not much has changed since the days of physical slot games. Sure, developers can get ultra-creative with visuals and features, but the core functionality of an online slot is the same as the first-ever slot games that were introduced in the late 1800s.
This means you decide how much you want to bet, spin the reels and wait for them to stop to see if you landed a winning combination. Fruit slots are respected because they are arguably the purest form of the slot game and have remained highly playable and exciting for over 130 years.
One key difference between online fruit slots and traditional games is that you can play online anywhere. You can now enjoy fruit slot games from anywhere and at any time if you have an internet connection. Want to play on your sofa? Maybe lying in bed? What about on the bus to work? Thanks to online free fruit slots you can!
Myths About Online Fruit Slots
One of the most important things to do before starting to play any online slot is to fully understand how online slots function. This is especially true of fruit slots, which are often the first online slot a newcomer will play. Unfortunately, many misconceptions and outright myths are surrounding the online slot realm.
Below are some of the common myths.
Slots operate in cycles – Many people believe online slot games go through automatic cycles of providing wins and losses. In other words, if you play during a loss cycle you will never win the game. This is utterly false because all online slot games are based on a Random Number Generator (RNG). Because of this, each spin made on the game is completely random.
You are equally as likely to win 10 spins in a row as you are to lose 10 in a row. You could even win 50/50 with the same likelihood. Sure, good and bad streaks happen, but they are entirely down to the random nature of luck.
Once a big payout has happened the slot won't pay out again for a while – This myth suggests if an online fruit slot has paid out big recently it will purposely stop wins happening until it has recouped the money. That's not true and actually impossible because of the RNG model mentioned above. Not least because online slots don't hold any money and don't pay directly to the player.
Instead, the online slot is attached to an online casino with which the player would have an account and bankroll. Even in physical casinos this never happened. If a winning combination was hit on a physical slot that had no money in it, the casino would reimburse the player.
Autoplay will always pay out less – Autoplay is a feature on online slot games that allows spins to happen automatically without user input. It is a manual tool that the players can decide to use or not. Many people believe if the autoplay spin hits a win then the payout will be less than if the spin was manual. Because of Random Number Generators, the odds of winning and losing are the same whether the spin was autoplay or from user input. So, don't be afraid to use the autoplay system and let the online fruit slot take care of some of the work for you.
Basic Online Slot Knowledge
Fruit slots are among the easiest online slots to play but some important aspects of the overall online slot world are worth knowing:
House Edge
Even people who don't play casino games have heard the old adage, "the house always wins". This is true, especially if you play a game a lot. This is because of something called the house edge, which means how likely you are to win a game. Of course, not all online slots were created equal so the house edge will vary from game to game. Luckily, assessing your chances of success only involves considering two pieces of mathematical data, the volatility and RTP.
Both have already been discussed in the list of the best fruit slots above, but let's take a closer look at what they mean.
RTP (Return to Player)
As the name suggests, the RTP of an online slot will tell you how much money the game pays to players if they play for a long enough time. It is the clearest way to see the house edge of an online slot.
A simple example can highlight how RTP works.
If you play an online fruit slot game with an RTP of 95% and spend $100,000 on it over a few years, that house edge points to a return of $95,000. Not too bad, but as you can see, over that same period you would have lost $5,000. This is the profit the casino makes, the infamous house edge.
RTP calculations are made over vast sample sizes, so even $100,000 may be too low to see that house edge in action. You could be lucky enough to win money over your first 50,000 spins but the point is eventually the RTP will catch up and the house would win.
That's why online fruit slots with a high as possible RTP are preferable. In most cases, a 96% to 96.5% RTP is normal for slots and should be the ballpark you aim for. RTP's below are out there and could be worth it for high rollers willing to take the risk on a high volatility game. Likewise, some games have an RTP of 98 or even 99%, but they are very rare.
Volatility/Variance
Volatility is the other part of the equation, but it is perhaps a little harder to understand. In basic terms, it means the riskiest bet versus the safest bet.
A low or media volatility slot means you won't have to make as many risky bets to get a reward. However, the trade-off is less chance of landing a big win. In other words, many small wins for fewer wagers.
High volatility allows you to make riskier bets, which in the online slot realm means betting more money. The good news about high volatility games is the wins are much more lucrative, albeit harder to hit. That's why these games are liked by high rollers willing to gamble on risk and reward.
Our Most Popular Slots Articles