British Company is Upending the Growing US Online Sports Betting Market
October 13, 2021
Matt Speakman
Harrison Butker, the Kansas City NFL kicker, kicked the ball with his right foot towards the Tampa Bay Buccaneer pools to kick off the LV Super Bowl in February. As the ball rolled through the air, money floated invisibly next to it. Before the start, the bookmakers calculated that starting the game would result in a 77.8% touchback. But Jadon Mickens, Buccaneer's wide receiver who took Bootkers' kick, chose to run, get the ball back on Tampa's 23-yard line, and make a net profit for the anti-touchback bettors.
Super Bowl Record Amount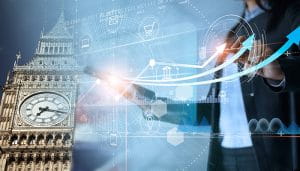 The record amount was wagered for the Super Bowl not only by the outcome of the match but also by such in-game bets. In total, American players have made legal bets worth about $ 500 million, much more than the $ 280 million made on the game a year earlier. These bets are increasingly being made online. The US betting Association calculates that 7.6 million US betters played online in the Super Bowl last year, up 63%. In fact, there were so many online bets made on match day that many online betting providers were not able to keep up with demand.
After already taken 18.48% yesterday, Entain (formerly GVC Holdings) is still winning nearly 6% on Wednesday at 2392 pence per share in London. The British sports betting and gambling group has received an offer to buy from the American group DraftKings for 2,800 pence per share (630 pence in cash and the rest in DraftKings shares). The offer represents a 46.2% premium over Monday's closing price and values ​​the UK company $ 22.4 billion.
Entain adds that it had already received an initial offer from DraftKings at 2,500 pence per share but had not followed up.
With this transaction, DraftKings wishes to strengthen its exposure to the online betting market in the United States, a rapidly growing market. Entain has a joint venture there with MGM Resorts, BetMGM.
Last January Entain had also declined a purchase offer from MGM, which valued more than 8 billion pounds. DraftKings' approach could lead MGM to try again and raise the stakes. For the moment, the management of Entain has not yet voted on the DraftKings offer and urges shareholders to take no action at this time. "A new announcement will be made when the time comes," said the group, specifying that DraftKings has until October 19 to make a firm offer.
About Entain
London-based Entain, formerly known as GVC Holdings PLC, is a worldwide betting hub with over 20 sports gambling and betting brands in Brazil, Australia, Europe, and other countries. These include Coral and Ladbrokes in Great Britain, which manage bookmakers and mobile gambling applications, and the purely digital brands PartyCasino, partypoker, and Bwin.
Entain claims the American market could touch $ 32 billion a year. And he believes BetMGM can take at least a fifth, and perhaps even a quarter of that dollar.