Lords Warn That Sports Betting Sponsorships in Football Might Cause Gambling Addiction
July 18, 2020
Matt Speakman
This cross-party committee has been formed to investigate the impact of the UK gaming industry. In fact, it states that these sponsors of Championship club jerseys will be phased out by 2023.
In this season, the bookmakers are funded by half the Premier League clubs and 17 of 24 Championship clubs. The proposals for the Gambling Act 2005, under review by ministers, belong in a 192-page report which warns against gambling-related harm.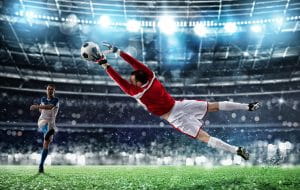 According to Lords sports betting in football has become a norm which ultimately can increase gambling addiction. The cross-party committee also recommended that gambling advertising in sports programs, venues, etc. should be banned.
However, the restrictions in terms of shirt sponsorships might not happen in the Premier League before 2030. Additionally, these restrictions might be slightly flexible in horseracing or greyhound racing.
Premier League Clubs Wouldn't Be Hurt by This Type of a Restriction
According to the report, this restriction would not hurt the Premier League's clubs, however, it might damage smaller clubs.
"We, therefore, think they should be given time, perhaps three years, to adapt to the new situation. They would not be allowed in that time to enter into new sponsorship contracts with gambling companies, but any existing contracts could continue until they terminate, and clubs would have time to seek alternative sources of sponsorship" – states the report.
In its reply to the report by Lords, the EFL stated in a statement that football is a has been connected with the gambling industry for a long period of time and the League is a firm believer that an approach based on evidence to prevent gambling hazards can have a much greater benefit than this type of bans.
Furthermore, the Premier League that according to them it would be a "welcome participant" in the government review of the Gambling Act.
Their CEO, Richard Masters has already said that gambling needs more leadership, but the clubs individually should make the decision whether they want to partner up with betting companies or not. He also added that he does not believe that a partnership between football clubs and betting companies is directly related to people becoming more exposed to betting addiction.
Betting Sponsorships in Football Might Harm Young Fans
According to James Grimes, a former gambler who now runs a charity organization knows as The Big Change does support this recommendation to remove gambling and advertising sponsorship from Premier League.
According to him, people should urge sports to reduce their ties with betting in order to avoid children to become addicted to gambling as he did. He believes that gambling in football has been normalized and children are constantly exposed to it – something that might harm them in the future. He urges Premier League football to protect young fans from gambling.
Recently the UK has made significant changes in terms of gambling and betting in an attempt to protect people from problem gambling and promote it in a responsible manner.