TFL Plans To Ban London Underground Gambling Ads
September 27, 2021
John Isaac
Transport for London (TFL), operator of the public transport network in the British capital, plans to eliminate gambling advertisements on public transport. The company announced this last week. The end of gambling advertising, which has not yet been set, follows the intervention of the Lord Mayor of London, Sadiq Khan.
No Harmful Advertising On London Transport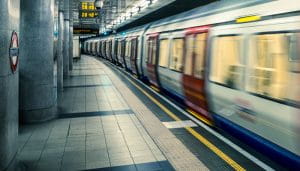 As reported by the British media the advertising space in London local public transport will no longer present advertisements for gambling in the future. After campaigns that convey an unrealistic or unhealthy body image and advertisements for junk food no longer find their way into the TFL network, Mayor Sadiq Khan is once again doing it.
The Labor politician Sadiq Khan, who was re-elected last May, spoke of the devastating effects of gambling addiction in his election manifesto. In the event of an election victory, he announced that he would officially call on TFL to extend the ban on harmful gambling advertising in its transport network.
April to June of this year alone, as reported, among other things, the daily newspaper Evening Standard, TFL has placed 49 advertising campaigns with gambling reference in its transport. It approached the figures for the entire 2018/2019 financial year within just three months. In this, a total of 61 corresponding campaigns were put on display.
Transport For London (TFL) Takes Its Time
In a statement, TFL announced that the end of gambling advertising in the underground was mainly due to the initiative of the Lord Mayor of London, Sadiq Khan.
The mayor asked for them to consider restricting advertising campaigns for gambling on our network. We are currently examining how this can be done and will be engaging with several stakeholders on this.
The Labor politician had previously stated that he had formally requested TFL to present its plans to implement the end of gambling advertising. The subject was recently raised by Green MP Sian Berry at a meeting of the London Assembly.
The former opponent of Khan in the race for mayor's office wanted to know to what extent the significant increase in gambling advertising was appropriate given the financial challenges that many London citizens are currently facing.
TFL has not yet commented on the time frame for the advertising for online casinos and others. It can be assumed that this will depend on currently ongoing contracts. According to estimates by the Evening Standard, the end of the cooperation with the gaming industry could cost the transport company between the equivalent of 15 and 30 million euros per year.
Another advertising segment is also under pressure:- those that advertise so-called venture capital investments, although Khan told that such adverts are more challenging to control because they do not come into a specific section. At the beginning of the year, a campaign for a cryptocurrency trading platform promoting the purchase of bitcoins was canceled after verification, despite TFL's initial approval.