Best Fairytale Slots
Fairytales have always been a part of our lives for a very long time; at least the cartoons we all watched when we were little consists majorly of fairytales. The slot industry has done well to tap into this connection some slot lovers have with the world of fairytales and provided them with a number of fairytale slots to enjoy. Names like Hansel and Gretel, Little Red Riding Hood, and a host of others would ring a bell.
For this reason, we have compiled some of the best fairytale slots brought to you by the best game providers in the business. The prominent names like Microgaming, Netent, Play n' Go, and a host of others are among this list. You can use the name of the providers to search and download fairytale slots online. Expect nothing but top-notch slots! However, a lot was put into consideration before the list was compiled. For instance, the gameplay, graphics, user interface, bonuses, wagering requirements, and a lot more were considered. So without any much ado, let us take a look at the top ten fairytale slots you can find online. Hang on to your hats!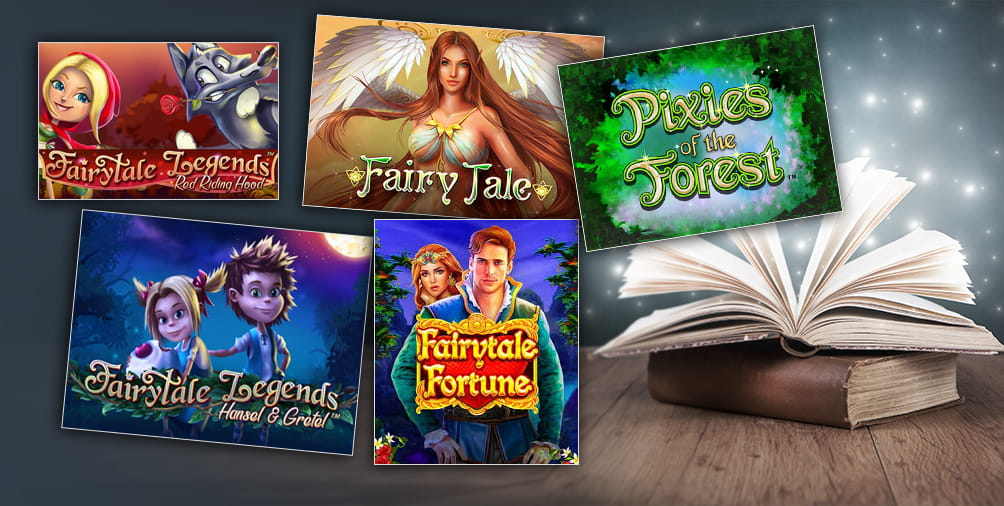 10. Unicorn Legend
| | |
| --- | --- |
| Progressive Jackpot: | No |
| Software: | Nextgen Games |
| Paylines: | 25 |
| Reels: | 5 |
| RTP: | 95.32% |
If you are a fan of high-quality animations and sound effects, then you are at the right slot. The Unicorn Legend slot brings you nothing but high-quality gaming from the stables of Nextgen gaming. There are 25 pay lines in this 5 reels slot, and you can make wins of up to 2,000x. If you are not yet convinced to try the game out with your hard-earned cash, you can play the free trial mode to see how things go. Just bear it in mind that this slot with an RTP of 95.38% has a lot more in store for you if you decide to wager some cash. It features a nice choose-your-own free game option that lets you decide which free game works best for you. Unlike other casino slots that bring random free games without giving you the liberty to choose.
Another fantastic feature of this slot is the option to choose between a high 12x multiplier and 20 free spins. It is clear that Unicorn Legend likes to pamper their players with freedom and bonuses. However, you should learn to use the wilds (Unicorn) and the high paying symbol (Fairy). Those would put a smile on your pocket if you use them well. Talk about being a fairytale – this is one fairytale of a game! If you consider the graphics, the sound effects, and the features of the game, you would have no doubt that this is one of the best fairytale casino games in the industry. You should give it a go and see it for yourself!
9. Pixies of the Forest
| | |
| --- | --- |
| Progressive Jackpot: | No |
| Software: | IGT |
| Paylines: | 99 |
| Reels: | 5 |
| RTP: | 94% |
Speaking of generous slots, Pixies of the Forest is one of the most generous slots yet! It offers 99 fixed pay lines on 5 reels. IGT is ready to give you a lot of wins, only if you know how to harness it. just like other slot games, you have to understand the dos and don'ts of this slot. For instance, you should know that you can access all 99 pay lines once you have 33 coins. This is unusual for a slot game and IGT did well to make it rewarding as well as entertaining. For those that love fairytales, this is one of the most magical slots yet. Its visual and audio experience is just out of this world. It should remind you of movies like Harry Potter, Merlin, Witches of East end, and the likes. Its theme is basically centred around fairies and a lot of magic.
Some of the main features of the game include the Autospin button, Tumbling reels, and the bonus symbols. The Autospin button allows you to spin around 10 to 50 times automatically. This way you can keep making your free spins without having to touch the computer – valuable time that you can use to do something else in your schedule while still enjoying the gameplay. All you have to do beforehand is to select your most preferred coin values before starting the automatic spins.
You can trigger the Tumbling reels feature once you get a winning combination. In this feature, all your winning combinations are assessed and your wins would be added into your account. Don't be surprised if the winning symbols disappear. It's supposed to happen. The empty spaces are filled with new symbols after the reels have tumbled.
8. Miss White
| | |
| --- | --- |
| Progressive Jackpot: | No |
| Software: | IGT |
| Paylines: | 1024 |
| Reels: | 5 |
| RTP: | 95% |
Do you like snow white? If yes, then you are in the right place. If no; well, you are still are the right place because this slot would blow your mind! Brought to you from the stables of IGT is one of the most magical slots yet. It is filled with tunes that you would love and interesting gameplay to seal the deal. There are tons of features in this magical game, and the most intriguing is the 1024 ways to win with the Multiway Xtra lines. Let us take a look at some of them.
First of all, the 1024 ways to win is the eye-opener. It is basically the most attractive part of the slot, but it can only be harness if you stake 45 credits per spin. Each stake has a minimum of 0.01 coins and a maximum of 5 coins. However, you would love to check out the Magic Mirror free spins. Here you are to choose one out of a number of apples – where each apple can give you up to 15 free games. During gameplay, finding items for Miss White would lead to rewards. You get 15x your stake for 5 frogs or flowers, 25x your stake for 5 owls or birds, and 40x your stake for 5 dwarfs. The evil witch is the second most valuable so far, and she gets you 125x your stake. The most valuable is the prince, who has the magical power to bring Miss White back to life and also get you 150x your stake.
It doesn't end here! For helping Miss White so much, she is going to get wild with excitement. Her excitement kicks the expansion system into action. In this system, the Miss White symbol would substitute all symbols between her and the white dwarf. The symbols between two white dwarf symbols would become white dwarfs. At the end of it all, the payout would leave you in awe.
7. Fairytale Legend: Hansel and Gretel Slots
| | |
| --- | --- |
| Progressive Jackpot: | No |
| Software: | Netent |
| Paylines: | 10 |
| Reels: | 5 |
| RTP: | 96.7% |
This is one of the most popular fairytale slots so far. It is absolutely a legend, and there is no way it won't have found a place in the top 10 list of the Best Fairytale slots. We all know the story of two kids who were left in the forest by their parents. They later find a cabin made of candy… and they finally shoved an evil witch into her own oven. Thanks to Netent, slot lovers can relive this wonderful fairytale right on their devices.
Fairytale Legends: Hansel and Gretel slot comes with 5 reels and 10 pay lines. Its gameplay is quite simple: match the identical symbols across your pay lines. The game only gets sweeter when you add a wager. You can make bets of 1 to 10 coins per line but bear in mind that you have to play all 10 pay lines at once. It is a nice balance for the conservative players and the risk-takers. Unlike other slots, you can create a win on any reel and not compulsorily the first reel. A combination of three or more on a row would do the trick and it doesn't even matter where the combination starts from on the line. The trick to this fairytale legends slot is that you have to be smart like the two kids. An evil witch is definitely a touch adversary to face, but with smarts and the right tools, you would surely win. This is why you should keep an eye out for the machine logo. It is the highest paying symbol, and it can cough up 400x your bet.
6. Rainbow Riches Slot
| | |
| --- | --- |
| Progressive Jackpot: | No |
| Software: | Barcrest Games |
| Paylines: | 20 |
| Reels: | 5 |
| RTP: | 95% |
The Rainbow Riches is one of the most popular slots you can find online. Barcrest games did well by making a classic fairytale slots that gives players a feel of the old time slots. With 10 pay lines and 5 reels and a ton of features, this is a slot that would blow your mind away. It also has bonus features with a lot of prizes to offer, and it is available on most mobile devices and PCs.
It has a classic feel and interface that looks like an old-time slot machine. Here you would find reel pictures such as the Leprechaun and his hat, Ace to 10 symbols, and the logo of the game. The symbols of the Rainbow Riches online slot makes it one of the most interesting slots game you can find online. There the two special symbols in this game, the wilds and scatters, just like most other slot games. However, the most important symbol here is the Leprechaun symbol – the wild. It is a Gold Coin logo which is very noticeable when it appears on the reels. The scatter symbol is the Leprechaun's Hat, and it usually triggers the bonus rounds. The bonus rounds of the game are filled with rewards. The first bonus game is called the Pick Me bonus round. It is activated once the player gathers three Leprechaun Hats between the first and fifth reels. The player is taken to a special screen when the bonus round is activated. Here the player sees the three hats and picks one out of the three. Two of the three hats hold cash prizes, while the third one contains another bonus round.
5. Fairies Forest Slots
| | |
| --- | --- |
| Progressive Jackpot: | No |
| Software: | Nextgen gaming |
| Paylines: | 25 |
| Reels: | 5 |
| RTP: | 95.34% |
Nothing beats watching fairies fly around in the night, glowing as they move majestically in the green forest. Nextgen gaming put the very essence of fairies into this slot game to produce one of the best fairytale slots ever. There are lots of enchanting symbols and bonuses up for grabs in this slot game. The fairies are very generous and they give out all the gifts by themselves. But first, you would have to help them find some important things in the forest. Some of the things to keep an eye out for include mushrooms, letters, fairy dust, flowers and birds.
There are 5 reels and 25 pay lines in this adventurous slot. The symbols are like your usual slot game and include the 9, 10, J, Q and K card symbols. If you can get any three or more on the reels, you would be rewarded 5x to 250x your stake. Finding 5 mushrooms or flowers is just golden. You would be rewarded 500 times your stake. But know that you have to go deep into the forest to find these symbols. Seems hard, right? Wait till your fairies begin to run out of fairy dust. You need to get them a constant supply of fairy dust to keep them flying. If you are so lucky to find 5 fairy dust… 1,000x your stake should keep your motors running. Sounds nice, right? There is more! The fairies need 5 beautifully coloured birds. Finding five of these beauties in a single location would get you 5,000x your stake! Honestly, it doesn't get any better or magical than this. The only thing that can make this sweeter is if your fairies go wild. When this happens, they appear on reels 2 to 4 and expand to cover the entire reels and increase your payout.
4. Emerald Isle Slot
| | |
| --- | --- |
| Progressive Jackpot: | No |
| Software: | Nextgen gaming |
| Paylines: | 20 |
| Reels: | 5 |
| RTP: | 94.5% |
It is time to head on to the emerald isle and enjoy the tranquil. It is one of the best from the stables of Nextgen gaming, and it is going to make you spend a lot of time on your device. There are quite a few interesting features in this slot, such as the Irish princess, pots of gold, rainbows, and of course, a leprechaun with a hat. If you are a fan of Irish adventures and a slot with a tranquil theme, then this is the best place for you to be. There are wilds, scatters, bonuses, peaceful Irish tunes, and lots more!
The first thing you need to do when you start the game is to choose a stake. There are 20 pay lines in this slot, but they are fixed for all spins. You are to choose between €0.01 and €2.00 for coin bets. The max bet is €40.00 and the min bet is €0.20. It is a nice bet range for both high rollers and conservative players. However, the bet range is not the only interesting thing about this game. The symbols of the game are quite fascinating and come with unique bonuses. The Red bearded leprechaun is the wild and it awards up to 6,000x your wager if you can get 5 matching symbols. The red-haired woman awards up to 1,500x your wager, and you are likely to see more often than the rest. The rainbow is the scatter symbol and it awards you 100x your bet if you can get 5 of it on the reels at a time. Not bad for a tranquil slot game.
3. Jack and the Beanstalk Slot
| | |
| --- | --- |
| Progressive Jackpot: | No |
| Software: | NetEnt |
| Paylines: | 20 |
| Reels: | 5 |
| RTP: | 96.3% |
This is one of the classic fairytales that everyone must have heard at a point in their life. It is one of Netent's most popular slots, and it has a fun-filled adventure just for you. One would say that this slot game has a stunning display showcasing a nice theme we are all familiar with, but the truth is that NetEnt put a lot of effort and expense in making it. Only a few classic fairytale slots can boast of a 3D display and realistic sounds in the background. To be honest, you can easily get drawn into the storyline of the game and relentlessly desire to go deep into the adventure. Maybe it's the fairy tale tunes or the symphonic sounds in the background; one would say that the theme of this game from the real story is quite engaging. There are lots of butterflies fluttering across the screen where you would notice the house of Jack and its compound. The symbols in the game are also present in the interface, and they resemble curly-leaf vine letters on top of a wooden square.
There are numerous symbols in the game, and you would have to get acquainted with them in order to get accustomed to the game. There are low-value symbols and high-value symbols. These low-value symbols are the usual deck of card numbers; Ace, 10, K, J, and Q. These small symbols resemble leafy vines on a wooden square block, and you won't miss them. On the other hand, high-value symbols are a bit rare. They are not as common as the low-value symbols. They include the watering can, an axe, a goat, the two-headed purple giant, and Jack. Jack is the most valuable of all, while the watering can is the least valuable in the set of high-value symbols.
2. Wizzard of OZ Online Slot
| | |
| --- | --- |
| Progressive Jackpot: | No |
| Software: | WMS |
| Paylines: | 30 |
| Reels: | 5 |
| RTP: | 95.99% |
This game has a wonderful theme that got its concept from the famous Wizard of Oz movie. The graphics, however, depict a cartoon in comparison to the characters in the movie scene to give it an original look comparable to none. There are a lot of casino slot games that use the Wizard of Oz theme, but WMS killed it this time with this slot. They made a game that portrays the real deal to players and fans of the real movie all over the world. One can only bask in the features this game has to offer.
The features of the game provide the player lots of ways to win real money, and they are a lot of extra free spins! The symbols of the game are gotten from the characters and icons of the movie. They include the game logo, Dorothy, Toto, Emerald city, Scarecrow, Ruby slippers, the Lion, the Tinman, the Wicked Witch of the west, a tornado, hot air balloon, and one of the houses that were taken away by the tornado. Now that is a lot of symbols! There are two symbols here that matter more than the rest – Emerald city and the Game logo. Emerald city is the Feature symbol while the logo is the wild symbol. However, there is another symbol, Glenda the Good Witch, which occasionally appears to give the player 5 wild reels. This exciting adventure is something to keep you busy while making money! Only the strong-in-heart can venture on this journey, or maybe the Lion isn't the only one that needs courage! Either way, the 95.99% RTP should give you some courage.
1. Fairytale Legends: Red Riding Hood
| | |
| --- | --- |
| Progressive Jackpot: | No |
| Software: | Netent |
| Paylines: | 20 |
| Reels: | 5 |
| RTP: | 96.3% |
This is the, by far, the most popular fairytale legends slot. Everyone knows the story of the little girl who went into the woods to meet her grandma but met a wolf in place of her grandma. The ingenious story was used by Netent to create a graphic and entertaining slot that you can enjoy anywhere you are. There are bonuses and some cool features in this slot that would surely entice you. One of these bonus features is the board game that involves red trekking through the forest and collecting all sorts of goodies for her grandma. There are other bonus features like the sticky wild respins, fairy magic respins, fairy surprise, fairy wild spin, pick a box treasure chest, and the 15x multiplier coin win. For a slot game about a little girl in the woods, this is a lot of adventure. Are you sure you are up for it? Remember, little Red is already in the woods and she would need your help to get to her grandma and come out safely. Can she rely on you?
Conclusion
So there you have it! The best fairytale slots you can find online. They work on both PCs and mobile devices. All you need is to log in to the site of the provider, or a casino that offers the game, and you are good to go! for those that prefer a mobile app, you can download fairytale slots from the app store.
Our Most Popular Slots Articles