Atlantic City's Notes 21% Drop in Their Employment Rate in August
September 30, 2020
John Isaac
COVID-19 pandemic's consequence on the gambling industry might be bigger than people originally thought they would be. In fact, according to data from the New Jersey Division of Gaming Enforcement, many people had yet to return to their employment after the gambling sector was reopened again.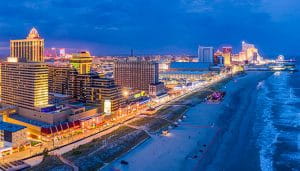 Last month, 22,352 people were employed by Atlantic City's nine casinos, 2,528 less than the total employment of the industry in July, with 6,233 fewer workers than were registered in August 2019, a decrease of more than 21% year on year.
The employment report also reveals that the Press of Atlantic City estimates that 5,771 jobs have been classified as "other". Jobs referred as "other" usually include seasonal and temporary employees. However, this year the group also includes a huge amount of people who lost their jobs as a result of the COVID-19 pandemic.
Casinos Are Taking Back the Employees They Previously Let Go
When compared to July, the number of full-time and part-time staff both rose in August, but they were slightly lower (28%) than in August of last year. Between July and August, the number of workers classified as "other" decreased by more than 2,800.
Jane Bokunewicz, a coordinator of the Lloyd D. Levenson Institute of Gaming, Hospitality & Tourism at Stockton University, said that it looks like most casinos are taking back as many newly unemployed workers as they can, and some are letting the rest go.
Borgata Hotel Casino & Spa laid off 2,295 workers on Aug. 31, an action reflected in job data sent the next day to state gaming regulators. Borgata is the city's largest casino employer, with more than 5,000 jobs usually registered. The Marina District property reported 3,128 employees for August.
"It seems most casinos are bringing back as many furloughed employees as they can, and some are letting the rest go. Borgata may have been impacted more than other properties since they have more of a nongaming footprint than others. The food and beverage and convention jobs at Borgata would be among the most vulnerable under current circumstances" – said coordinator of the Lloyd D. Levenson Institute of Gaming, Hospitality & Tourism at Stockton University, Jane Bokunewicz.
This Is a Result of The Lockdown That Happened in March
However, the August job statistics do not represent a large number of hospitality employees who returned to work this month because the indoor casino restaurants didn't resume until September 4th.   
Around 44 percent of the union's members served until Gov. Phil Murphy allowed indoor dining to return, Bob McDevitt, president of Unite Here Local 54, the labor union representing almost 10,000 food and beverage, hotel, and sanitation workers, said. He reported that the figure had risen to nearly 68% in September.
Other positions were provided to workers who were unable to return to work because their job was not yet required.  
Callender and McDevitt both stated that most people choose not to go back to work in another capacity.
After the lockdown, the casinos were permitted to reopen at 25% capacity on July 2 and did not give visitors the full experience of the resort, which includes indoor dining, restaurants, nightclubs, and entertainment. In the second quarter of 2020, the Atlantic City casino industry experienced a $112 million operating loss despite being closed for around 3-4 months.