Bristol City Has Confirmed MansionBet as the Main Partner for the 2021-22 Season
July 10, 2021
John Isaac
Online casino operator MansionBet will continue as the club's partnership with Bristol City. The operator will remain the main associator and club jersey promoter for the coming season.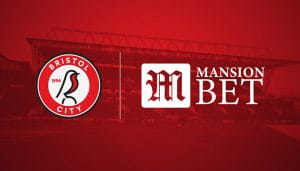 In 2018, Mansion Group launched MansionBet. Since then, the operator has continued its close relationships with Bristol City clubs and football fans.
Earlier in April, the MansionBet stated that they would take part in social media "blackout" to assist the aim of ending racial violence; more recently, they took part in a game with TalkSport host Jason Cundy.
Football Clubs Criticized for Signing Partnership Contracts with Betting Operator
In the past, the online betting company has promoted Bournemouth, Crystal Palace, and Tottenham Hotspur. They had also sponsored Newcastle United and Manchester City.
In response to issues about football and gambling agreements, the club said they are "committed to promoting reliable sports and that the operator logo will not print on children's jerseys."
In 2020, a special committee was set up by the 'House of Lords' to examine the effect of the betting industry on pro games.
According to the suggestion, gambling firms do not need to advertise on jerseys of competing football teams in EPL leagues.
The Department for Digital, Culture, Media, and Sports (DCMS) is currently reviewing this recommendation.
The huge critique put heavy pressure on football teams; some clubs forced themselves to break their contract with promoters. Norwich City FC broke their agreement with betting operator Dafabet to partner with another gambling firm BK8. However, the new deal received more criticism due to the betting operator's disputable marketing strategy. The club has learned of this, withdrew the agreement, leaving a big hole in the club's budget for £ 5 million.
The Statement of Dana Boker
Dana Boker, Mansion's Integrated Marketing Manager, said that it has been a very busy first season with Bristol City and that she is delighted to continue their partnership with the club in support of the Premier League.
Bocker also said that they are excited to go back to the stadium for the new season to interact with fans.
According to Justine Kebby, they are delighted to confirm their association with gambling operator MansionBet for 2nd time. They appreciate ongoing help in working with the football club and their fans.
He also said that with almost twenty years of market experience supporting the game, the operator brings a wealth of experience and innovation to this association.
About Mansion Group and MansionBet
The Mansion group offers a lot of famous online casinos, which include MansionBet, Slots Heaven, Casino.com, Sportsbook, and MansionCasino. The company's portfolio offers thrilling games from the best providers and offers gambling on different sports across multiple markets.
Anyone who loves casino games, gambling, the adventure of football, or horse racing will get plenty of entertainment on the MansionBet platform. In the past, Organization has established itself as a sponsor of Bournemouth, Crystal Palace, Manchester City, and Tottenham.
Thus, the operator is glad to keep this association with the pinnacle of English football by making a contract with Newcastle United.