DraftKings Will Start a New Collaboration with Turner Sports on Thursday
October 28, 2020
Todd Winkler
Sports betting company DraftKings decided to establish another media collaboration on Thursday. This time the collaboration is with Turner Sports, a property of WarnerMedia.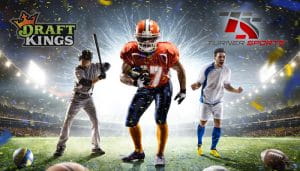 In its press release announcing this decision, the company said that this will make DraftKings as an exclusive sportsbook and daily fantasy sports provider across selected properties of Turner Sports and Bleacher Report. One of them will also be the B/R app.
As the AT&T-owned network has agreed to a separate arrangement with rival FanDuel to incorporate content into Turner's NBA games, the agreement excludes content involving the National Basketball Association. The agreement's financial terms were not disclosed.
DraftKings recently has established partnerships with New York Giants, Chicago Cubs, and ESPN and also with Michael Jordan in an equity contract.
DraftKings needs more brand recognition, like other sports betting companies in the U.S., as it resumes the battle for market share in the U.S. sports betting market.
"Regulated betting is quickly becoming a fixture of modern sports entertainment, and this collaboration with Turner Sports further scales the reach of our products and content to engage fans," stated CBO of DraftKings, Ezra Kucharz.
At the moment, 18 states permit online sports betting while four states have allowed sports wagering, although they are not yet operational. Six states are in active negotiations to legalize sports betting, including Massachusetts, where DraftKings is headquartered.
DraftKings' Shares Increased in September
DraftKings, which made its public debut by SPAC in partnership with Diamond Eagle Acquisition Corp, for an approximate value of 3 billion dollars in April, soon increased to a value of more than 12 billion dollars.
DraftKings will, like its ESPN contract, incorporate its content into the output of Turner Sports.  Upon the announcement of its ESPN partnership, DraftKings' shares jumped 17% on September 14.
DraftKings Established a Partnership with Michael Jordan in September
This is one of the many successful partnerships that DraftKings has made in September. In fact, perhaps the most popular one is the contract they signed with one of the greatest basketball players of all time, Michael Jordan.
Michael Jordan was welcomed as the company's special advisor to the management board. In return for providing advice and strategy advisor to the board of directors on key initiatives implemented by the sports technology and entertainment business earlier this year, Michael Jordan has agreed to share the DraftKings equity stake.
Jordan will provide the board of directors with strategic and innovative guidance on business strategy, product growth, inclusion, equity and belonging, etc. 
To this, the CEO and co-founder of DraftKings have said that considering that Michael Jordan is one of the most important people in sports, the strategic counsel he brings to their board is invaluable.
Michael Jordan, who is often referred to as MJ, is one of the most successful basketball players in the history of the United States. He played 15 seasons in the NBA and won six championships with the Chicago Bulls. Michael Jordan is also the principal owner of Charlotte Hornets, a professional basketball team based in North Carolina.