Governor Newsome Closes Poker Rooms Again
July 11, 2020
John Isaac
California Governor Gavin Newsom ordered the closure of certain companies, including cardrooms, dine-in restaurants, movie theatres, wineries, and museums, two weeks after Los Angeles Poker rooms were reopened.
This decision comes after Governor Newsome warned that he will shut down businesses again after a huge increase in the number of COVID 19 in California only a few days before this new closure.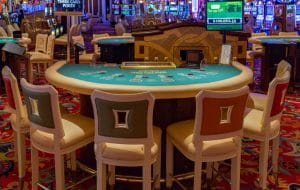 At the moment have been registered over 237,000 cases of COVID 29 in California, is the second most affected state in the US after New York. The new coronavirus known as COVID 19 is estimated to have caused the deaths of 6 163 people in the state.
Around 50% of the registered cases of COVID 19 were only registered in Los Angeles County which is where 5 of the largest cardrooms in the world are located. Between the others, Los Angeles is also home of Commerce Casino which is considered to have the largest cardroom in the state with 210 poker tables.
Newsom says on Twitter that the virus spreads in the state at an alarming rate, therefore, it is important to close certain businesses including cardrooms. Besides cardrooms, other businesses that were affected by this decision are restaurants, wineries, movie theaters, zoos, and museums which were closed not only in LA County but also in 18 other counties.
It Is Not Known Where Poker Rooms Will Be Reopened
Newsom did not specify a precise date for allowing these firms to reopen but said they would be suspended for a total of three weeks. He will reassess the situation again at that point.
The "Live at the Bike" stream must stop filming as a result of the current closings before The Bicycle Casino will reopen legally. Recently LATB started to stream for the first time in nearly three months its famous cash game show on YouTube and Twitch.
Los Angeles County is a home of 6 poker rooms, however, only one of them – Larry Flint's Lucky Lady Casino has never been reopened since the very first lockdown as a result of the outbreak of the new coronavirus.
Some Casinos in Other States Have Been Closed Again
California seems to not be alone when taking this step. In fact, casinos in other states have closed again in an attempt to prevent further spread of COVID 19. For example, two casinos in Oklahoma and three in Arizona have been closed after it has been confirmed that some of the employees were tested positive of COVID 19.
Contrary to that, tribal casinos, regardless of location, will not be closed again. Additionally, San Diego was not covered by this decision therefore the casinos there will remain open.
All these unusual measures come as a part of the constant fight against the new coronavirus that first appeared in November 2019 in Wuhan, China, and later in March has been declared a pandemic by the World Health Organization. Predictions say that the world could not get back to normal a.k.a. as it used to be before until a vaccine against this virus is being made.
Until then social distancing, hygiene, and strict measures are the only things that people from all around the world can do.