Local TV Broadcasters Will Be the First to Start Legal Sports Betting Ads
May 22, 2021
Todd Winkler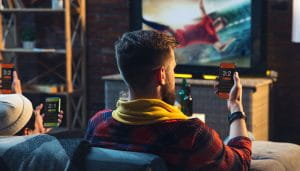 As legalized gambling continues to achieve popularity in the US and gain acceptance in more states, discussions about who will benefit most from them have become a matter of concern.
Ultimately, gambling should provide more possibilities for professional sports companies and their betting associates. Meanwhile, advertising expenses are the major assets as betting platforms try to gain a foothold in the marketplace, and nobody else is taking advantage of local TV and radio stations.
Top Sports Betting Sites Buying Spot TV
According to Nielsen's ad-spend data, in the first quarter of 2021, online gambling and sports betting sites purchased ads from local broadcasters for $ 153.6 million. Unsurprisingly, DraftKings and FanDuel set the stage, with DraftKings' investment of 43.6 M dollars on local ads, while FanDuel also spent 57.7 M dollars. Both use 66% for the local TV advertising investment in the market.
The only competitor is BetMGM who invest 24.9 M dollars in double-digit advertising. Other opponents in this space that have to invest a few million in TV commercials are Betfair, PokerStars, and BetRivers.
By comparison, DraftKings and FanDuel together spent just 15.4 M dollars on national television. It includes a 5.5 M dollars Super Bowl LV commercials for DraftKings. Since sports betting has not allowed in most states, national spending is unlikely to rise anytime soon.
Online Betting Spend by Media Platform
These companies are so focused on local television that their costs account for 78.4% of total media spending. National television accounted for 3.7%, Digital advertising 12.7%, and radio only 2.2%.
Sportiko said that local TV ad investment is expected to reach 590 M dollars as awareness grows in many states while sports betting is being legalized all over the US.
Moreover, there is another point to examine is the exclusive licensing of retailers and mobile, such as DraftKings with New Hampshire. As per the deal, DraftKings will share 51% of its gambling earnings with the government in exchange for exclusivity.
The news should be interesting for organizations such as Sinclair, who are bathing into RSN as they receive large royalties during periods of declining earnings. Knowing that bookmakers want to target their users and the in-house promotions and associations they develop can be their source of income in the future.
Also, as national and local networks, not to note the competitions, amplify their betting-related programming, this will continue to make the perfect atmosphere for buying sports gambling TV commercials.
Online betting is priced locally as broadcasters no longer benefit from rising political advertising spending, which has offset (at least in part) the sharp drop in cash purchases in the automotive and industrial sectors. According to global ad agency GroupM, broadcasters' political ads are down $ 4.2 billion, and local TV spending is down 23% in 2020.
Two states have allowed gambling through Native gambling casinos. In addition, there are now 26 states that have legalized betting, some of which allowed mobile/online betting. Legislators in another eleven states are considering promoting some form of licensing betting on sports.