One of the Largest Poker Room in Atlantic City to Reopen on Wednesday
October 26, 2020
Scott Bowen
One of the United States' largest poker rooms is scheduled to be reopened this Wednesday as it was closed in March due to lockdown. Hotel Borgata Casino & Spa is opening at 10:00 a.m. on Wednesday.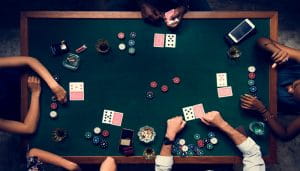 There are only 30 separate tables, each with polycarbonate spacers for each seat, opening the room, which previously hosted 77 tables. Only seven-handed cash games will be available, as no tourney plans currently exist. Players should expect several lucrative promotions like a $100,000 Bad Beat Jackpot.
"We are happy to welcome back our loyal players as we reopen Atlantic City's market-leading East Coast poker destination. We have made some changes to enhance our guests' experience and are excited to reintroduce live poker and the Borgata Poker brand more safely," – stated president and COO of Borgata, Melonie Johnson.
Moreover, there will be some changes that customers will have to respect. They include: wearing masks in the casino, food will not be allowed in the poker room, there will be hand sanitizing stations, spectators will not be allowed, etc.
Borgata was the last casino in Atlantic City to reopen its doors to guests, however, it will be the first to open re-open the poker rooms in the city. The combination of sales in all five rooms over the past two years amounted to about 28,5 million dollars annually.
What Is Borgata Famous for?
Borgata is the host of famous on-site tournament series such as the Borgata Spring / Summer / Fall Poker Open and is a long-term partner of the World Poker Tour.
The Borgata Winter Poker Open $3,500 Main Event of the 2020 World Poker Tour was held prior to the pandemic, with a total entry field of 1290 players being reduced to six. The final table was scheduled for April 1, at the Luxor Hotel & Casino HyperX Esports Arena in Las Vegas but this was disrupted by the lockdown that was held due to the pandemics.
Which Poker Events Are Postponed?
At the moment, the final table is still on a break with an unspecified return date. The 2020 WPT Gardens Poker Championship and WPT L.A. Poker Classic are also postponed. iPlayers including Veerab Zakarian, James Anderson, Brian Altman, Bin Weng, Andrew Hanna, and Nathan Russler which are scheduled to participate will have to wait to find out who will take the first-place prize.  
The WPT and Borgata maintained ties with the US Network last month by hosting the WPT Online Borgata Series, amid the pandemic. Tony's "ToNiSiNzz" Sinishtaj won $1,060 in the Main Event for $77,349 in the 10-event series.
He has also won the WPT Seminole Rock Poker Showdown at Season XVI for $661,283.
Borgata Hotel Casino & Spa is a four-star hotel located in the heart of Atlantic City. As already mentioned, it is considered to behave one of the largest poker rooms in the entire country which is no surprise why it is that popular among poker enthusiasts. It was opened in 2003 by MGM Resorts International.