Carolyn Goodman Doesn't Like Governor Sisolak's Way of Dealing with COVID-19
December 9, 2020
John Isaac
COVID-19 cases continue to rise in Nevada. Every minute there is someone infected from the virus and every couple of hours someone dies as a result of COVID-19. On Wednesday, one day after the previous high, the state announced a new record of 3,159 additional incidents.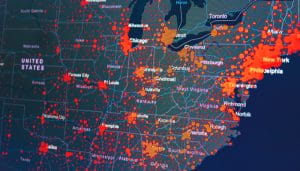 Las Vegas Mayor Carolyn Goodman, after a "state-wide pause" for three weeks issued by the Democratic Governor to prevent coronavirus from spreading, called Nevada Governor Steve Sisolak "a dictator."
As in March, Sisolak was hesitant whether he should close some business like that was the case in March or not.   However, it proclaimed Sunday's highest mask mandate and lowered capacities from 50% to 25% in casinos, restaurants, pubs, and several other venues.
The New Measures Will Last Only Three Weeks
County Clark declared earlier this week that government office operations that cannot be carried out effectively cancel public buildings except the McCarran International Airport and University Medical Center. The City Hall of Las Vegas will stay open with implemented guidance on public health.
The new order would last just three weeks, he stated, adding that COVID-19 would not vanish until a vaccine is readily available. Goodman said that Sisolak did not take into account details on which he did not consent to contact the mayors for feedback. She explained that he has already tried those measures and the virus is still not under control.
COVID-19 Cases Are Growing at a Rapid Speed
In a statement to the Review publication, Sisolak rejected Goodman's assertion that the state frequently consults local administrations. He further said Las Vegas consistently did not fulfill the quotas for enforcement of company conformity. He also called for the representatives of Nevada's message to be together.
Goodman labeled the announcement of Sisolak in April to close down "insanity" casinos and all the needless enterprises.
Almost half of the 142,239 maximum state cases have occurred since the pandemic started in September, a full fourth in November, and 10% in the past seven days, as stated by the Nevada Department of Health and Human Services.
"We have COVID-19 exploding in our community. It is spreading rapidly. We have exponential growth going on," – said Kevin Dick, Washoe County Health District Officer.
He also explained that in Clark County, the most populated county including Las Vegas, the Reno-Sparks region of Washoe County has been affected most recently, while the bulk of the cases. According to Dick, the current increase in the region of Reno-Sparks has led to more than double the number of people per 100,000 this summer as the last significant spike in "the city that never sleeps".
Governor Steve Sisolak isn't the only one that has taken strict measures to prevent the further spread of COVID-19. In fact, authorities from all around the world have recently announced national lockdowns or other strict measures as COVID-19 cases continue to rise in all parts of the world. A good example is the UK who in the last few weeks has been under a national lockdown.