West Virginia sports betting is now available to all residents of the state, following the law changes from 2018. Being the fifth state to embrace online gambling in this capacity, West Virginia makes for an interesting case study in US online sports betting. In this article, we will explore everything from the best West Virginia betting sites to important laws and other factors.
All West Virginia online sports betting sites mentioned here are licensed by the WV Lottery Commission. As such, they are bound by the laws of WV and safe for punters to visit. We only work with legal West Virginia sportsbooks, and we will not promote any that goes against the established regulations. With this in mind, here are the best sportsbooks in West Virginia:
Last updated: August 23, 2021
West Virginia Sportsbook
Welcome Bonus
Pros and Cons
Test Score
Trusted Link
BetMGM
$1000
Sports and Casino

,

Play-In Betting

,

Short Bonus Time

4.9/5
www.betmgm.com
Why You Can Trust online-gambling.com?
Top West Virginia Betting Sites by Category
The West Virginia online sports betting scene is still in its development stages. But that doesn't mean that there aren't excellent sites out there. We have carefully scoured the Internet to find the best West Virginia sportsbooks. We have listed the sportsbooks in West Virginia and their unique features directly below:
BETMGM – Premium Service and Betting Markets
While the current selection of betting sites in West Virginia is still humble, we expect that it will expand in the coming years. The US is quite behind the rest of the world in terms of online gambling, and WV has much to make up for. Nevertheless, you can still enjoy high-quality WVsports betting in the meantime.
West Virginia Sports Betting Rules: Available Sports and Top Leagues
As far as the available betting markets in West Virginia sports gambling go, just about all popular sports are up there. WV sportsbooks will provide you with a plethora of choices in both the sports you can bet on and their respective leagues. Nothing is stopping you from engaging in the WV sports betting that you enjoy. If you would like to first learn the basics, you can consult our online sports betting guide.
Every West Virginia sports betting site offers dozens of options, ranging from popular sports like football and baseball to niche markets like darts and cycling. Regardless of what sport you like to view in your free time, you will be able to bet on it. Below, we will go into detail about the most popular betting markets in West Virginia.
1. Football Betting – NCAA, West Virginia Mountaineers & More
Football is one of the major US sports, and the betting scene around it is immense. West Virginia online sportsbooks are more than willing to take your bets on football matches, and even offer promotions on special games. As such, it only makes sense for you to exploit this to your full advantage.
Among the popular leagues, we find the NFL and the NCAA. The West Virginia Mountaineers are naturally the state's favorites, and you can now place bets on your home team. All WV sportsbooks will provide betting options for Mountaineers games.
2. Baseball Betting – MLB, Minor League Baseball & More
Nothing says American sports like baseball, and West Virginia online sports betting sites understand that quite well. As a result, any WV sportsbook will provide you with more than enough baseball games to bet on. You can certainly get your money's worth with baseball wagers.
Games you might be interested in include those with the Princeton Rays. An Advanced Rookie level team in the Appalachian League, the Rays have won 1 League title and 3 division titles as of 2018. Other than that, MLB matches are also available at all WV betting sites.
3. Hockey Betting – Wheeling Nailers, ECHL & More
Hockey might not be as popular as football or baseball, but it certainly has its audience. If you are a hockey fan, you can show support for your favorite team. WV betting sites will not shy away from the opportunity to take your wagers.
The Wheeling Nailers are the WV native team, and the one you may be rooting for. The Nailers have won multiple championships since they were founded in 1981, and will not disappoint. West Virginia punters will have no difficulty placing bets on Nailers games, nor will you, if you decide to do so.
4. NBA Betting – NBA, Cleveland Cavaliers & More
None can deny the prominence of the NBA on the world stage. It is one of the most-watched basketball leagues in the world, and betting activity is always high when NBA games are on. West Virginia bettors might also want to get a piece of the action.
You will be hard-pressed to find a betting site that does not take wagers on NBA matches. Now, you too can showcase your knowledge of basketball by placing a bet at any of the WV sportsbooks. That also includes wagers on the WV favorites – the Cleveland Cavaliers. Of course, you can also go for NCAA games, where you can bet on Mountaineers' matches.
5. Soccer Betting – NPSL, Mountaineers & More
Soccer is probably the second most popular sport in the world. While it may be somewhat weak in the US, it has an immense global presence. VW betting sites will not ignore such a major source of business, and are ready to offer you many local and international matches betting markets.
You can go for the domestic NPSL, where the WV Mountaineers play. Alternatively, you may also opt-in for international leagues, where the competition is much stiffer. This includes European and South American leagues, which often have the most exciting matches.
Top West Virginia Betting App
What's the point of having online sports betting if you can't place a bet from your phone? Online sportsbooks asked the same question and introduced mobile betting platforms as part of their product. Now, you get to place your bets on the go thanks to the dedicated mobile WVsports betting apps available for Android and iOS devices. Here is our top pick for the best West Virginia sports betting apps:
BETMGM – Great Event Coverage and Odds
Mobile sports betting in West Virginia is practically the same as on a desktop computer. Not only do you get the same features as desktop users, but also the convenience of placing a bet from anywhere. There are no reasons why one should abstain from mobile betting, and we recommend that you take full advantage of this opportunity.
Best Betting App
Risk-Free First Bet
$1000
Welcome Bonus
West Virginia Sports Gambling Bonus Offers and Promotions
You cannot have modern online gambling without bonus offers. The best West Virginia sportsbooks provide punters with a multitude of ways to get value for their money. From stater packages to rewards for long-term bettors, you can be certain that there is a lot in it for you. Here is our pick for the best sports welcome bonus in West Virginia:
| West Virginia Betting Site | Bonus Offer | Bonus/Promo Code | Wagering Requirements | Min Deposit | Validity |
| --- | --- | --- | --- | --- | --- |
| BetMGM | Up to $500 Risk-Free Bet | Not needed | N/A | $10 | 7 days |
Before you claim a bonus, it is important to take note of the rules. No sportsbook will give you outright free money and many will ask that you wager the bonus a certain number of times. The promotion described above has no such requirement, making it an excellent offer for any sports bettor.
Best Betting Offer
Risk-Free First Bet
$1000
Welcome Bonus
Free Sports Betting with No Deposit – Are There Any Offers?
No deposit promotions are another type of bonuses that you can claim at West Virginia sportsbooks. While not as common as bonuses with a deposit, no deposit offers do exist and are regularly available. They present excellent value since you get something for nothing. Of course, this also comes with its own set of special rules.
No deposit bonuses are often harder to clear and withdraw, for the simple reason that the betting site doesn't want to give out free stuff like that. What's more, the monetary value is often lower than of the average deposit bonus. Regardless, it is still worth taking a shot at a no deposit bonus when given the opportunity. We will keep you posted for any good no deposit offers at West Virginia betting sites, which at this time are not available.
Deposits and Withdrawals at Online Sports Betting West Virginia Sportsbooks
WV sports betting requires punters to move money exclusively over the Internet. Since there is no cash involved, you will have to choose an online banking method to participate. Currently, West Virginia sportsbooks accept several payment solutions, including Visa and MasterCard. Other options are available in the form of VIP Preferred, PayNearMe, Discover Card, and online banking services.
Best Visa Betting Site
Risk-Free First Bet
Up to $1000
Welcome Bonus
Choosing an online payment solution is done at your own discretion. We recommend you go with the service that best suits your needs. For most bettors, credit cards are the most convenient solution, though you may also want to explore banking services and other alternatives.
Live Sports Betting in West Virginia
Live betting is one of the most innovative features of online gambling. All the best West Virginia sportsbooks offer this option. Basically, you will be able to place bets while a game is live and to cash out that bet before the match has concluded.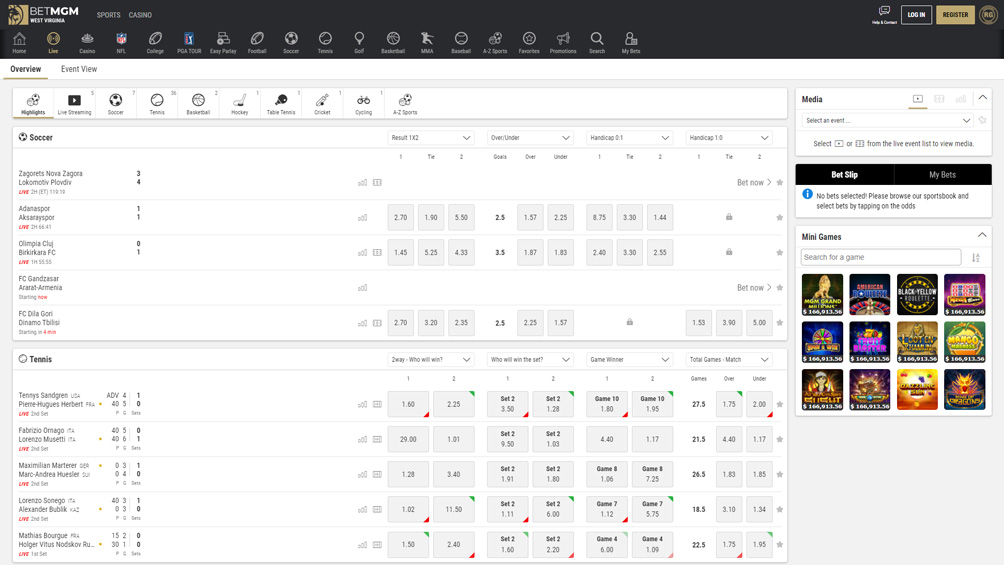 Please bear in mind that live betting is best geared towards experienced punters. Knowing when to place your wager and when to cash it out is a hallmark of a successful and knowledgeable bettor. Not only does it bring you distinction, but it can also lead to massive wins. Of course, things can also go the other way and cause you to lose more.
Top Live Sportsbook
Risk-Free First Bet
Up to $1000
Welcome Bonus
West Virginia Land-Based Sportsbooks & Locations
West Virginia sportsbooks are available not only on the Internet, but at retail sportsbetting locations, as well. All operators have partnered with established companies to run their betting shops. The sportsbooks are located at specific locations, which you can freely visit. Here are the West Virginia retail sportsbooks and their partners:
| West Virginia Sportsbook | Casino Partner/Racetrack | Launch Date |
| --- | --- | --- |
| William Hill Sportsbook | Mountaineer Casino | 2020 |
| Betly Sportsbook | Mardi Gras Casino & Resort | 2020 |
| BetMGM Sportsbook | The Greenbrier | Jan. 2020 |
| DraftKings Sportsbook | Hollywood Casino Charlestown | Aug. 2019 |
| FanDuel Sportsbook | The Greenbrier | Aug. 2019 |
As you can see, all WV sportsbooks are partnered with established casino companies. This makes the process easier for everyone involved, and allows bettors to have multiple forms of gambling available at the same location. If you are close to the casinos listed above, we recommend you have a look for yourself.
Sports Betting Law in West Virginia
West Virginia online sports betting became available back in late 2018, only seven months after sports gambling was legalized for all WV residents. Operators are subject to the authority of the West Virginia Lottery Commission and have to undergo a strict licensing procedure before they can start taking bets.
The state has good regulations in place to ensure a safe and fair betting scene for punters. What's more, the state treasury also gets a decent cut of the betting revenue, around 10%. Additionally, WV also has laws in place to ensure the integrity of sporting events, in light of the new betting scene.
Legal Online Sports Betting Age in West Virginia
Since WV sports betting is a controlled activity, the state has strict laws as to who can participate in it. Only persons of legal age can place bets on sports events. Bear in mind that underage gambling is a crime, and it can land you in hot water if you get caught.
Sports Betting Age

The legal sports betting age in West Virginia is set to 21 years.

Alcohol Age

The legal drinking age in West Virginia is 21 years old.

Weed Age

Recreational cannabis use has not been legalized in West Virginia and medical use is set at minimum age of 18.
Taxes on Your Winnings: Do You Have to Pay Anything?
The IRS has declared all gambling winnings as taxable income, pertaining to lotteries, sports betting, raffles, casinos, and so on. Any winnings over $600 are due to withholdings of a state level of 24% and an individual West Virginia Withholding tax of 6.5%. When legally gambling in casinos, one is supposed to fill in a W2 for proper withholdings. It will be interesting to see whether legislation and backup withholding from gambling winnings will change with the re-introduction of online sport betting platforms.
DISCLAIMER: THIS IS NOT TAX ADVICE
Benefits of Legal Sports Betting in West Virginia
No doubt, the introduction of legal sports betting in West Virginia bodes well for the state. There are plenty of benefits from making the change, as has been observed in other states, such as Pennsylvania and New Jersey. Here are some of the primary advantages to West Virginia online sports betting:
| Benefit | Explanation |
| --- | --- |
| Brand-new Industry | By legalizing sports betting in West Virginia, the state will permit a brand-new industry to flourish. |
| Job Creation | In creating a new business sector, West Virginia will see a growth in the number of jobs available. Gambling takes a significant amount of manpower to run and manage. |
| Increased Tax Revenue | As gambling becomes legal and regulated, the state will have a means to increase tax revenue. Gambling profits are an excellent source of money to finance new projects and social programs. |
| Reduction in Illegal Gambling | Now that sports betting is a legal enterprise, West Virginia will see a reduction in illegal activity. This will also cut down on crime and allow the law to focus its attention on other matters. |
| Player Protection | A government-regulated gambling industry also introduces new means for vulnerable people to seek help and get protections they wouldn't receive from illegal operations. Rather than being preyed on, these individuals will now be able to get the help they need. |
Of course, these are only a few examples from a longer list. It is worth pointing out most of the benefits will take some time to realize. A proper gambling scene takes a while to develop and mature, as do the side-effects from it. Without a doubt, the following years will prove that online gambling is worth it.
Local History of Sports Betting
Pari-Mutuel horse race track betting was legalized very early on in the state of West Virginia. This was followed by the establishment of the state Lottery and subsequent commission, which later came to oversee and regulate sports betting. Here are some notable events:
West Virginia Sports Betting History

| Year | Event |
| --- | --- |
| 1931 | The West Virginia Racing Commission is established to oversee pari-mutuel betting at race tracks |
| 1986 | The state legalizes and creates the West Virginia Lottery and commission |
| 1994 | Video lottery terminals are allowed and installed at race tracks, expanding to bars gradually |
| 2016 | Daily Fantasy Leagues are legalized by the state attorney |
| 2018 | In February West Virginia legislature passes sports betting bill, legalizing it once federal ban is overturned |
Is Online Sports Betting Legal Outside of the West Virginia?
While legal sports betting in West Virginia is now an option, neighboring states are not as lucky. Of the four states surrounding West Virginia, only Pennsylvania has proper online sports gambling. Kentucky, Ohio, and Virginia have not been so lucky. This might tempt residents of those states to take a crack at WV online sportsbooks, but this is not an option.
The operators licensed by the WV Lottery Commission are only allowed to accept bets from WV residents. This is ensured via geolocation tracking, which is mandatory for all bettors. If a prospective bettor from other states tries to open an account, the West Virginia online gambling laws prevent them from doing that.
Upcoming Regulation Changes to Be Aware Of
West Virginia has been on a roll, at least when it comes to the legalization of online gambling. In 2018, the state introduced legal sports gambling to the masses. This includes both online and retail sportsbooks, giving people the opportunity to choose.
West Virginia online casinos opened for business in mid-2020, placing even more options in the hands of players. With this, most common forms of online gambling are now available in West Virginia. The only major exception is the online lottery, but since the state has a monopoly over it, we doubt that we will see significant changes any time soon.
Sports Betting Guides for Nearby West Virginias
Frequently Asked Questions About [West Virginia] Online Betting Sites
Directly below, we have prepared an FAQ section, detailing all important aspects about West Virginia sports gambling. You will find answers to the most vital questions regarding the subject. We hope that the FAQ will help you better understand how betting works in the state.