Nevada Online Gambling Guide Best NV Gambling Sites for 2021
Nevada is renowned as a gambling mecca, with the casinos of Las Vegas attracting millions of visitors each year. The Silver State also offers various legalized online gambling opportunities to residents and visitors. Online sports betting is legal in NV, the same is true for DFS and online poker. Yet despite, or more to the point, because of the state's thriving land-based casino industry, online casinos are not legal in Nevada.
In this guide to online gambling in Nevada, we will reveal the best NV gambling sites for 2021. We have reviewed and compared Nevada online gambling sites to find trusted operators with top bonus offers. We will also delve into Nevada gambling laws to help you understand how to gamble online legally in the state.
Last updated: August 23, 2021
Nevada Gambling Site
Welcome Bonus
Pros and Cons
Test Score
Trusted Link

BetMGM

$1000
Sports Betting App

,

Live Betting

,

Not Available on Desktop

4.8/5
www.betmgm.com
Why You Can Trust online-gambling.com?
We have a good understanding of all Nevada gambling laws and keep track of all communications from the Nevada Gaming Control Board and Nevada Gaming Commission.
We follow every development in the industry as it happens by checking local media sources like the Las Vegas Review Journal and the Las Vegas Sun
We have extensive experience in creating free guides to different gambling games and online operators. Our most popular pages include our online slots guide and our review of the best roulette sites.
Online Gambling in Nevada: Legal Games and Best Sites
If you want to gamble online in Nevada, you will find various options available to choose from. Online gambling in NV is legal, but not for all types of gambling products. In the following sections, we will delve into online casinos, poker, sports betting, daily fantasy and lottery in Nevada, detailing the products that are legally available in the state.
We will also show you the best online gambling sites Nevada has to offer for each product. We have reviewed gambling sites that are licensed and regulated in NV, to ensure that we recommend only legal Nevada gambling sites that are safe to use. We have also reviewed payouts, bonuses, mobile compatibility, and a range of other important factors to bring you the best NV online gambling sites for 2021.
Nevada Sports Betting Sites
Sports betting has been legal in Nevada since 1949. Nevada was exempted from the federal ban on sports betting, and so for many years, the Silver State was the only place you could legally bet on sports in the US. Nowadays, there are various online sportsbooks available in Nevada. And below, you will find the top-rated NV sports betting sites.
Last updated: August 23, 2021
Nevada Gambling Site
Welcome Bonus
Pros and Cons
Test Score
Trusted Link

BetMGM

$1000
Sports Betting App

,

Live Betting

,

Not Available on Desktop

4.8/5
www.betmgm.com
At the best Nevada sports betting sites, you can bet on many major professional sports, including football, basketball, baseball, MMA, hockey, soccer, and tennis. You can also wager on college sports. What's more, the sports betting apps give you a fast and convenient way to bet and win money online.
Daily Fantasy Sites in Nevada
Daily fantasy is considered as sports gambling In Nevada. This means that any operator is required by state law to hold a valid license to market its product to Nevada residents. Following a statement to this effect, all major paid fantasy operators pulled out of NV in 2015, even though players in the state were paying upwards of $42 million a year in entry fees.
So, while daily fantasy is legal in Nevada, it is not available in the state. We delve further into DFS laws later in this guide. Furthermore, you can take a look at our dedicated page about Nevada daily fantasy betting where we will update you if the situation in the state changes.
Nevada Online Poker Sites
Nevada is synonymous with gambling for many Americans, so it comes as no surprise that it is one of the few states with legal online poker. In 2013, internet poker was legalized, allowing for licensed sites to operate across NV.
In 2015, a multi-state internet gaming agreement was signed. The first of its kind agreement allowed the pooling of poker players from Nevada and Delaware. New Jersey also legalized online poker in 2013, becoming the third state to do so. In 2017, NJ also joined the interstate agreement. Now, NV player pools are connected with those in DE and NJ.
Casino Sites in Nevada
There are over 200 casinos in Nevada. However, there are no legal Nevada online casinos. The reasons are pretty simple: the lobby for land-based casino operators is incredibly influential in the state, and politicians seem worried that any changes to the industry would be detrimental to the relationship between government and operators, ultimately affecting the tax revenues on gambling.
As such, there are no licensed and regulated online casinos in Nevada, and it seems unlikely that online casino laws in Nevada will change in the future. However, if you're keen on finding out more about the topic, make sure to check our detailed guide to Nevada casinos.
Online Lottery Sites in Nevada
The lottery is the most widely accepted form of legal gambling across the states. Still, Nevada is one of only a handful of states where lottery is not permitted. Others, like Utah and Hawaii, allow no form of gambling at all. Yet Nevada's reasons for continuing to block the establishment of a legal state lottery are quite different.
It is widely understood that the casinos do not wish their patrons to have other gambling options and so have continually campaigned against a Nevada lottery. However, we've taken the liberty to create our very own instructive lottery page, so make sure to check our detailed guide to lottery in Nevada.
Nevada Online Gambling Bonus Offers & Promo Codes
The availability of online gambling in Nevada means it has never been more convenient to bet on sports in the state. There is a further benefit to playing at NV online gambling sites, and that is bonuses. There are various bookmaker offers available to new players, that give you extra value for your money.
Operators use welcome bonuses to encourage new players to join their sportsbook over the competition. To find the best offers, you need to look beyond the amount of bonus cash that is on offer and check the wagering requirements and other promotional terms. We have done just that, and here is our recommended Nevada online gambling bonus:
| Nevada Gambling Site | Bonus Amount | Bonus/Promo Code | Ideal For | Min Deposit | Validity |
| --- | --- | --- | --- | --- | --- |
| BetMGM | $1000 | Not needed | 20% | $50 | N/A |
Online gambling bonuses in NV generally come in two different forms. The most common is a first deposit bonus, which is awarded when you deposit cash for the first time. Occasionally, some operators may offer a no deposit bonus, simply for creating a player account. Read on to find out more about each type of gambling bonus.
Deposit Bonuses
As already mentioned, of the different types of online gambling bonuses you can claim in Nevada, a deposit bonus is the most widely available. These types of offers will match your first deposit with a certain percentage of bonus funds. Many offers provide a 100% on your deposited cash, meaning the operator will match your deposit dollar for dollar. You should always keep in mind that you will need to play the bonus through a set number of times to be able to withdraw your winnings.
No Deposit Bonus Offers
If you love to get something for nothing, then you will be interested in no deposit bonuses. These types of offer are less common that deposit bonuses; still, there are some deals to be found. As the name implies, a no deposit bonus is awarded without having to spend any of your own cash. These offers give you the chance to try out a Nevada gambling site and see if you like what it has to offer before you commit to gambling with your own money.
Nevada Gambling Apps – Bet on the Go
If you want to play poker or bet on sports online in Nevada, gambling apps offer the most convenient solution. All reputable NV online gambling operators offer mobile betting apps. There are many advantages of gambling on the go. You can bet to win real money anytime, and anywhere the mood takes you.
As Android and iOS have an almost equal share of the US mobile operating system market, all reliable Nevada online gambling sites offer download apps for both operating systems. As such, regardless of whether you have an iPhone, Samsung, LG, or any other mobile phone brand, the best gambling apps are available for your device. Here is the best mobile betting app in Nevada:
Best Mobile App
100% up to
$1000
Welcome Bonus
Our recommended NV gambling app is available in two versions, one for iOS and one for Android. It features a stable and reliable mobile sports betting platform, with access to a full selection of sports, markets, and bets. The app has a user-friendly design that makes it intuitive to place bets on the go. And the cherry on top is the generous welcome bonus that is available for new players.
Live Gambling in Nevada
If you want to play casino games online with real dealers in Nevada, then you will not find any legit sites that offer that option. As online casino gambling is not permitted in NV, the only way to play casino games with a real dealer is to head to one of the state's many land-based casino locations.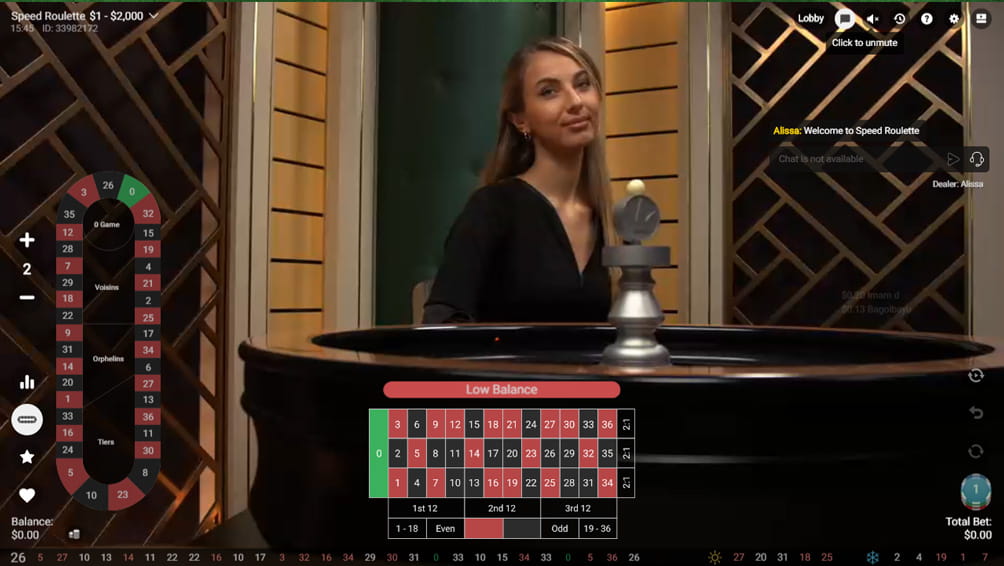 Nevada's sports betting sites, on the other hand, offer the option to enjoy live gambling online. The top online sportsbooks in Nevada give you a chance to stream live sporting events as they happen. Furthermore, you can place in-play bets as the sporting event takes place.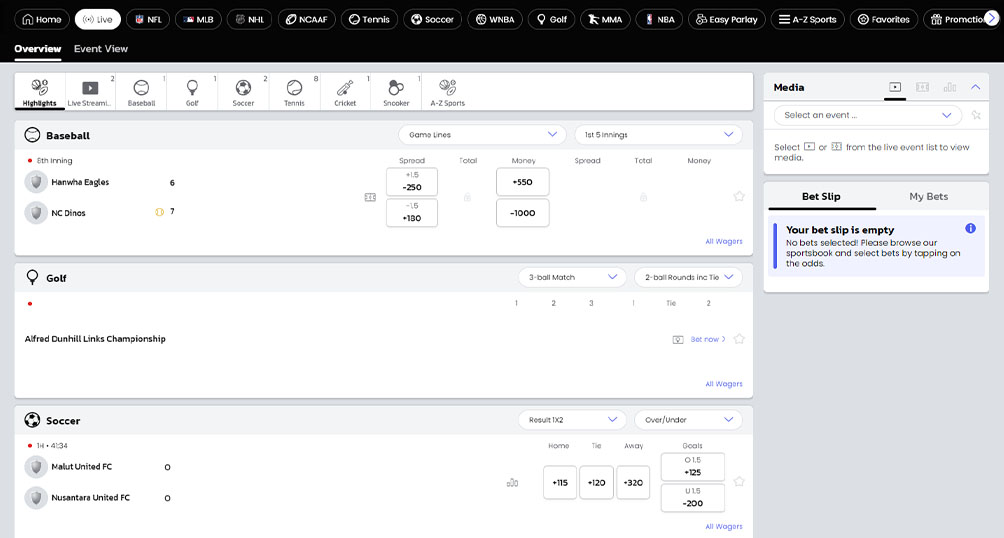 Live sports betting is particularly popular with gamblers, and it is available across many different sports. You can watch your preferred sporting event in real-time as use your instincts and gut feeling to select your in-play bets. Live betting, therefore, offers an even more exciting and engaging gambling experience.
Secure Payment Methods at Nevada Online Gambling Sites
If you want to gamble online with real money in Nevada, then you will need to make a deposit. The good news is that the best online gambling sites in Nevada support a variety of secure and convenient payment methods. You can deposit cash in person at the sportsbook counter or kiosk of your chosen betting app.
If you want to deposit online, you can select from various options. Most trusted Nevada gambling sites accept major credit and debit cards. Many also support prepaid options, and e-wallets such as PayPal. Given that PayPal deposits benefit from an extra layer of security and privacy, many gamblers prefer to use the e-wallet at NV gambling sites.
Best PayPal App
100% up to
$1000
Sports Betting Bonus
Before you can make a deposit, you will need to sign up at a gambling site. You can pre-register on sports betting app and complete the registration process at a land-based sportsbook. You can then deposit cash at the sportsbook counter. If you prefer, you can make your deposit through the secure banking cashier of the sportsbook app. Deposits are processed instantly and are usually fee-free.
Withdrawals work in a similar way to deposits. The most convenient way to cash out your winnings is online. Simply request your withdrawal in the banking cashier, and your request will be sent to the operator for approval. The length of time taken to receive your withdrawal will vary depending on the payment method. For the quickest withdrawal timeframes, e-wallets are the best option.
Payouts and Odds at NV Online Gambling Sites
When you play casino games at any of Nevada's many casino resorts, your chances of winning vary depending on the types of games you play. Each casino game has a return to player rate programmed into its rules. As such, by understanding the RTP of different games, you can choose those that give you the best chance of profits.
Return to player, or RTP, tells you how much a game will payout on average over the long run. For example, a game with a 96% RTP will, in theory, payout $96 for every $100 wagered. You will sometimes hear the expression, house edge. This expresses the portion of bets that is retained by the operator as profit.
RTP is also an important consideration when betting on sports online. In the same way as casino games, RTP tells you about expected profitability when you bet on different types of sports. Sportsbooks calculate their odds for different markets to make sure that they maintain their profit margins, which can also be referred to as the house edge. Below, you can see the average payout rates for casino games and sport betting markets in Nevada.
The Payout Levels for Casino Games and Sports Betting:
| Casino Games | Payout |
| --- | --- |
| Slots | 95.25% |
| Roulette | 97.30% |
| Blackjack | 99.35% |
| Online Poker | 96.54% |
| Keno | 93.43% |
| Baccarat | 98.04% |
| Sport | Payout |
| --- | --- |
| Soccer | 92.46% |
| Basketball | 93.47% |
| Ice Hockey | 92.12% |
| Cricket | 93.65% |
| Boxing/MMA | 92.39% |
| Esports | 92.92% |
The RTP of casino games can vary significantly. Generally speaking, blackjack games feature the highest RTP, which usually exceeds 99%. So, you should choose casino games with a high RTP for the best chance of winning. Unlike casino games, the payout rate of sports betting markets can fluctuate. Still, the figures listed above give you a good overview of the average rates.
How to Start Gambling Online in Nevada
If you want to gamble online in Nevada, the sign-up process is similar for all products. In this section, we will show you an example of how you can get started with sports betting in NV. Under Nevada gambling laws, you need to complete your registration in person at a retail sportsbook.
To start, you should download a sports betting app onto your mobile device. You can pre-register through the app by providing your name, age, address, and other required details. The next step is to visit the land-based sportsbook of your chosen app, where you can complete the registration process. Here is a step-by-step guide on how to bet on sports online in Nevada:
Download a sports betting app for Android or iOS. Make sure that you only choose legit operators that are licensed and legal in Nevada. Pre-register in the app. You will be required to provide your personal details, including your full name, address, and social security number.
Visit the sportsbook in person where you can complete the registration process and validate your account. You will need to provide proof of identity to complete this stage.
Make a deposit. You can deposit money at the sportsbook or a betting kiosk in person. Alternatively, you can deposit online using the app. Don't miss the chance to opt into any bonus offers upon making your first deposit. Be sure to familiarize yourself with the promotion's terms and conditions before accepting any offer.
You are now ready to start betting on sports. Pick your preferred sport from the categories on the betting app. These are usually categorized from A-Z for quick and easy access.
Select your bet. The available betting lines and odds for each type of bet are displayed. Click on the bet to add it to your betting slip. Enter your wager, and you will see how much a winning bet will pay based on your stake and the current odds.
Check your betting slip and make sure that all details are correct, then confirm the bet. The wager will be deducted from your account balance. Any winning bets will be paid automatically to your player account.
The need to register in person in Nevada means that you cannot instantly bet on sports once you download an app. Still, thanks to the pre-registration process through the app, it will take just a few minutes to validate your account at the sportsbook. From then on, you get quick and convenient access to sports betting online anytime you fancy a punt.
The Advantages of NV Online Gambling
Online gambling in Nevada offers many advantages. The biggest benefit is convenience. You can bet on sports and play poker conveniently from anywhere in the state using a gambling site or app. This makes gambling much more accessible than having to travel to a gambling venue. However, not all types of online gambling are permitted in Nevada. Land-based gambling, likewise, has its advantages. Below, we have compared the pros and cons of online vs land-based gambling in Nevada:
| Online Gambling | Offline Gambling |
| --- | --- |
| Sports betting and poker only | Real money casino games available |
| Welcome bonus offers available | Welcome bonuses unavailable |
| Bet on your mobile phone or tablet | Less convenient than gambling online |
| Gamble conveniently from anywhere in NV | More sociable gambling experience |
| Many accepted payment methods | You can deposit with cash |
If you want to play poker or bet on sports, then Nevada online gambling sites are the best option. Not only do they offer the most convenient way to gamble, but you can also take advantage of rewarding bonuses as a new player online. That said, if you want to play real money casino games in Nevada, land-based casinos offer the only legal option in the state.
Land-Based Gambling in NV – The Home of Top Casino Resorts
Nevada is home to America's oldest commercial casino market. It is a leading international gambling destination, attracting millions of visitors worldwide to its prestigious casino resorts. Nevada is by far the largest gaming state in terms of revenue. Las Vegas Strip casinos generated $6.59 billion revenue in 2019, while state-wide annual gaming revenue surpassed $12 billion. Gaming tax revenue generated $969.3 million for Nevada's General Fund.
The Silver State has 219 commercial casinos and a further four tribal casinos. Among the biggest and most prestigious Las Vegas casinos are MGM Grand Las Vegas, Caesars Place, and Mandalay Bay. Furthermore, around 2000 electronic gaming devices are available at many licensed retail establishments throughout the state, including bars and convenience stores.
Nevada's land-based commercial casino industry shows no signs of waning. In October 2020, the Circa Resort & Casino opened in Downtown Las Vegas. The $4.3 billion Resorts World Las Vegas is due to open on the north end of the Strip in 2021. While the $3 billion resort, The Drew, is scheduled to open on the Las Vegas Strip in 2022.
Overview of Nevada Gambling Laws
Nevada is one of the states with the most progressive gambling laws. All types of gambling are permitted in the Silver State, except for the lottery. Casino gambling was legalized way back in 1931, which has led to the state becoming one of the most popular gambling destinations worldwide.
Sports betting was legalized in 1949. Nevada had the monopoly on sports betting in the US until the Supreme Court overturned the PASPA federal ban on sports betting in 2018. Nevada formally legalized online poker in 2013, becoming only the second state, after Delaware to permit residents to play poker online.
While Nevada's gambling laws may be liberal, the commercial gambling industry is closely supervised and regulated by the Nevada Gaming Control Board (NGCB) and Nevada Gaming Commission (NGC). All gambling operators in the state must hold a license to operate legally. The rule also applies to daily fantasy betting, after the state categorized DFS as a form of gambling in 2015.
Online Casino Laws in Nevada
Nevada has permitted land-based casinos by law for over 80 years. All types of games of chance and skill-based games are permitted in Nevada's casino resorts. As such, you can play slot machines, roulette, blackjack, craps, and various other games legally at licensed Nevada casinos. While the land-based casino industry is thriving in Nevada, online casinos are not permitted.
The main reason for the hard stance against online casino gaming stems from the success of the established casino industry. Casino operators have long fought against the launch of online casinos, arguing that it would eat into revenues from existing land-based gambling venues. While the legislation that legalized online poker also allows for online casino gaming, it has not received authorization from Nevada lawmakers owing to this fierce opposition from the industry.
Nevada Online Sports Betting Laws
Sports betting has been legally available in Nevada since 1949. While the enactment of Professional and Amateur Sports Protection Act of 1992 meant Nevada had the monopoly on full-scale sports betting in the states for many years. The Supreme Court's decision to overturn PASPA in 2018 means that other states are now legally permitted to authorize sports betting. Still, Nevada's sports betting industry continues to thrive, reporting record sports betting revenue of $329.1 million in 2019, despite competition from other states.
The first sports betting app was launched in Nevada in 2010. Under current legislation, any casino that holds a non-restricted gaming license can obtain a license to provide sports betting, both on and offline. Nevada sports betting laws require players to sign up in person at a casino that provides the sportsbook, before being permitted to place wagers online.
Daily Fantasy Laws in Nevada
Nevada considers daily fantasy sports as gambling. While sports gambling is legal in Nevada, operators must possess a license to provide their services to players in the state. Before the Nevada Gaming Commission's 2015 decision that DFS constituted gambling, several major daily fantasy sites operated in Nevada.
Following the regulator's ruling, FanDuel and DraftKings withdrew from the market. DFS online gambling in Nevada is legal, provided the operator holds the necessary licenses and is affiliated with a land-based operator, for account registration. Still, there are no licensed DFS operators in Nevada, meaning NV residents cannot currently bet on daily fantasy sports online in the state.
Online Poker Laws in Nevada
Nevada is one of only a few states that offer fully legal and regulated online poker. The state began the process for the legalization of online poker in 2011, and in 2013, legislation was passed giving the green light to online poker in Nevada. Nevada's first legal poker site went live the same year.
The bill that legalized NV online poker was AB 114. It dictates that players must be within state borders to access the licensed poker sites and play for real money. Nevada went on to sign a multi-state internet gaming agreement that permitted player pooling with Delaware, and later New Jersey. This shared liquidity means larger prizes and player pools for Nevadans that play poker online.
Online Lottery Laws in Nevada
Despite its progressive approach to legal gambling, Nevada does not have a state lottery. The Nevada Constitution stipulates that "no lottery may be authorized by this State, nor may lottery tickets be sold". While many states have established a lottery to generate funds for local communities and services, playing the lottery is strictly outlawed in Nevada.
There have been various attempts to pass a bill allowing lottery in Nevada over the years. However, each attempt has been unsuccessful. The bills have met with fierce opposition from the state's casinos, who see a lottery as a rival to their business. If Nevadans want to play the lottery, they can only do so by crossing state borders and purchasing tickets in other states where lotto is permitted.
A Brief History of Gambling in Nevada
With the state being so connected with gambling in the minds of most Americans, it will come as no surprise that there have been some interesting developments throughout the history of gambling in Nevada. Check out the table below to see some of the highlights.
Nevada Gambling History

| Year | Event |
| --- | --- |
| 1931 | Gambling is legalized in Nevada, making it the first in the nation to permit and promote organized betting. |
| 1949 | Horseracing and sports betting are legalized. |
| 1955 | The Nevada Gaming Control Board is established. |
| 2013 | Online poker is formally legalized in Nevada. |
| 2016 | The state clarifies that daily fantasy sports are considered sports betting and must hold the relevant license. |
Nevada State Facts & Trivia
The Silver State is full of amazing trivia. It is home to the infamous Area 51. In addition to (probably) therefore having more aliens than any state, it has the largest number of mountain ranges and produces the most gold of any state. You can see some key facts about Nevada below.
Facts About Nevada

| | |
| --- | --- |
| Population | 3,080,156 |
| Min. Income | $1,430.00 |
| Offline Location | Mandalay Bay Resort and Casino, Las Vegas |
| Commissioner | Nevada Gaming Control Board |
| Languages | English 76.9%, Spanish 16.2%, Tagalog 1.6% |
| Local Team | Vegas Golden Knights |
| Nevada Department of Taxation | Nevada Department of Taxation |
| State Law | https://www.leg.state.nv.us/law1.cfm |
| Gambling Winning Tax | 24% |
| State Website | https://nv.gov/ |
| Famous Local Gamblers | Doyle Brunson |
Nevada Gambling Age
Although home to Sin City, Nevada is relatively strict when it comes to the age limits on certain activities. In many states, you can gamble from 18 and over, but in NV, residents and visitors must provide ID proving that they are at least 21. The same age and identification are required to buy or consume alcohol or cannabis.
The penalties for underage gambling are severe. Gambling at a casino when underage is a Nevada misdemeanor that could result in a fine of up to $1000. You could also land a jail sentence of up to six months. Operators also risk hefty fines and could even lose their license. The legal Nevada gambling age of 21 also applies to online gambling. As such, Nevada online gambling sites carry out age verification to make sure underage gambling does not take place.
Online Gambling Age:

Alcohol Age

Weed Age
Responsible Gambling and Addiction Prevention
With such a long and rich tradition of gambling, it makes sense that Nevada has a large culture of responsible gaming, with many different organizations endeavoring to protect vulnerable and problem gamblers. If you think that you have a problem with your betting habits, you can turn to the Nevada Council on Problem Gambling or the Nevada Gaming Commission for advice and support.
Many of the casinos and operators in NV also run programs and offer support for problem gamblers. NV online gambling sites must promote responsible gambling on their websites. Licensed NV gambling sites must list the contact number for the NCPG (1-800-522-4700) and provide options to set limits on deposits and playing time, or to self-exclude entirely.
Upcoming Regulation and Expected Changes
With changes in the federal government's position on certain laws affecting gambling in America, there could be uncertain times ahead. The fate of online poker in Nevada, which currently runs in connection with Delaware and New Jersey is under threat from the new interpretation of the Federal Wire Act. It may soon be impossible for sites to operate across state borders.
However, the Nevada online casino industry seems unlikely to emerge any time in the future. We are keeping a close eye on state and federal gambling laws in Nevada. We will keep this page updated with any upcoming changes to NV gambling regulations. You can also check our legal guide to the best online gambling sites for more useful details about gambling laws around the world.
Our Most Popular Gambling Guides
FAQ
Our Nevada online gambling guide would not be complete without a handy FAQ section. We have researched what questions are most asked about online gambling in Nevada. Below, our team of editors have provided concise answers to the most popular questions.