Nevada Sports Betting: The Best NV Sportsbooks for 2021
If there's one state we know for gambling, it's clearly Nevada. This is in part thanks to the popularity of Las Vegas, also known as "Sin City". The best Nevada betting sites now represent all of the glitz, glamour, and high-stakes fun of Las Vegas.
Online sports betting in Nevada has grown significantly
since the striking down of PASPA, the Professional and Amateur Sports Protection Act, in 2018.
The state has possibly the most open laws towards gambling in the country. Casinos abound and attract locals as well as visitors from the US and all over the world! Nevada sports betting fits right in, having been legal in the state since 1949. Down below, you can check the best sportsbook in Nevada for 2021.
Last updated: August 23, 2021
Nevada Sportsbook
Welcome Bonus
Pros and Cons
Test Score
Trusted Link

BetMGM

$1000
Great Sports Variety

,

Low Wagering

,

Short Bonus Time

4.6/5
www.betmgm.com
Why You Can Trust online-gambling.com
Top Online Sports Betting Nevada Sites by Category
When it comes to betting on sports, Nevada is now at the forefront of the industry in the US. Many states are looking to it as a roadmap for their own infrastructure. Thus, the list of the best betting sites in Nevada is rightfully fulfilling and with generally low taxation of just 6.75%.
BETMGM – (Best for Sports Betting in Nevada)
If you want to experience state-of-the-art sports betting for real money, we recommend heading to the top-rated Nevada sports betting operator. The bookie is currently the pillar in the Silver State and the perfect place for all punters who enjoy online sportsbooks. It also offers a generous sign-up offer for its new online sports betting Nevada customers.
NV Sports Betting Rules: Available Sports and Top Leagues
Nevada's reputation as the Entertainment Capital of the World has a thriving sports market. Several major league professional franchises call Nevada home. If the NFL, NHL, or WNBA aren't your thing, Nevada also has popular minor league and college teams in baseball, basketball, soccer, and more.
Las Vegas's T-Mobile Arena and the MGM Grand Arena regularly play host to widely watched UFC and boxing matches. Luckily, there's a multitude of legal sports for NV gamblers. Moreover, the Silver State is the king in the industry, breaking another record for over $5 billion in sports betting handle in 2019.
1. Football Betting – NFL, Super Bowl & Las Vegas Raiders
According to the latest revenue reports, football betting in Nevada is the primary choice for players. With its enormous $1.9 billion in wagering, the Nevada sportsbooks made a record in 2019. These numbers have been generated mainly on NFL events where Las Vegas Raiders' home team is heavily supported.
While the Raiders have not always been a team of the Silver State, their relocation in 2017 has been welcomed by punters in Las Vegas, Nevada. Although the team hasn't won a Super Bowl in nearly 30 years, the event itself is the most popular in the US. Naturally, the NV bookies lead in the sports betting handle with over $150 million.
2. Basketball Betting – NBA, WNBA & Las Vegas Aces
The second most popular legal form of the sports betting options available in Nevada is the National Basketball League. While the state is yet to invest in an NBA team, the Las Vegas Aces are a top contender within the WNBA. The West Conference team has seen a few rebrands throughout its existence, with the most recent happened in 2018.
While California and Texas have the most professional NBA teams in the league, the total handle from basketball betting in Nevada was roughly $1.7 billion in 2019. This makes the Silver State once again a winner among wagering in the US. Furthermore, there's no shortage of legal college NCAA betting events in Nevada.
3. Baseball Betting – MLB, NCAA & University of Nevada
Baseball is a very popular sport in this state. There have been numerous moments in the state's largest university history that exemplify the greatness and talent within their ranks. In all the times that we have analyzed baseball college teams, the University of Nevada is genuinely one that represents the heart and soul of this legendary sport.
The total handle figures place baseball as the 3rd most wagered sport in Nevada with $1.1 billion. As you can already guess, this battle is again won by the Silver State, which is atop the baseball sports betting in the US. NJ and PA are closely following on the 2nd and 3rd place in this race, however, so we might witness a new king soon. Baseball is also quite popular on the Nevada sports betting sites.
4. Ice Hockey Betting – NHL, Vegas Golden Knights & More
In addition to a multitude of iconic casinos, Las Vegas is also home to the Golden Knights, a team in the National Hockey League. Formed as an expansion team in 2017, the players may not have been in Las Vegas long but have already made a significant impact, making it to the Stanley Cup Finals in their first season.
Nevada's NHL betting is estimated to be worth significantly less than football, basketball, and baseball. Most NV punters enjoy placing their bets on the Money Line, Puckline, Total Goals, and Futures. With Nevada now being home to the Vegas Golden Knights, the popularity among the state's punters is expected to continue its growth even in online sportsbooks.
5. Soccer Betting – MLS, Las Vegas Lights FC & University of Nevada
One of the biggest colleges in the state, the University of Nevada, boasts one of the nation's greatest soccer outfits. Their women's team, also known as the Wolfpack, have been dominant in the previous years. Playing in front of a large home crowd, they have truly cemented their status as one of the most exciting women's soccer teams at the college level in the country.
While some states consider college betting illegal, that's not the case in Nevada. In addition to NCAA, punters are naturally driven to MLS as the country's most popular soccer competition. The second-best professional devious is the USL Championship, where Las Vegas Lights FC represents the state. And while in Europe, soccer is the most famous betting sport, it drives much less interest in the US even with online gambling fans. You can find college sports available at most Nevada sports betting sites.
Top Nevada Betting App
With the Silver State being the gambling mecca in the US, it's only natural to offer mobile players top apps. Whenever you want to bet on the most popular sports and leagues on the go, you'll have the utmost quality options. Check out the best Nevada sportsbook app for 2021.
BETMGM App – USP (Best Betting App Overall)
Having the comfort of multiple sports betting events at your fingertips is highly demanded by punters from Nevada. Thus, Android and iOS users can enjoy perfectly optimized sportsbook apps and place wagers on the go. What's more, is that NV players can get some price boosts and other goodies to enhance their experience while enjoying any Nevada sports betting app.
Best Betting App
100% up to
$1000
Risk-Free First Bet
Nevada Sports Gambling Bonus Offers and Promotions
The numerous promotions and bonuses are an important part of sports betting venues' overall gambling experience. Of course, online Nevada sports betting being the top choice for most players is well rewarded with various offers. When you take advantage of them, you can improve your chance of winning real money with a lesser risk of your investment.
| NV Betting Site | Bonus Offer | Bonus/Promo Code | Wagering Requirements | Min Deposit | Validity |
| --- | --- | --- | --- | --- | --- |
| BETMGM | 100% up to $1000 | Not needed | 15x; 1x Freeplay | $10 | 3 days |
| BETMGM | $10 Free SEC Bet | Not needed | No wagering | Bet $25 | 30 days |
| BETMGM | $20 In-Play NFL Bet | Not needed | No wagering | Bet $50 | 30 days |
| BETMGM | up to $100 Free Bets | Not needed | No wagering | $10 | 7 days |
As you can see from the table above, there are plenty of bonuses and promotions you can leverage. The variety will help you choose the option that best fits your needs, whether it's enhanced odds, loyalty scheme, or another perk. Remember to always pay attention to the wagering requirements and validity periods, which we've included in the table for your convenience. A lot of these promotions will even be available through a Nevada sports betting app but make sure to double-check that first.
Free Sports Betting with No Deposit – Are There Any Offers?
At the sports gambling Nevada sites, punters from the state can also enjoy free play promos. While there isn't any no deposit bonus at the moment, at BetMGM, you can get $25 in free play after completing new account registration. As you can guess, the offer is valid only for new customers of the bookie and requires a deposit of at least $10.
For the mobile users of the sportsbook, BetMGM secures a one time $10 Free Bets offer. The requirement here is to place a wager of $25 on any SEC college football game. Then you'll be credited with the $10 free bets, which can be used on any sport. The offer is eligible for both Android and iOS users and it is maybe the best Nevada sports betting app out there.
Deposits and Withdrawals at Online Sports Betting Nevada Sportsbooks
Punters have multiple payment methods that are available at betting sites in Nevada. In order to begin your real money journey, you'll need to deposit funds via the payment system that suits your needs the most. According to our research, most NV gamblers prefer using PayPal as a top banking solution at the Nevada sportsbooks.
In addition to PayPal, punters from Nevada can also use the services of other top-rated electronic and debit cards. The same options are eligible for withdrawing funds, and all of them are 100% safe and secure. However, e-wallets such as PayPal are well-known for their speed and low cost, making them so popular.
Live Sports Betting in Nevada
Live sports betting in Nevada is another hot opportunity for players in the state. The feature offers many advantages compared to pre-match betting, as punters can predict with better accuracy as the sporting event progresses. The dynamic movement of the odds can be very beneficial for seasoned NV punters if appropriately used.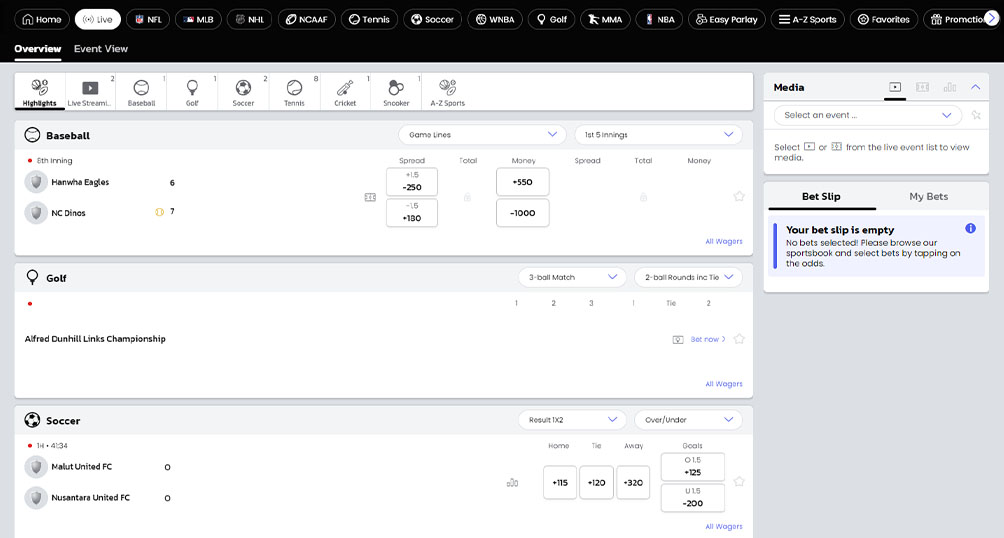 Each top-rated Nevada sportsbook offers the in-play option by default. This feature has become an inevitable part of the arsenal of skilled players who enjoy betting on live sporting events. In addition, you can also watch a live stream of the most popular sporting events while considering your next in-play wager.
Nevada Land-Based Sportsbooks & Locations
Betting on sports is legal in Nevada for a while now. That's why almost all major brick and mortar casino resorts in Nevada offer a sportsbook. The Silver State has close to 250 land-based gambling venues. Some of the most prominent casino halls have started in Las Vegas, which is far from surprising. We've listed 10 of the best Nevada sportsbook brick and mortar facilities.
| Nevada Sportsbook | Casino Partner/Racetrack | Launch Date |
| --- | --- | --- |
| Caesars Entertainment | Casino & Hotel Resort | October 30, 1937 |
| Jerry's Nugget | Casino | 1964 |
| Boyd Gaming | Casino & Hotel Resort | January 1, 1975 |
| Station Casinos | Casino & Hotel Resort | July 1, 1976 |
| Westgate | Casino Resort | 1982 |
| MGM Resorts International | Casino & Hotel Resort | January 29, 1986 |
| Treasure Island | Casino & Hotel Resort | October 27, 1993 |
| CG Technology | Sportsbook | 2004 |
| Wynn Las Vegas | Casino Resort | April 28, 2005 |
| South Point | Casino & Hotel Resort | December 22, 2005 |
As expected, the heart of the US's gambling industry has no shortage of famous casino resorts and great Nevada sportsbooks. Some of them have been around almost a century setting a prime example for the rest of the states. Anyone who wants to enjoy legal online sports betting in Nevada also has the opportunity to do it at any of the enormous brick and mortar casino resorts.
Sports Betting Law in Nevada
The laws of online sports betting in Nevada are more or less favorable for the lobbyist. In order to keep the profits within the state, players are required to register at the local sportsbook. Only then, NV punters are allowed to place an online bet via the bookie's app.
Nevertheless, Nevada sports betting and gambling in the state, in general, has rich history and traditions. Obviously, all parties are happy for the time being as the sports betting law from 1949 hasn't been amended yet. On the contrary, the revenue growth from sports betting in the Silver State has been steady especially after the widespread of online gambling.
Legal Online Sports Betting Age in Nevada
Nevada has a strict 21 year age limit for betting, even for activities like fantasy sports, in order to deal with its enormous tourism industry safely and effectively. The same applies to sports betting, where interested parties can place their bets in a casino after showing a valid ID or register in-person at a licensed casino to better access online gambling options.
Sports Betting Age

Alcohol Age

Weed Age
Taxes on Your Winnings: Do You Have to Pay Anything?
Though it is not highly regulated — sportsbooks do not typically collect personal or tax-related information for their records — there is a tax on betting in Nevada. However, it is fair compared to most other states and many European countries, which tend to implement a 5% duty on winnings. In 1983, Nevada's congress moved to lower the betting tax to 6.75% from the already low 8% rate. The Nevada Department of Taxation is a good source of further information.
Benefits of Legal Sports Betting in Nevada
A regulated sports betting industry is always better than a grey one. First of all, NV punters don't have to look over their shoulders and worrying that they will get in trouble with the wall. Furthermore, the country collects taxes that can be used for the benefit of everyone.
| Benefit | Explanation |
| --- | --- |
| Avoiding the Grey Sector | An unregulated market creates loopholes for unauthorized sportsbooks and illegal gambling activities. |
| Safer & Regulated Environment | The number one priority for all players is their safety and fair treatment. The legal sports gambling in Nevada allows punters to feel protected. |
| Career Opportunities | The sports betting industry in Nevada is worth in the billions. Thus is the primary income of many households as well as an opportunity for professional development. |
| Collecting Taxes | Bringing in millions of dollars in taxes has been vital for Nevada's state and its flourishing as the gambling mecca in the US. |
| Attracting More Customers | Las Vegas is well known as the Gambling Capital of the World and has been attracting tourists and players worldwide. |
There're probably hundreds of more good reasons why legal sports betting, always beets illegal. Las Vegas has been attracting tourists as the Entertainment Capital of the World for decades. If gambling in Nevada was illegal, many things would've been different, and many great stories would've remained untold.
Local History of Sports Betting
As previously mentioned, Nevada has the most extended history of legal sports betting of any state in the nation. Taking its first legal bets in 1949, it has only grown in the years following. Technology has allowed for advancements in the options of online sports betting in Nevada. This gives residents a great opportunity since online casino gaming is not available in the state. In the years since the US Supreme Court struck down PASPA, Nevada has seen its sports betting industry grow exponentially.
Nevada Sports Betting History

| Year | Event |
| --- | --- |
| 1931 | In the midst of the Great Depression, Nevada lawmakers introduce a liberal gambling bill to make the state more attractive to visitors and generate revenue. |
| 1949 | Nevada takes its first legal sports bet, which is historic progress for the US. |
| 1955 | The government creates the Nevada Gaming Control Board, which regulates the industry to this day. |
| 2013 | Nevada becomes the first state to legalize online poker setting the ground for other forms of legal online gambling. |
| 2018 | The US Supreme Court overturns PASPA. Many states now look to Nevada as an example of creating an infrastructure for their own sports betting industries. |
Is Online Sports Betting Legal Outside of the State?
When it comes to online sports betting, Nevada is the catalyst that drives forward a positive change in the industry. The neighboring states are still a bit behind on the trend, but we can already see discussions happening around California, Utah, Arizona, and Oregon. You can even practice legal sports betting in Idaho on horse races and a couple of other types.
Currently, over 15 states have legalized online sports betting in one way or another. The expectations within the industry are that the number will progressively grow. As the US's annual revenues show, the online sports betting industry is too big of a pie to be ignored.
Upcoming Regulation Changes to Be Aware Of
Nevada does not currently have any new sports betting laws on the books. Its regulations are already wide open for sports betting, both on and offline, and the state continues to see growth in this market. In fact, all steps that have been made towards legal online gambling in Nevada are used as guidance on the rest of the states.
Punters can already see a massive improvement in the online gambling in Indiana, for instance, that have legalized all forms of sports betting on the web. Other states are also amending the laws regarding online bookmakers. You can learn more about the upcoming regulations in the US on our site.
Sports Betting Guides for Nearby States
Frequently Asked Questions About Nevada Online Betting Sites
As comprehensive as our online sports betting Nevada guide is, we've gone the extra mile to cover some more vital information on the topic. You can read a few of the most commonly asked questions that fellow gamblers have about Nevada online betting sites in the following paragraphs.