Iowa Sports Betting Online: The Best Iowa Sportsbooks for 2021
Iowa has many gambling options spanning tribal-owned and riverboat casinos, state lotteries and more, though they have always been strictly regulated. Up until recently, the of future Iowa sports betting was, like many U.S. states, unclear. Betting on sports, including college games, is possible since the latest changes in gambling laws were approved. Now online sports betting is legal in the state.
With the recent striking down of Professional and Amateur Sports Protection Act (PASPA) by the U.S. Supreme Court in May 2018, and a new law signed into effect by Governor Kim Reynolds in May 2019, a host of changes to Iowa's legal gambling options, including access to online platforms, are now a fact. Visit our Iowa gambling page for more. However, if you want to learn about the best Iowa betting sites, check the section below. Here are the best Iowa sportsbooks.
Last updated: August 23, 2021
Iowa Sportsbook
Welcome Bonus
Pros and Cons
Test Score
Trusted Link

PointsBet

$2000
All your favorite sports

,

Risk-Free Bets

,

No Daily Fantasy Sports

4.8/5
www.pointsbet.com

BetMGM

$1000
Sports Betting App

,

Live Betting

,

Not Available on Desktop

4.8/5
www.betmgm.com
Why You Can Trust online-gambling.com?
Category of the Top Iowa Online Sports Betting Platforms
Players from Iowa are nowadays happy to have the chance to bet on the most popular sports in the state. However, many forms of online gambling in Iowa are still illegal. With the latest changes in the gambling laws, Iowa sportsbooks will be able to provide betting services online to players in Iowa.
Pointsbet – Wide Range of Online Sports
Without a doubt, online betting can offer you various gambling opportunities and it is good to be able to choose between various punting options and features in one place. At least this is the idea behind online betting platforms. However, you should always consider checking all legal options and pay attention to all legal aspects.
Available Sports and Top Leagues in Iowa – Important Betting Rules
Without a doubt, online sports betting in Iowa will change the current gambling situation dramatically. Now, players will be able to test the full capacity of modern gaming tendencies that have been popular for a long time in many countries around the globe. Players in Iowa like to bet on sports and they often choose the top ones that are quite popular in the state – NCAA Football, NCAA Baseball, NCAA Basketball, as well as USHL Hockey.
Those are the most preferred sports events. This is why players in Iowa are now extremely excited about having the chance to bet on those sports online. In the paragraphs below, we will describe each of the top sports in Iowa one by one and we will focus on the most important details.
1. Football Betting – College Football & Iowa Hawkeyes
Though "Hawkeyes" represents a plethora of sports at the University of Iowa, the name means football — and this team and its rich history are the reason. Started in 1889, the team joined the Western Conference (now the Big Ten) ten years later and has been snapping up wins ever since. It is currently ranked as the 25th of college football programs. It most recently won the Outback Bowl in 2018 under long-time head coach Kirk Ferentz.
Betting on football in Iowa is legal and now with the introduction of online sports betting in Iowa, things will be even more thrilling for punters. The most popular football teams in Iowa are the Iowa Hawkeyes, Northern Iowa Panthers, Iowa Crush, Iowa Barnstormers and the Sioux City Bandits. The top football leagues are the Quad Cities Football League, Marshalltown Football League or Iowa Blackhawks Pro Football.
2. Baseball Betting – Big 10 Tournament & More
Representing one of the best college baseball teams in the country, the Iowa Hawkeyes baseball team is part of the elite Big 10 conference. Their games attract huge crowds from across the state and they have in the past gone on to be national champions and push many of their most talented players into MLB teams.
However, some other baseball leagues in Iowa are also popular among players and enjoy big interest from the auditory. Those are The Mid-Iowa Baseball League, The Open Baseball League of West Des Moines, the PBL East, Sportsplex USSSA HitTrax League and more. The leagues are different depending on the season.
3. Basketball Betting – College Leagues, Iowa Hawkeyes
The Iowa Hawkeyes men's basketball team is a huge draw for college sports fans in Iowa and beyond. Having won eight NIT Tournaments, eight Big Ten Conference championships and the Big Ten tournament, and having played in 26 NCAA Tournaments, this team continues to make Iowa proud. You can catch them next season in the Carver-Hawkeye Arena at the University of Iowa.
Among the most popular basketball tournaments in Iowa are the Iowa Youth Basketball State Championships, the Pacesetter IA State Championship, the SCCS Trailblazer Tipoff Tournament and the MNW Boys Basketball Tournament. Many people from the state are eager to watch those basketball tournaments and the interest is quite big.
4. Ice hockey Betting – Cedar Rapids Hockey & More
Ice Hockey is admittedly not the most popular sport in this state, but the Cedar Rapids has well and truly become the team to beat. Since 1999 they have played their trade in the coveted United States Hockey League, a division that sits just below the NHL and has seen some exceptionally talented players burst through the ranks in recent years. You need only look as far as the great players of the '90s for evidence of this.
Although this sport is not the most famous one, there are some ice hockey teams in Iowa that deserve to be mentioned. Those are the Cedar Rapids RoughRiders, the Des Moines Buccaneers, the Dubuque Fighting Saints, the North Iowa Huskies as well as the Sioux City Musketeers. The Dubuque Thunderbirds played in the Five Flag Event Center in the period between 2001 and 2010.
5. Tennis Betting – League & Teams
Throughout the territory of Iowa, there are quite a few tennis clubs that welcome people of different ages. Tennis is a popular sport in Iowa and the interest can be seen by the number of people attending the various tennis tournaments in the state. Most of the tennis clubs are located in Des Moines and Iowa City.
Among the most prominent tennis clubs in Iowa are the All Iowa Lawn Tennis Club, the Black Hawk Tennis Club, Westfield Tennis Club Inc, Fort Dodge Tennis Club and more. Presumably, there are quite many tournaments. Among the most popular ones are the Iowa Boys State Tennis Tournament Central, USTA IA Midlands Adult Open and more.
Top Iowa Betting App
Mobile gambling is among the iGaming trends that develop rapidly. Nowadays most of the modern online gaming platforms are mobile compatible and offer their services on the go. Now, the latest changes in the sports gambling Iowa legislation will allow players to benefit from the services of online betting websites and punt through all mobile devices.
Pointsbet – Best Overall Mobile Compatibility
Mobile gambling is very convenient, especially for those who have a fast-paced daily routine. Those players need quick access to the betting services of online operators. Now online sports betting is available through any mobile device around the globe. This is why mobile apps become quite appreciated and provide a better mobile gaming experience. Below, you can see the top Iowa sports betting app that is available at the moment.
Best Betting App
Up to
$2000
Welcome Bonus
Iowa Sportsbooks – Gambling Bonus Offers and Promotions
Quite a few elements and various options in the gambling platforms can improve the gaming experience of players. However, bonus offers are quite attractive as they can offer punters the chance to get additional rewards. Sign-up bonuses are one of the most important parts of the promotional campaigns of online operators. Below, you can find the top bonus offers at Iowa betting sites.
| Iowa Betting Site | Bonus Offer | Bonus/Promo Code | Wagering Requirements | Min. Deposit | Validity |
| --- | --- | --- | --- | --- | --- |
| Pointsbet | Up to $2000 | Not needed | N/A | $10 | 60 days |
The welcome bonuses aim at offering you a good start and boosting your account at the very beginning. However, keep in mind that most of the bonus offers come with certain wagering requirements that you need to complete first. Below, we have presented you the Iowa betting website with the most attractive promotions.
Free Sports Betting with No Deposit – Are There Any Offers?
Online operators are severely competing to attract more customers. This is why many operators include the so-called "no deposit" bonuses in their bonus programs. These types of bonuses are usually free cash that players can receive as an award for registering an account. However, not all operators offer them.
Currently, none of our recommended online Iowa sportsbooks offer a no deposit bonus on registration. However, we will keep track of the current promotions and will let you know as soon as one such offer is available. Till then, you can benefit from the other promotions that the top betting websites in Iowa can offer.
Deposits and Withdrawals at Iowa Online Sports Betting Sites
When it comes to playing online with real money, players need to be able to choose between the most preferred payment methods. Good news is that the top online betting sites in Iowa will offer the most popular payment methods that other companies in the iGaming business also use.
Among the payment methods that you can choose between at the sports betting Iowa sites are Visa, Mastercard debit cards, as well as e-wallets such as Neteller or Skrill. PayPal is also available and is one of the most preferred online payment systems due to the fast deposits and security policies.
Live Sports Betting in Iowa
Many trends in online betting become popular nowadays with the development of online technologies. Live betting is a vital part of the online services offered by the betting websites. Many players are willing to keep track of their favorite live events and at the same time punt while using the top betting options.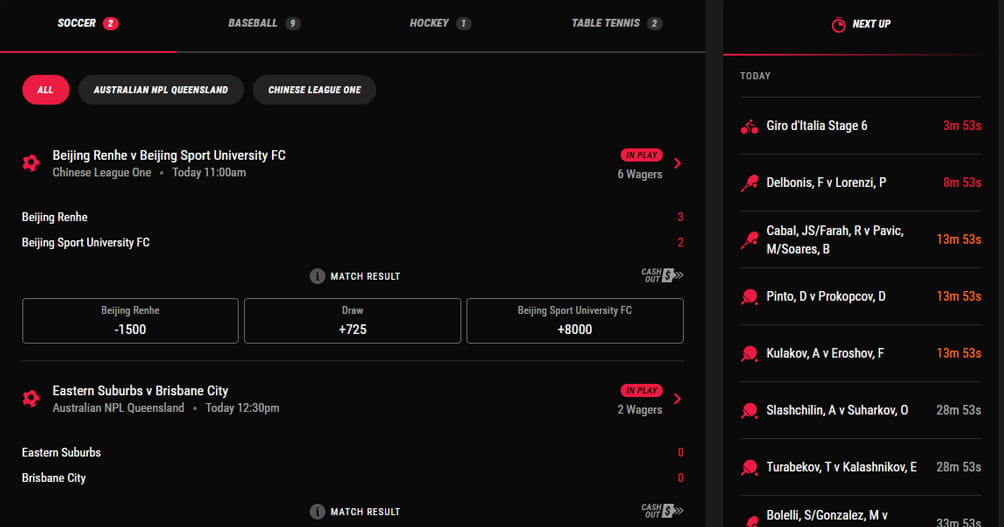 Although live betting is quite appreciated among players, not every betting website offers this feature. If you want to bet on live events online, then you should carefully examine the betting websites and the options that they can offer. Below, we have picked for you the top Iowa online sportsbook that offers live betting.
Iowa Land-Based Sportsbooks & Locations
The legalization of IA sports betting in land-based locations, as well as online, was a huge step forward for the Iowa gambling market. As you may know, currently, betting on sports is available only in licensed casinos and other land-based establishments on the territory of the state. Below, you can find a list with the top Iowa sports betting locations.
| Iowa Sportsbook | Casino Partner/Racetrack | Launch Date |
| --- | --- | --- |
| Pointsbet | Catfish Bend Casino/ PointsBet Sportsbook | November 2019 |
| DraftKings | Wild Rose Casino & Resort | February 2020 |
| Hard Rock Sioux City sportsbook | Hard Rock Hotel & Casino Sioux City | December 2019 |
| Q Casino Sportsbook | Q Casino | November 2019 |
| Elite Sportsbook | Riverside Casino & Golf Resort | August 2019 |
| William Hill | Prairie Meadows Casino, Racetrack, & Hotel | August 2019 |
As you can see, there are many major gambling establishments in Iowa where punters can place bets on popular sports events. The best Iowa sportsbooks can be found in the bigger cities of the state. However, players in smaller towns will also be able to find a licensed land-based establishment that offers IA sports betting services.
Sports Betting Law in Iowa
The Iowa Gaming Association is the official institution that regulates gaming activities in the state. Though some types of gambling have been legal in Iowa for many years, the recent law passed on May 13, 2019, is a game-changer, which will create many positive changes for the future of sports betting in the state. The newly signed bill currently allows new operators to offer sports betting on-site, and online, after paying a $45,000 licensing fee and with a new 6.75 per cent tax on revenue.
College sports betting is also permitted, though subject to strict regulation. The Iowa Racing and Gaming Commission is the authority which will regulate sports betting from now on. Of course, Iowa is not the only state which thought of such legislations. There are several possibilities also in other corners of the US, like for example in sports betting in the state of New Hampshire.
Legal Online Sports Betting Age in Iowa
With the introduction of the sports betting law passed in the Iowa legislature in May 2019, residents 21 years and older are allowed to wager on sporting events. The betting can take place in Iowa's casinos. For online sports betting, interested parties must register once in person at a casino to prove they are over 21 and begin betting.
Sports Betting Age

The legal sports betting age is 21 in Iowa.

Alcohol Age

The legal drinking age is 21 in Iowa.

Weed Age

Iowa residents with qualifying medical conditions and over the age of 18 can apply for a permit to buy cannabis.
Taxes on Your Winnings: Do You Have to Pay Anything?
Though the current new laws in Iowa are very strict, it is not a surprise that winnings are taxed. Most European countries implement 5% duty on winnings, no matter the amount, and it is an attractive proposition for states in the USA as well, since this revenue can go towards government projects. At the moment, it is clear that a 6.75% tax is charged on revenue earned by the licensed betting premises engaging in sports betting in Iowa, according to local reports.
Benefits of Legal Sports Betting in Iowa
Legal sports betting in Iowa will inevitably have a positive effect on the current gambling situation in the state. First of all, gambling revenues will increase. This means that the state will have more profit to use for good causes. On the other hand, fraudulent betting activities will be less than before as bettors will most likely choose the licensed betting locations to punt.
| Benefit | Explanation |
| --- | --- |
| Gambling Tax Revenues | Legalization of sports betting both land-based and online will increase dramatically the gambling revenues in the state as more players will now be able to bet on their favorite sports events. |
| More Legal Betting Locations | With the introducing of new betting locations, gambling tourism in the state will flourish. More people will be visiting the legal betting establishments throughout the territory of Iowa. |
| Legal Iowa Betting Websites | With the legalization of online betting, more gambling websites will start offering their services to players in Iowa. This will increase also the benefits of the mobile betting segment. |
Online betting will also bring other positives. Many players who want to bet on their favorite sports online will now be able to do this legally. Licensed sports betting websites are strictly regulated and licensed. They have to provide the necessary safe gaming environment to players. This is also an important aspect of legalizations of sports betting in the state.
Local History of Sports Betting
Iowa has been fairly open to the gambling industry, with Native American casinos and others opening in the state. Up until recently, IA sports betting was not allowed on the premises, or online, but that is changing as of the Supreme Court's ruling against PASPA in 2018 and new legislation in Iowa passed in May 2019.
Iowa Sports Betting History

| Year | Event |
| --- | --- |
| 1983 | Racetracks are allowed to apply for licenses, making greyhound and horse racing legal in the state. |
| 1989 | Simulcasting is approved, allowing bettors to wager on races not only within Iowa but in other states as well. |
| 1991 | Riverboat casinos start opening in Iowa. |
| 1992 | Three Native American casinos open for business. |
| 2019 | Gov. Reynolds signs SF 617 into law, effectively legalizing sports betting on licensed premises and online. |
Is Online Sports Betting Legal Outside of the State?
A federal ruling in 2006 strictly prohibited any form of online sports betting in the US. But after many states rallied against it, notably New Jersey and Delaware, the U.S. Supreme Court struck down PASPA in 2018, paving the way for all states to introduce new sports betting laws.
Iowa is part of the wave of states that have recently made sports betting legal, following Montana and Indiana in 2019. As with all states, you must access online betting from within the legal state, and not from states where online betting is prohibited. This will offer quite many different gambling possibilities to players from those states.
Upcoming Regulation Changes to Be Aware Of
The Iowa sports betting laws are changing due to the recent signing of SF 617. Sports betting is now allowed on licensed premises, including Iowa's 19 casinos, and through partnered online betting sites. Further regulations, such as on online betting and betting on college games, were also determined in July and August 2019, by the Iowa Racing and Gaming Commission. Those products were also legalized in land-based gaming establishments and online.
Sports Betting Guides for Nearby States
Frequently Asked Questions About Iowa Online Betting Sites
If you need to know more details regarding sports betting in Iowa, then check the section below. Here, we have prepared brief answers to the most frequently asked questions about betting on sports in land-based establishments as well as in online betting websites. Here, you will find the additional information that you need.