The Glory of 1024 Ways to Win Online Slots
For people who are into slot machines, 1024 ways to win online slots are getting people very excited. When it comes to hitting the slots, players are always on the hunt for more ways to play and win on their favorite machines. The most common way players go about upping their odds are by playing more pay-line so that they can open up more prospective combinations that could bring them the big bucks. However, there is a downside to this option; it costs more to buy more lines. The general rule of thumb with any kind of gambling is the same, in order to win more, you've got to spend more. Which is a pretty valid rule players have gotten used to.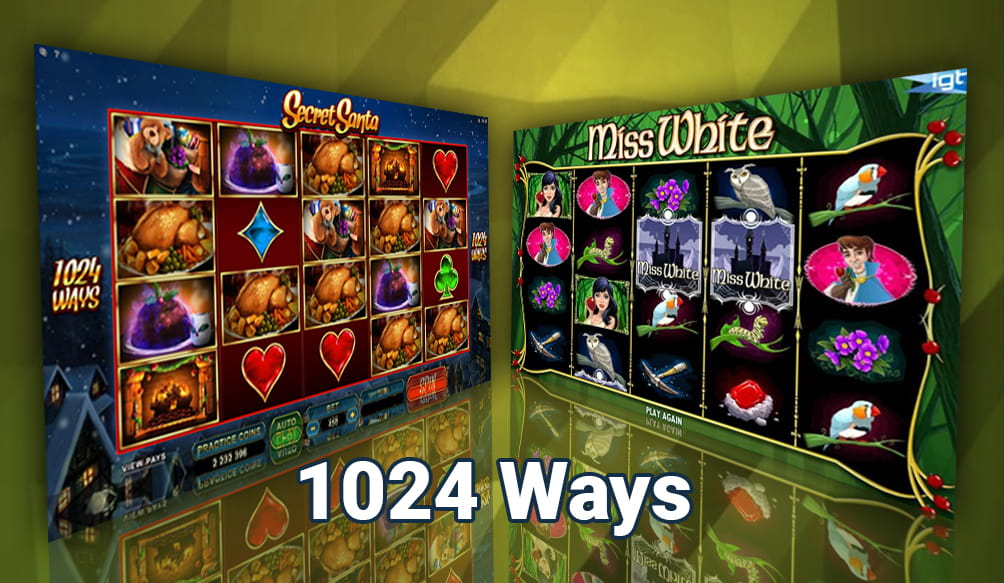 But times, my friends, are a' changing. There is a new kind of slot machine that has taken the old method of spending more to possibly win more and pitched it promptly out the window. These new machines are going by the name "all ways" games, and they require players to pay one flat out rate to give them the glorious access they desire to every possible way of combining winning symbols. That's a big old "heck yeah!" for many slot players who are discovering these new ways to play. And why wouldn't they? The odds of winning are substantially increasing on every spin (sweet) and they can be played for longer without going totally broke (double sweet!) That's, where the term 1024 ways to win, comes in to play (pardon the pun.) But wait, there's more! A whole bunch of these 1024 ways to win online slots is free to play! Yes, you read that correctly.
There are no crazy new rules for how to play, they really follow most of the same rules and regulations as other online slot machines. The goal is still the same; you've got to match symbols in a row, generally, more than three is desirable, and then based on what symbols you end up with you win a prize. The more symbols in a row the better. Of course, also like most other slot machines, there are some wild cards, free spins, and other bonuses that can pop up on the wheels too.
But there are some differences with the 1024 ways to win online slot machines that set them apart from the rest. Starting with the pay-line. With 1024 ways to win slot machines, there is no pay-line. No pay-line, you say? That's right, no pay-line. What happens instead is that every possible left-to-right combo is accessible. All the play needs to do is pay one price to gain access to all those wonderful combos. That's not saying that there is a standard rate for every player, that is up to the player, and how much they want to spend. However, that doesn't affect how many lines a player gets, only the stakes they play for.
Most Popular 1024 Ways to Win Slots
As of yet, there aren't as many 1024 ways slots available online as there are the much more common 243 ways slots. However, they are on the rise and most online casinos do have a couple 1024 ways to win slots. But that hasn't stopped online slots lovers from picking out a few favorites. At the top of the list is Lucky Panda.
Lucky Panda
Online slots company Play-tech has bravely embarked into the world of 1024 ways to win online slots with this game that lets players bet up to 72 coins on a spin and, as the name may suggest, has a fun Chinese theme. There are all kinds of fee spins, wild cards and multipliers that can pop up on every spin which makes the game all the more fun to play and exciting. Players are loving Lucky Panda for all of its excitement and fun theme and it's a great game for players new to 1024 ways to win online slots to break the ice and experience this new way to play, and to win.
Hot Ink
Micro-gaming has joined the party with their game Hot Ink. These days, tattoos are less exotic and taboo than they used to be, in fact quite the opposite. So why not mix two exciting things like gambling and sexy artwork together? Well, that is exactly what Micro-gaming has done, giving players some sweet art to look at while they test their luck on the reels for a chance to win the jackpot of up to 10,000 coins. It's hard to find this game dull with its many bonus rounds and classic tattoo art to keep players entertained, making it a definite fan fav.
Crown of Egypt
If you are an online gamer of any kind, including mobile games, there is a good chance you have seen ads for IGT's 1024 ways to win slots Crown of Egypt. This game has caught a good buzz in the slot world and been crowned as one of the most awesome Egyptian-styled slots to hit the net. It comes from a long line of IGT's wide range of online slots and casino games that have been up and running for quite a while. Not only does Crown of Egypt give its players choices to play the standard 40 paylines, it also comes with the appealing 1024 ways to win the option of play.
Benefits of 1024 Ways to Win Online Slots
First off, who doesn't want to expand their chances of hitting big!? The opportunity to create more ways to win is something that appeals to most players across the reels. There are more chances for payouts because of the higher odds of matching symbols. The higher the chances of winning are, the more excitement and more thrill there is to play any game. That pretty much goes without saying! Slot machines are great, easy ways to play casino games online, and these slot machines "1024 ways to win" are a fantastic way to keep those reels exciting and fun to play. They come with great odds for winning, fun and exciting themes, and are very easy to use without having to learn an entirely new game.
Our Most Popular Slots Articles