Slot Machines Symbols Guide – Meanings, Payouts And Online Variations
One of the reasons why slots are so popular is that they're so easy to play. All you've got to do is click to spin the reels and hope for a win. Without a doubt one of the key features of slots is the symbols that appear on the grid. Each slot grid has a number of positions on it that are all taken up by symbols. Spinning the reels causes a different line-up of slot machine symbols to appear on the grid. These can give you payouts and trigger special features that can give you more chances of scoring a win.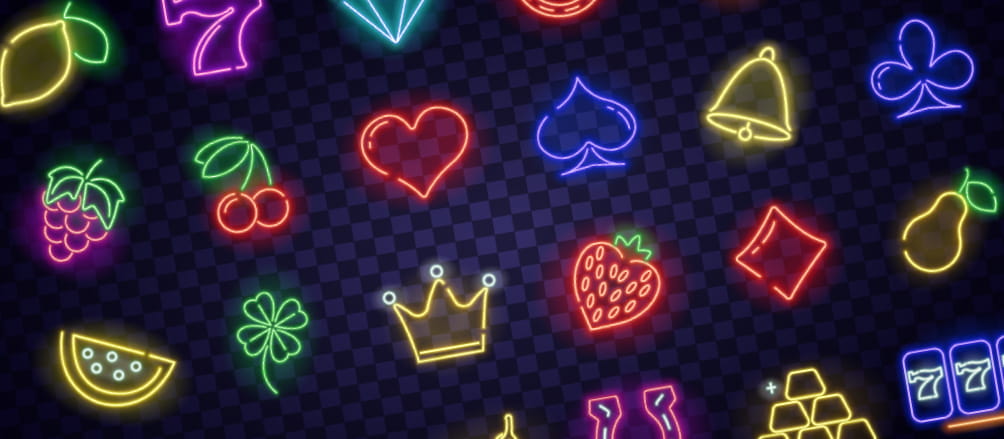 Types Of Slot Machine Symbols
Slot symbols can be categorised into two main categories. First, there are standard symbols that only give payouts. Second, there are special symbols that trigger bonus effects (and sometimes pay out as well). Below you'll find a quick guide to slot machine symbols meaning. Have a read to find out more about how the different types of symbol work.
Standard Symbols
Most of a slot's symbols are classed as 'standard symbols'. They offer payouts if you land enough of them in the right place and that's just about all they do. The size of the winnings you receive depends on several factors: your bet size, the symbol you've won with (each symbol has its own payout rates) and the number of symbols you've won with (the more matching symbols there are, the higher your payout).
A slot's standard symbols are usually designed to fit the theme. If it's an underwater-themed slot, for example, the slot machine symbols icons might all depict various fish. However, lots of slots have the low-paying symbols depicted as card ranks (e.g. A, K, Q and J) or even card suits (hearts, diamonds, clubs and spades) regardless of what their main theme is. You'll come across classic slot symbols a lot – these are themed to fruits and include things like diamonds, bells, bars and the number 7. The reason many slots have these particular symbols is because they're inspired by the first physical slot machines that had these same symbols.
Wilds
Wilds are very useful because they can give you more of a chance of winning. The way these symbols work is straightforward: they can substitute for any of a slot's standard symbols. Let's say you're playing a slot that has a diamond as its most valuable symbol. You spin the reels and land four diamonds and a wild on one of the paylines. The wild acts as a diamond, so even though there are only four diamonds on the payline, you've actually won with five diamonds instead.
Normally, wilds don't offer payouts of their own. However, some slots do have wilds that pay out just like standard symbols – a wild symbol's own payouts tend to be fairly high. Many slots have wilds that come with special effects. For example, expanding wilds land and fill the entire reel they're on; sometimes, as well as expanding vertically, they can expand horizontally too. Wandering wilds typically appear in bonus rounds and move about the reels every time you spin. Sticky wilds, on the other hand, remain locked in place for a set number of spins or until a bonus round's over. Then there are stacked wilds – these are stacks of wilds more than one position high. They can greatly increase your chances of winning as you can get full reels of stacked wilds.
Scatters
Most online slots these days have a scatter symbol. This is a special type of symbol that can trigger a free spins round, award high payouts, or both. Usually, landing three or more scatters anywhere on the slot's grid rewards you with some free spins. For some slots, you receive a fixed number of spins; for others, the more scatters there are, the more spins you get. When scatters offer payouts, they don't need to be on a payline to count – they can be anywhere. So long as there's enough of them, you'll get paid. Whereas standard symbols typically offer multiples of your bet per line as a prize, for scatters the prize is a multiple of your total bet. It's not uncommon for scatters to offer a slot's highest payouts.
Multipliers
Multipliers are very worthwhile slot machine symbols. As their name suggests, they can multiply the value of your winnings, vastly increasing the amount of money you make from an online slot. There are a few different ways multiplier symbols work. A lot of the time, multipliers are attached to wilds. If you win with a wild that has a multiplier value on it (e.g. x3), your winnings will be multiplied accordingly. Sometimes, multipliers are scatters. If there's one anywhere on the grid when you win, it will multiply your winnings.
Should you win with more than one multiplier, the values on the multipliers are combined then applied to your win. For example, let's say you win with two multiplier wilds, one displaying x2 and one with x3. Your winnings are then multiplied by x6, giving your win even more value.
Bonus Symbols
As for bonus symbols, these are symbols that trigger a bonus feature, such as a pick-me game where you can win cash prizes or even a progressive jackpot feature. These slot symbols work in a similar way to scatters in that you need a minimum number of them on the grid to trigger the feature, however they don't usually offer payouts.
Summary
Now you should have a pretty good idea about what slot machine symbols are and how they work. Every slot has some standard symbols – usually fewer than 10 – and most of them have a number of 'special' symbols as well, i.e. wilds, scatters, multipliers and bonus symbols. Before you start playing a slot, you can find out what the slot symbols are simply by looking at the pay table. Stick with the ones that have lots of special symbols for more chances of winning!
Our Most Popular Slots Articles