Best Slots Software – Top Online Slots Software Developers
There's no doubt about it – slots are the backbone of the online gambling industry. With more than 15,000 of them available to play and more constantly in development, they're by far the most popular type of casino game around. What makes them so successful is the fact that they're quick and easy to play, plus they're really diverse. Not only do they come in practically every theme imaginable, they also have lots of exciting features and there are more than 300 developers making them.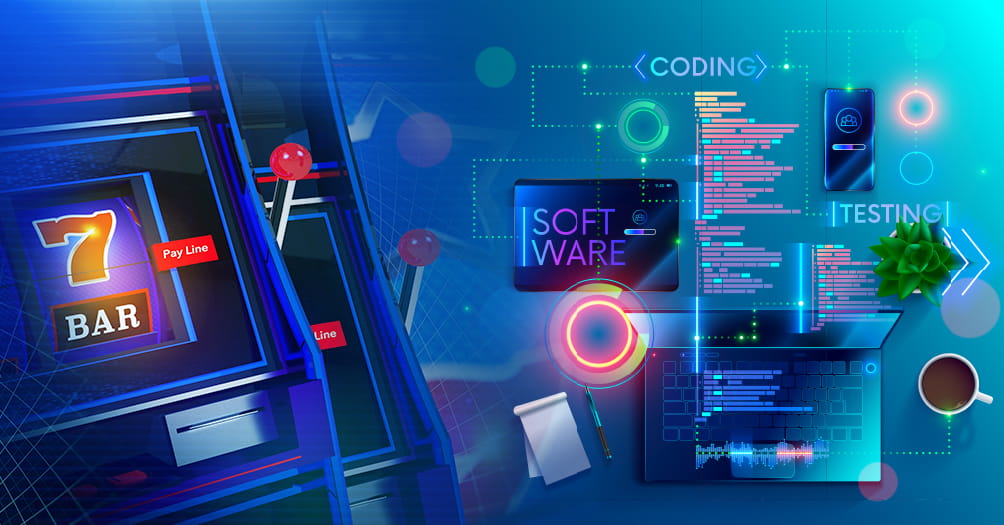 Top Slots Software Developers
Of the hundreds of developers creating online slots, there are a few dozen that have become very popular and successful thanks to the slots they've released. Some of the industry's biggest developers include Microgaming, Play'n Go, NetEnt, NYX Interactive, Quickspin, IGT, Scientific Games, Playtech, Yggdrasil and Big Time Gaming, to name just a few. You should find slots by at least a few of these big-name developers at most online casinos. Many of the slots created by these developers have gone on to become extremely popular and well appreciated by players around the world. It should come as no surprise that the biggest, most popular slots have been created by the biggest developers. For example, there's Starburst by NetEnt, Book of Dead by Play'n Go, Bonanza by Big Time Gaming and Mega Moolah by Microgaming. All these slots are widely available to play at lots of online casinos and are often prominently displayed in the casino lobby section.
How Online Slots Software Developers Vary
It goes without saying that the developers of online slots are different. Some are large international companies with hundreds of staff, while others are smaller independent studios with only a handful of staff. Some have been in the business for decades and have released hundreds of slots, while others have only been around for a few years, if that, and have a much smaller slots portfolio. Then there's the slots themselves: slots by certain developers have particular traits and features that let you know it's from that specific developers. For example, Ganapati's slots have a Japanese anime-style look to them; many slots from Wazdan come with various special features, including the ability to choose the volatility; and a growing number of Big Time Gaming slots use the Megaways mechanic, which can give you over 100,000 ways to win on any spin.
The online gambling industry is very competitive. Both casinos and developers have to generate income to continue operating, just like any other business. Since there are so many developers, they're constantly trying to make themselves and the slots they produce stand out from the crowd. That's why some come up with original features (such as Big Time Gaming's Megaways) and others focus on creating a distinct style and sticking with it (i.e. Ganapati's Japanese-themed slots). However, many developers of video slots software don't really try to push boundaries or bring something new to the industry; instead, they simply stick to the tried-and-tested slots formula and concentrate on making their slots as exciting, entertaining and enjoyable as possible.
Which Slot Developers To Stick To
Lots of people who play online slots for real money don't really take note of the developers. That is to say, they're not bothered about where the slots come from, as long as they're fun to play. Then there are some who do take note of what developers slots come from. They try out slots by different developers and eventually find their favourites. You'll find that lots of casinos, especially those with larger slots collections, have numerous filtering options available. These are provided so that you can sort through the collection and find particular slots you're after more easily. A lot of the time, there are developer filters: click on one and only slots by that particular developer will be displayed. This is a handy feature to take advantage of if you fancy trying out slots from different developers, or you want to quickly access slots by your favourite.
At most online casinos, it's slots by the biggest developers that you're likely to come across first. There's usually a category where the most popular slots can be found and here you'll find slots by some of the more prominent developers. You'll also see popular slots featured in various casino promotions, such as free spins offers. Slots from some of the smaller developers aren't necessarily hard to find, it's just they're not advertised as much because they're not as well known as the slots from the bigger providers.
You should always play slots by developers that are safe, reliable and trusted. Thankfully, the vast majority of online casinos are licensed. Having a licence means that the casino and its games have been vetted by a third-party company and have been given the seal of approval, so to speak. Play at a licensed casino and all the games there, no matter what developers they come from, shouldn't give you any problems at all.
Which Is The Best Slot Games Software Developer?
Is there a single casino slot software developer that's regarded as the best? There are indeed some that are very highly regarded throughout the industry, such as Microgaming and NetEnt. However, deciding which one is the best is completely subjective and is up to you alone. Some developers have been way more successful than others; for example, some have won numerous awards and have had their slots highly praised. Even so, the slots by an award-winning developer might not appeal to you for one reason or another. You may find that you prefer slots by a lesser known developer that's only starting to make a name for itself. There's no developer that everyone agrees is the best, simply because everyone has different tastes and preferences. If you're looking to play online slots for real money, the best approach is to play slots by lots of different developers. You'll get a varied slots experience and will get to see what makes slots so diverse and fun to play.
Our Most Popular Slots Articles