How Slots Tips Can Help
Online slots are by far the most common type of game available to play at online casinos today. It's no surprise why. After all, they're thrilling, fast-paced and a whole lot of fun. Plus, they're very easy to play, have all sorts of exciting gameplay features and they come in a practically endless range of themes. They're so diverse that whatever your own tastes are, there are bound to be loads of slots suitable for you. While many people enjoy playing slots casually, some are more serious and are keen to make a profit. If you want to improve your chances of walking away with more money, use some of the slots tips and strategy ideas on this page.
It's important to point out that online slots, just like any other game, are designed to take money away from you. Sure, you'll score a win every once in a while and may end up making a profit, but most of the time your bet won't pay out. Slots are games of chance. That is to say, there's nothing you can do at all that can influence the outcome in any way. When you play slots, all you do is spin the reels and hope for enough matching symbols to land in the right place to give you a win. Whether you win or not is entirely down to luck – no strategies, hints or anything like that can improve your chances of winning.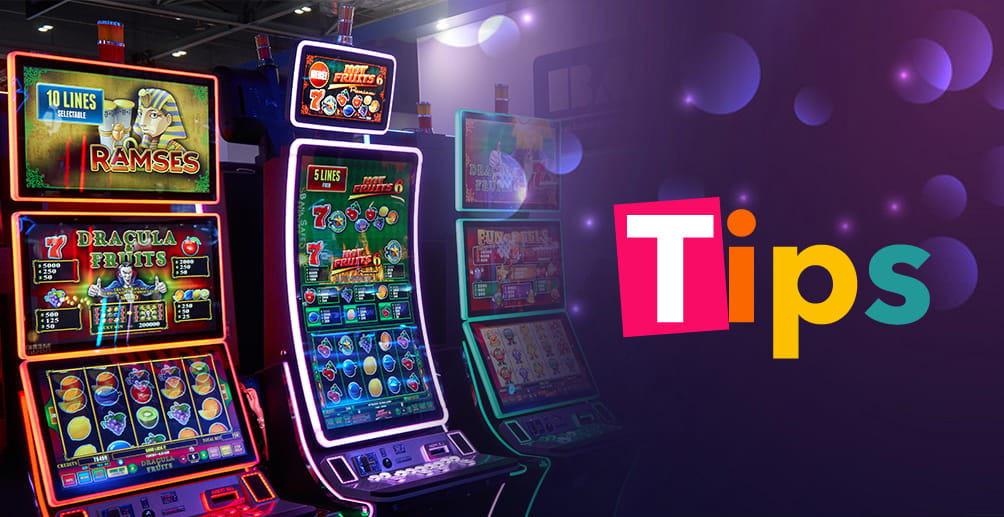 So if you can't boost your chances of scoring a win, what are slots tips and tricks all about? These are meant to help you get the most of your money by making you think before you place your bets. Instead of just rushing and playing slots, taking some time to think about your approach and playing in a more calculated way can be worthwhile. Even if you use lots of tips and tricks, there's no guarantee that you'll automatically win more money. Remember, slots are down to luck so you have the same chance of landing a winning combination whether you're using any kind of strategy or not.
On this page we've outlined lots of useful online slots strategy tips that we recommend trying out. Some of them are more general and are to do with the way slots are played, while others focus on the way you place your bets. Once you're done reading, feel free to try some of our tips and tricks out, but do remember that you still stand a chance of losing, so be prepared for that. Having said all that, if you read up on some key video slots tips and use them well, you may end up bringing in a decent-sized win or two. Therefore, it can be worth your while putting some tips for slots into action.
Top Slots Tips To Try Out
Below you'll find lots of useful tips and tricks for playing online slots. Have a read, then put some of them into practice and hopefully they'll have a positive effect on your casino balance as you play. Thankfully, you can try them out on pretty much every slot that's available to play at online casinos today.
Know How Slots Work
It goes without saying that before playing any type of casino game, you should know how it works. Even though slots are luck-based, you should still have an idea of how they work and what features there are. Though slots work in pretty much the same way, there are lots of factors that vary. These include the payout values of the symbols, the special features and the way payouts are determined. Before playing any slot, you should have a look at the pay table – this will tell you how much each symbol pays out, what the special features are and how you can trigger them, and what you have to do to win (i.e. where you have to land matching symbols and how many are required).
When it comes to payouts, some slots list the payouts for each symbol as a straight multiple of your total bet. If, let's say, your total bet is £1 and a particular symbol pays out £5 for five on a payline, you know that symbol pays 5x your bet whenever a payline has five of this symbol on it. Therefore, if you increase your bet to £2, this symbol would pay out £10 for five on a payline. Adjust your bet and the symbols in the pay table with have their payouts adjust accordingly, so you can always see exactly how much money you stand to win.
Not all slots display their payouts this way. Many display numbers that you multiply your bet per payline by to determine your winnings. For example, let's say a symbol pays out 100 for five on a payline and you're betting a total of £1, with your bet covering 20 paylines. The amount of money you're betting on each payline is £1 divided by 20, which equals 5p. If you win with five of this particular symbol, your payout would be 5p x 100, which equals £5. Slot pay tables don't always go into full detail about how everything works. Most slots have a help section that lays out the rules of the game and its features in a lot more detail. Have a read if you're stuck on anything, or read a review of the slot instead.
Stick To Your Budget
This is a general tip that you can apply when playing any kind of online casino game. Gambling can be addictive, so it's important that you play responsibly. Set yourself a budget for each gambling session and make sure you only set aside money that you can afford to lose. When you play, stick to your budget, however big or small it is, and don't go chasing your losses. That is to say, if you don't end up winning, don't keep on spending money hoping for a win. Chances are, you won't win and you'll just end up wasting money you shouldn't have been spending. So, if you stick to your budget and you end up making a profit, great. If you spend your budget but don't make any money, quit and do something else. Simply keep to your budget and know when to stop playing.
Your budget should always be spare money that isn't needed for anything important. Bills, rent, mortgage payments, food – all of that stuff comes first. If you have any money left over, by all means spend it playing online slots with real money, but don't get carried away. What you definitely shouldn't do is use money set aside for necessities to play online slots with. Even if you do this just the one time, it's never a good idea. Always use money that's not needed for anything and your finances shouldn't be affected.
So what happens if you win? It's more sensible not to gamble your winnings, no matter how tempted you may be to do so. If you start off with a budget of £100, this is the maximum amount of money you can gamble in that gambling session. If you end up winning let's say £50, don't gamble it because you're more likely to lose it. If you stick with spending £100, your £50 winnings will be a nice profit – better to have a profit than to waste the £50 on more bets.
Think About The Size Of Your Bets
One of the great things about online slots is that they have a wide range of betting options. Most, for example, let you bet with less than a pound or as much as a hundred pounds or more. Slots are therefore accessible to players of all budgets, from those who have a small sum of money to gamble with, to high rollers who have a substantial bankroll to spend. The majority of slots have you win by landing enough matching symbols on a payline, which is a line going across the grid that covers one symbol per reel (or column). Lots of slots have 20 or 30 paylines, though you'll find some with fewer and some with a lot more. For some slots, all bets cover all paylines, while for others, you get to decide how many paylines you want your bet to cover. Bear in mind that the more paylines you include in your bet, the bigger your bet will be. However, the more paylines your bet covers, the more chances you'll have of landing a winning combination and getting paid. It can be worth betting on a higher number of paylines. After all, you get paid for each individual payline that wins, so including more of them in your bet can prove lucrative (if you're lucky enough, that is).
Also, you should think about how long you want your slots playing session to last. Whatever size your budget is, consider how you're going to divide it up. If you want a long gambling session, split your budget into lots of small, cheap bets – the cheaper the bets are, the more of them you can place and the longer you can spend gambling. However, if you only divide your budget into a few, more costly bets, your gambling session will be over much more quickly.
Play Simple Slots
If you're new to online slots, it's a good idea to play simpler, more basic slots first. There are loads of slots that strip away the extra features and focus on spinning the reels. Lots of online casinos have a section dedicated to classic slots – these are video slots that are designed to resemble earlier models of slot machines. They tend to be played on a smaller 3×3 grid and a lot of them don't have any bonus rounds or special features. They're not as complex as the more modern video slots that are packed with features and they don't have as much going on. They're a good stepping stone – play classic slots to get used to how slots work, then move up to more advanced slots that have more features.
While these slots are ideal for beginners or anyone looking for a bit of practice, they tend not to have high payouts. If you decide to play classic slots, don't expect to land huge wins all the time; your payouts will more than likely be on the smaller side. That being said, these slots are still worthwhile and can be a lot of fun, especially if you enjoy the simplicity of spinning reels and landing matching symbols to form winning combinations.
Try Slots With Special Features
If you're ready to play slots that have lots of special features, great! Before you start playing, you should find slots that have particular features that can help you make the most of your winnings. Some features that you should look out for include free spins, pick-me games, wilds and multipliers. One of the best video slots tips is to focus on slots that have lots of features, and therefore some extra ways to win.
Free spins, as their name suggests, are spins of a slot that you get to use without paying. You typically earn free spins by landing three or more scatters. A lot of the time, the more scatters you land, the more spins you get. While using these spins, the game's played as usual and you still have just as much of a chance of winning. In fact, some slots have a free spins round where you're more likely to win because there are extra features in play. Some slots even double or treble all the winnings you've earned during the free spins round. Sometimes, the round lasts a set number of spins; sometimes, you can keep on earning more and more spins by landing extra scatters. What would be ideal would be if you could manage to land a big win while not actually paying for the winning spin.
Pick-me games are special bonus rounds where you pick a number of icons to reveal prizes – these can include free spins, but most of the time they're cash payouts. Some pick-me games have several levels. You start off at the first and each one has better prizes than the one before it. Once you've used up all your picks, you receive all your prizes at once. For some pick-me games, you can reveal extra picks so you have even more chances of walking away with some freebies.
Wilds are special symbols found in most online slots. Their job is to substitute for all regular symbols to help you form a winning combination and get paid. For example, let's say you land four lemon symbols on a payline. The other symbol on that same payline is a wild. Because the wild can substitute for the lemon symbol, the slot credits you for winning with five lemon symbols, not four, and you're paid accordingly. As well as standard wilds that simply substitute for other symbols, there are several other types of wild. Expanding wilds expand to fill the reel they're on, while sticky wilds remain where they are on the grid for a number of spins and moving wilds move about to a new random position every time you spin.
Multipliers are so-called because they take your winnings and multiply them, increasing the value of your winnings and giving you more money to collect. Most of the time, multipliers are attached to wilds – if this wild helps you win, your winnings will be multiplied by whatever value's displayed – if it's x2, for example, your winnings will be doubled. As mentioned previously, sometimes a free spins round will have all winnings automatically multiplied by a set value. For some online slots, the value of the free spins multiplier is fixed; for others, the value of the multiplier grows as you spin the reels, land winning combinations or collect certain symbols (usually scatters). If you happen to win with a multiplier in effect, you could be in for quite a lucrative payout.
Take RTP Into Account
RTP is a term that you're bound to come across at some point or other. It stands for 'return to player' and is measured as a percentage. What it refers to is roughly how much of your bet, on average, a slot should pay you over long-term play, i.e. thousands and thousands of spins. Most online slots have an RTP that's in the high 90s – many have an RTP of around 96%, for example. If you play a slot with an RTP of 96%, you won't receive 96% of your money back on every spin. However, if you have loads of goes, the amount of money you get paid per spin should get closer and closer to 96% of your bet the more you play. So, if you have a thousand goes on a slot spending £1 and the RTP is 96%, in theory the slot should pay you £960. Of course, there's still a chance you'll get paid less or more.
If you're serious about making money from online slots, you should stick with slots that have a particularly high RTP. The higher it is, the more money you should be paid over long-term play. Having said that, it's still perfectly possible to play a slot with a lower RTP and bring in a big win.
Another term worth mentioning is house edge. This is the exact opposite of RTP. Therefore, if a slot has an RTP of 96%, its house edge is 4% – the two figures always add up to 100%. Most of the time, RTP is used, though if you find house edge being used, you want slots that have as low a house edge as possible.
So how do you find out what a slot's RTP is? A lot of the time, it's listed in the slot's pay table. If it's not, the casino you're playing at might provide it for you – some casinos even have a full list of RTPs for every one of their games. If the RTP isn't listed at the casino anywhere, a quick online search should do the trick. Sticking to slots that have a high RTP is one of the best slot machine tips to put into practice.
Choose Slots With The Right Volatility For You
Just like how all slots have an RTP, they also have a volatility. What volatility refers to is how often a slot pays out and how big the payouts should be. There are three main levels or types of volatility: low, medium (or standard) and high.
Low volatility slots tend to pay out fairly often, though the payouts are on the smaller side. High volatility slots are the opposite: they don't pay out often, but the payouts can be quite large. As for medium volatility slots, they're in between low and high volatility slots. They offer plenty of smaller and mid-sized payouts, with a larger payout coming round every so often.
If you're a beginner or you're on a small budget, you should stick with low volatility slots. They're not that risky and are generally quite safe to play. You likely won't end your gambling session with a huge profit, but you shouldn't end it with a huge loss either.
If you're a high roller with lots of money to spend, high volatility slots are for you. They are quite risky and you may well play without winning, but if the risk does pay off, you could be in for a substantial win. You may have to spin the reels many times before winning, but hopefully the win should pay off and help your cover the money you've spent.
If you want at least some steady payouts with the chance of a larger win every now and then, choose medium volatility slots. These don't pose too much risk since you should win smaller sums regularly enough, though the larger wins will still be quite rare.
While many slot pay tables display the RTP, most of them don't mention the volatility at all. Therefore, if you want to find out what a slot's volatility is the best thing to do is to look online. There are lots of third-party review sites and databases that covers just about everything to do with online slots and list their RTPs, among other things.
One of the best video slots tips involves playing slots with different volatilities and deciding which one suits your playing style the best. The provider Wazdan has created a number of slots where you can actually switch between three volatilities whenever you want. Every spin can have a different volatility level if you wish. Of course, if you switch on every spin, you won't get a feel for how each level works. It's best to pick one, stick with it for a large number of spins to see how it works, then switch to another level and do the same. All of Wazdan's most recently released slots have the option to choose your own volatility. If you sign up to an online casino with slots by this provider, make the most of this unique feature and test it out to see which volatility suits you the best.
Don't Be Tempted By Progressive Jackpots
Progressive jackpot slots are known for paying out huge sums of money. Some of them, in fact, have turned players into multi-millionaires thanks to their ridiculously massive payouts. You'll find these slots available to play at many top-rated online casinos. While it can be tempting to play them and try your luck, bear in mind that the chances of winning a progressive jackpot are very slim indeed. Generally speaking, the bigger a jackpot is, the less likely you are to win it.
Some slots have a single progressive jackpot that grows every time someone places a bet. It keeps on growing until it's won, then it restarts at a set amount of money. Mega Moolah is the world's highest-paying progressive jackpot slot. This slot actually has four different jackpots. If you're lucky enough, you'll trigger a special feature where you get to spin a wheel to win one of the four jackpots. You have a 1/2 chance of winning the smallest jackpot, Mini, which starts at 10.00. However, if you want to win the top prize, which starts at the seven-digit sum of 1,000,000.00, there's only a 1/20 chance. Even if you play a slot whose progressive jackpot is on the smaller side (i.e. it never reaches more than a few thousand pounds), the chances of winning are still very small.
Slots that have a progressive jackpot tend to have a lower-than-average RTP. Mega Moolah's RTP, for example, is only 88.12%. Therefore, if you play progressive jackpot slots long-term, you're likely to receive a lot less of your money back than if you were to play a regular, fixed-jackpot slot with an RTP in the 90s. Another factor to consider is that for some slots, the more you bet, the higher your chance of winning a jackpot prize is. There are even some slots where you only qualify for the top prize if you're betting the highest possible amount per spin. Trying to win can therefore be quite expensive. While you do have to be in it to win it as they say, for many players the very low chances of winning make progressive jackpots not worth playing.
Ignore Hot And 'Cold' Slots
You may have heard slots being referred to as 'hot' or 'cold'. A slot that's 'hot' is one that's just paid out quite a large sum of money. A 'cold' slot, on the other hand, is one that hasn't paid out for a while and should be due to payout a large win soon. Many people believe slots go through cycles of being hot and cold, however there's no truth to this at all. Every slot's spins are completely individual. That is to say that each single spin is completely unaffected by all spins before it. If you look at a slot's payout history, there may be patterns that are noticeable, but they're only there by coincidence. There's no guaranteed way of predicting when a slot's going to pay out.
If you hear about a particular slot being cold, you shouldn't spend lots of money playing it hoping for a win. After all, even if the slot hasn't actually paid out recently, that doesn't necessarily mean it's going to pay out anytime soon. Likewise, if you hear about a slot being hot, even though it's just paid out there's every chance it could pay out again sooner rather than later.
So, when looking for online slots to play, ignore any indications of slots being hot or cold. Past payouts don't affect your chances of winning at all. Play any slot and you can still win no matter how recent the last big payout was.
Switching Slots
When having a gambling session, you may want to play a single slot. However, you may decide to play more than one slot – if you do this, how do you know when to switch from one to the other? The only time you should really not switch to another slot is when you're close to unlocking some sort of bonus feature in the slot you're currently playing. Some slots require you to collect special symbols and once you've collected enough, you'll get to play a bonus round. If you need to collect five scatters, for example, it doesn't make sense to suddenly start playing another slot when you've collected four scatters and you're close to triggering the bonus round.
Of course, you should also not switch if you're in the middle of a bonus round, e.g. free spins. If there's any kind of special feature that's in play, you should wait until it's over before you think about quitting and playing another slot instead. After all, bonuses don't come around that often and when they do, they can be worthwhile, so it makes sense to take full advantage of them whenever you have the opportunity to do so.
So when should you switch? If a slot's not doing it for you, the best time to switch and play another slot instead is during the base game when there's no special features at all going on. Also, make sure you're not close to triggering any special features.
When Slots Aren't Fun, Stop Playing
Just like any other online casino game, slots are meant to be fun and enjoyable above all else. When playing slots, you should always be having a good time, even if you're not winning. If you stop enjoying slots for whatever reason and there's no fun in them any more, it's best to stop playing altogether. After all, why would you want to waste money on something that's no longer fun? It's better to spend your money on other things that are more worthwhile; or better yet, save it for a rainy day.
Slots at their heart are designed to be entertaining. Sure, they can pay out and give players some substantial wins every now and then, but they're never meant to be guaranteed ways of earning a bit of extra money. Remember that there's more to slots than the payouts. Even if you're playing to make a profit, take some time to appreciate how the slot works as a game and learn to enjoy it more. Feel excited when you eventually trigger a special feature, appreciate all the fine details and take in the immersive graphics that bring the slot's story and characters to life. If you focus too much on the winning, you'll soon forget what slots are mainly about. See winning as a bonus that may come around every now and then. If you do win, great. If you don't, just be glad at least that you're playing a brilliant and exciting casino game.
Try Online Slots Strategy Tips For Free
If you like the sound of these slot machine tips, it's a good idea to try them out when playing slots for free first. By doing this, you can practice as much as you want without having to pay. Most online casinos offer demo play. This is a special mode where you can play slots (and most other games) for no charge at all. The game you're playing uses virtual money – there's no real money involved so no matter how much you win or lose, your casino balance is completely unaffected. Most of the time, you need to have an account at an online casino before you can access the casino's games in demo play.
Another way you can play slots for free is by using casino bonuses. There are all sorts of promotions offering various bonuses as rewards – many of these can be used on slots. The two most common types of bonus to look out for are bonus money and free spins. Bonus money can be claimed from deposit bonuses and is free casino credit that you can use to play games; however, you can't withdraw it. Most of the time, you make a deposit and a percentage of that deposit is credited to your account as bonus money on top of your deposit. The majority of casinos have such an offer in place for new players when they sign up. As for free spins, they're simply spins of slots that you get to use for no cost. Each spin is worth a set amount of money and can be used on just one slot, a small selection of slots or even every slot a casino has to offer.
Check the casino's promotions section regularly and sign up to the newsletter if there is one so you can find out about all the latest special offers as soon as possible. If the casino has a loyalty scheme, work your way up it and some of the rewards you earn may include free spins and/or bonus money you can use to spend on slots. If there's a VIP club, you should consider becoming a member as this is where you'll find the casino's very best promotions and bonuses. However, most casinos restrict access to the VIP club to the big spenders and the most dedicated of players, so you have to spend a lot of time and money at the casino if you're to receive an invitation.
When using casino bonuses, you are playing for free in the sense that you're not technically paying to play. However, real money given to you by the casino in the form of bonus money or free spins is used for the bets. Therefore, whenever you spin the reels of a slot with a casino bonus, you stand a chance of winning real money. This is a major perk that using bonuses has over demo play. However, a disadvantage is the fact that in demo play, you can have as many turns as you like; when using bonuses, you have a limited number of turns before the bonus runs out.
Summary
As you can see, there are plenty of slot machine tips you can use to improve your chances of doing well while playing online slots. Remember that even if you use all of the slots tips mentioned on this page, you won't be guaranteed a win since slots are games of luck. However, what these tips can do is help protect your balance over short- and long-term play and reduce your chances of racking up big losses. Try these tips out yourself and take advantage of free play whether it's through demo play or casino bonuses. When you start playing with real money, hopefully these tips for slots will come in handy and will help maximise your potential to win big!
Our Most Popular Slots Articles