5 Reel Slots – Best Online Slot Games with 5 Reels
If you're wondering what 5 reel slots are, you've come to the right place. On this page you'll find a summary of what they are and how they work, as well as a list of some of the biggest, most popular ones around. Have a read then play free 5 reel slot games yourself, or have a go with real money and you might even win.
What are 5 Reel Slots?
The way slots are set up is straightforward. They're played on a grid that has a number of rows and columns. The columns are commonly referred to as 'reels'. Most of the slots you'll find at online casinos today have three rows and 5 reels, giving the grid a total of 15 positions. Whenever you place a bet on a slot, the reels are spun and a new line-up of symbols appears on each one. If you have enough matching symbols in the right place, you'll be paid accordingly.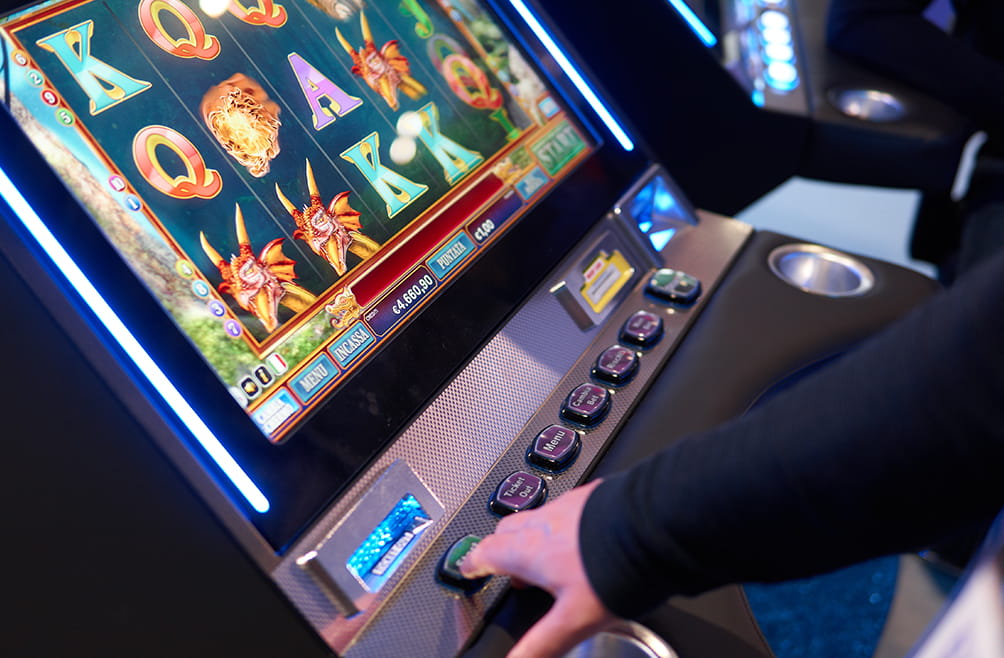 Brief History Of 5 Reel Slots
The very first slot machines appeared in the late 19th century in New York. They were large gaming machines that required you to pull a lever on the side to spin the drum, which was made up of three separate reels. They had a single row and if the right combination of symbols appeared on this row, you'd win.
Believe it or not, slot machines were actually derived from poker games. In poker, your objective is to form the best hand possible with five cards. Gaming machines weren't advanced enough to handle the many different combinations you could get from a hand with five cards, so two hands were dropped. To make the game even simpler, playing cards were removed from the reels and a smaller number of themed symbols were added instead. A lot of the time, the symbols were themed after fruits because the earliest prizes you could win were fruit-flavoured pieces of chewing gum.
Slot machines grew in popularity and found their way to casinos, pubs and entertainment venues in many countries around the world. As time passed, technology became more advanced and so did the slot machines. Fast forward to 1976 and the first video slot machines were launched. These were so-called because instead of using a drum with reels and symbols, they had everything displayed on a small video screen. Even though a physical gaming machine was still used, the actual slot part was now digital.
Video screen technology enabled slot machines to become much more advanced. By the 90s, 5 reel slot machines were starting to emerge. These were capable of offering more paylines and features than earlier slots; they also had higher payouts. Gameplay features, including special symbols, bonus rounds and the way pays were determined, became more complex and drew more players in. It wasn't long before 5 reel slot machines were preferred by more players than 3 reel slot machines.
When the first online casinos launched in the mid-90s, a lot of the slots that made their way online had 5 reels. This was because at the time, 5 reel slot machines were the big thing in the world of gambling, so it made sense to create entirely digital versions of them for the new and emerging online gambling market. Providers would still create 3 reel slots for online casinos, but they would mostly focus on 5 reel slot games.
Why Play These Slots?
If you're after an online gambling experience that's enjoyable, fast-paced and entertaining, you should stick with 5 reel slots. These casino games are lots of fun to play and are entirely based on luck, so there's no skill or strategy involved at all. You simply place your bet, spin the reels and hope to land a winning combination or trigger a bonus feature. Most online casinos have hundreds of online slots waiting to be played; some of them even offer over 1,000. What makes 5 reel slot games so appealing is that they're so diverse. Not only do they have all sorts of exciting special features, they also come in a broad range of themes, from the wild west and outer space, to ancient Egypt, the Far East and many, many more. You'll even find lots of branded 5 reel slots. These are themed after popular IPs, such as movies, TV shows, celebrities and musical acts. 5 reel slots can be very creative and immersive; there's really no limit to just how good they can get!
Playing For Free
If you want to play free 5 reel slot games, the great news is that there are loads of opportunities for you to do so. Most online casinos offer demo play, a special mode that lets you play for free whenever you like and however many times you like. Most of the time, you can only play a casino's games for free if you've signed up and had your account authenticated. Once you've got this all done, you'll be able to play as many free 5 reel slots as you like – you can also try out most other games (except for live dealer ones) without having to pay anything at all.
When you're playing free 5 reel slots, the games run as usual. Virtual money is used – there's no real money involved at all. This means that if you happen to win while playing for free, unfortunately you won't have won any actual money. Likewise if you lose, you won't have lost any actual money either. Whenever you opt for demo play, your casino balance isn't affected at all.
Demo play is great because it lets you try out a casino's slots and other games without you having to risk your money. If you're a beginner, you should play free 5 reel slot games first so you get a feel for how the games work. Then, once you're confident playing them, feel free to switch to real money. Demo play also appeals to those who simply want to play and enjoy the games as they are without necessarily having to gamble.
How Often Do These Slots Pay Out?
The term 'volatility' refers to how often slots pay out and how big their payouts should be. Most slots have one of three volatilities: low, medium (or standard) and high. If a slot's got a low volatility, this mean the slot should pay out fairly often and that the payouts should be on the smaller side. Those with a high volatility don't pay out that often but when they do, the amount of money you receive should be fairly large. Medium volatility slots are a sort of compromise between low and high volatility slots. They offer plenty of lower payouts as well as the occasional larger payout.
You should stick to low volatility slots if you don't want to take risks or you're sticking to a smaller budget. They're also good if you want to have a longer gambling session and are recommended for beginners due to their low risks.
High volatility slots are ideal for those who enjoy taking risks, especially if there's the potential of a large payout. They're a lot more thrilling than other slots, though you may have to wait a while before a win comes around. If you're going to play these slots, you should have a larger budget.
As for medium volatility slots, they're a good option for those who want to play it safe while still having a chance of a larger win. They can be more exciting than low volatility slots since there are bigger prizes up for grabs, though the payouts won't be as large as what high volatility slots offer.
Most of the time, slot providers don't publish the volatility of their games. Before playing a 5 reel slot, do a quick online search and you should find out easily enough what its volatility is. It's a good idea to start off with low volatility slots then work your way up to medium volatility slots, before going on to high volatility slots if you're prepared to take the risk and have got the money to spend.
You may come across the term 'variance'. This means the exact same thing as volatility. Some casinos and review sites prefer one term, while some prefer the other.
Remember that if you're playing free 5 reel slots, the payouts work as usual, only it's virtual money you're paid if you win. Any 'winnings' get added to your virtual credit balance, but you can't withdraw any of it.
What's RTP?
Another important term to consider is RTP. This stands for 'return to player' and is displayed as a percentage.
There are two types of RTP: actual and theoretical. The actual RTP covers a single spin or a range of spins. If you spin the reels of a slot one time, for example, and you receive a payout equivalent to 90% of your bet, the RTP for that one spin is 90%. Let's say you play twice: your first spin doesn't produce a win, whereas your second one gives you a payout worth 150% of your bet. To get the actual RTP of the slot for these two spins, you'd take the total payout (150%) and divide it by the number of spins (2) to get an actual RTP of 75%. This figure can vary greatly: most spins won't produce any wins, while some will pay out sums smaller than your bet and some will produce wins many times bigger than your bet.
Then there's the theoretical RTP. This is the one you'll see displayed alongside a game's details and information. You may also find it listed in a 5 reel slot machine's pay table. What this figure refers to is roughly how much of your bet, on average, you can expect to be paid over long-term play, i.e. thousands or even millions of spins. Gonzo's Quest by NetEnt, for example has a theoretical RTP of 95.97%, for example. Your payouts won't equal 95.97% of your bet all the time, but the more you play and win, the closer to this figure your average payouts should get. The higher a slot's theoretical RTP is, the more money you should, in theory, be paid in winnings as you play – this will become more apparent the more you play.
Bonus Features
Most 5 reel slot games come with a number of bonus features to make gameplay more exciting and compelling. These can include symbols that have special effects, bonus rounds with extra chances to win and mini-games with guaranteed wins. Here are some of the more common bonus features that 5 reel slot games can have: -Avalanches. Also known as cascades or rolling reels, avalanches are where all winning symbols are removed from the grid and the empty gaps they leave behind are replaced by symbols falling from above. This can create new winning combinations. Thanks to this feature, you can win more than once from just one spin of the reels.
Bonus Game. A growing number of slots have a bonus game that's played out like an arcade-style game and often involves a level of skill. The better you do, the more you'll win.
Expanding Symbols. These are symbols that expand to fill the entire reel they're on once they've landed. Some may expand horizontally across a row.
Free Spins. As the name suggests, these are spins that don't cost you any money. Even though you're not paying for them, you can still win real money. Most 5 reel slots have a free spins round; some even have all free spins wins multiplied, giving your wins extra value.
Gamble Feature. Many slots have a gamble feature that gives you the chance to increase the value of your winnings. If you decide to gamble, you'll have a 1/2 chance of doubling your winnings, or even a 1/4 chance of quadrupling them. You can do this a set number of times or even an unlimited number of times, though there's always a risk of losing all your money.
Multiplier. This is a symbol that multiplies the value of your winnings by a set amount.
Pick-Me Game. A mini-game where you pick from a number of selections to receive payouts. Some of these games have several rounds where the prizes get more valuable with each round.
Progressive Jackpot. This is a jackpot that grows in size every time someone places a bet on the slot. It keeps on growing until it's won. Some progressive jackpots can pay huge sums of money – some have even turned very lucky players into millionaires.
Respin. If you receive a respin, certain symbols, or even one or more reels, are held in place while all others spin. This gives you an extra chance of winning.
Scatter. Most scatters trigger a slot's bonus feature if you land enough of them. They may also offer payouts, though unlike standard symbols they don't need to be on a payline to award you a win.
Stacked Symbols. Some slots have symbols that are stacked on top of each and appear several positions high. They may fill an entire reel when they land.
Sticky Symbols. If a symbol's sticky, it remains where it is for a number of spins, typically until a free spins round of respin feature is over.
Wild. A wild can substitute for any standard symbol to help you form a winning combination and get paid.
And Slots With Fewer Than 5 Reels?
Quite a few online slots are designed to have three reels, just like many of the early fruit machines. These slots usually have three rows as well, giving the grid a total of nine positions. Some of them don't have many features at all, while others have a few to make them more exciting. With these slots, the number of paylines is much smaller – many of them have just a handful of them, so there aren't that many ways you can win.
Even though 3 reel slots are a lot more stripped back than 5 reel slots, they remain popular. Many players enjoy the simpler, uncomplicated gameplay they offer. Some great examples of 3 reel slots worth playing include Magic Stars 9 by Wazdan, Triple Dragons by Pragmatic Play and Golden Tiger by iSoftBet.
A handful of slots, such as Wazdan's Valhalla and Genesis Gaming's Gods of Giza, are played on grids with four reels. An even smaller number of slots have just one reel: Golden Stripe by OneTouch is a prime example. Landing special golden symbols increases the payout levels for all symbols. The more golden symbols you land without losing, the higher your payouts will be.
Best 5 Reel Slots
Below you'll find some of the best 5 reel slot games out there to play right now. These are available to play at many top online casinos and are well worth checking out.
Starburst by NetEnt
Featuring bright, dazzling visuals, the space-themed Starburst has colourful jewels as symbols and offers quite simple gameplay. The low volatility slot's special features is Starburst Wilds: land a wild and not only does it expand to fill the reel, it also gives you a respin.
Mega Moolah by Microgaming
This African safari-themed slot is hugely popular because it also happens to be the world's highest-paying progressive jackpot slot. It's made its way into the Guinness Book of World Records and has paid out several seven- and eight figure sums in its time.
Rich Wilde and the Book of Dead by Play'n Go
Join adventurous explorer Rich Wilde as he uncovers lost secrets and treasures of ancient Egypt. This highly volatile slot has a free spins round where a symbol is chosen at random to become an expanding symbol. Whenever it lands, it expands to fill the reel, giving you more chances to win.
Wolf Gold by Pragmatic Play
Set out in the American wilderness, Wolf Gold is packed with special features. Have a go of this slot and look out for free spins with extra large 3×3 symbols and a respin feature where you can win one of three jackpot prizes.
Immortal Romance by Microgaming
Themed after vampire lovers, Immortal Romance is a creepy yet alluring slot that comes with no fewer than four free spins rounds. Each one offers a different number of free spins and a different special feature, including transforming symbols, avalanches and multipliers.
Dynamite Riches by Red Tiger Gaming
This mining-themed slot is highly volatile and comes with an array of special features. These include multipliers of up to x10, extra large 2×2 and 3×3 wilds, random wilds and low-paying symbols being removed for more valuable ones to take their place.
Age of the Gods: Epic Troy by Playtech
Inspired by ancient Greek mythology and legend, this slot has 243 ways to win on every spin and no fewer than four different progressive jackpots that can be won. On top of that, there are several respin features and a free spins round with only high-paying symbols and bonus symbols on the reels.
Conclusion
The 5 reel slots mentioned above are just some of the many thousands you can play right now at online casinos. Set aside some money to gamble with and you'll no doubt have lots of fun playing these highly themed slots that come with brilliant special features. Or, play free 5 reel slot games and enjoy the slots without having to spend money. While there are loads of these games already available, there are always new ones being developed, so keep your eyes peeled for the newest 5 reel slots to hit the market. Play at your favourite online casino and discover some of the best casino games around.
Our Most Popular Slots Articles