Slot Paylines – Full Slots Payline Guide
Paylines are without a doubt a fundamental aspect of slots. After all, they determine whether you win or lose. If you're curious to find out more about how paylines work, you've come to the right place. Keep on reading this slot machine payline guide to learn all about slots paylines.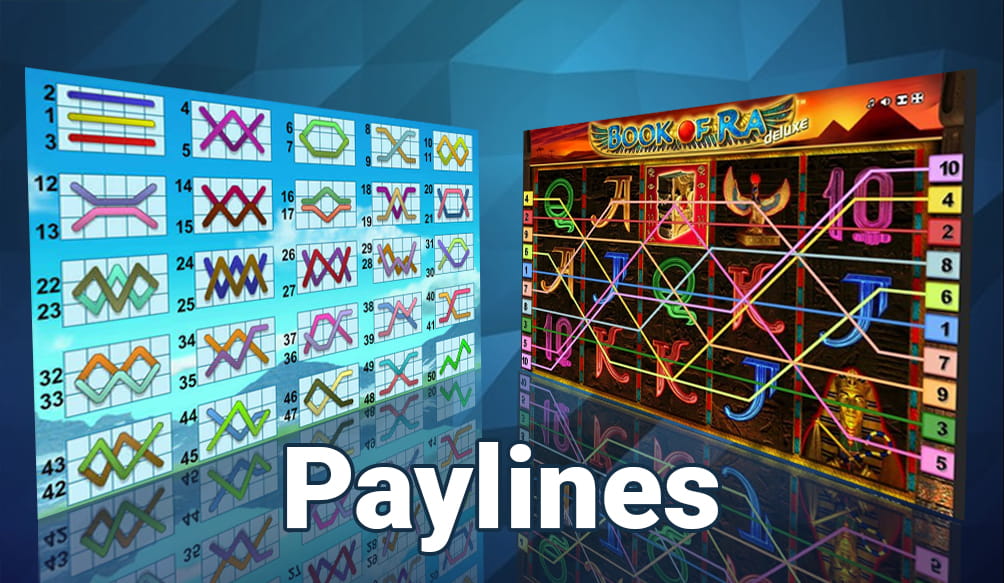 All About Slots Paylines
Let's go over the basics of how a payline slot works. All slots are played on a grid. For most of them, the grid is made up of three rows and five reels, or columns – this gives the grid a total of 15 positions. When you load a slot, there's an assortment of symbols visible, one for each position. You place a bet, spin the reels and a new line-up of symbols appears.
So what exactly is a payline? It's simply a line that goes across the reels covering one position per reel. If you land enough matching symbols on consecutive reels on this line, you'll win and get paid. Most paylines run from left to right. This means that the chain of matching symbols has to start on the leftmost reel, i.e. reel 1. If a slot's paylines run from right to left, the chain has to start on the rightmost reel (reel 5). For some slots, the paylines run both ways, so your chain of matching symbols can start on the leftmost or rightmost reel for you to win. The majority of online slots have around 20-30 paylines. Some have fewer, while others have more.
Most of the time, you only need three of the same symbol on a payline to win. The more matching symbols there are on a payline, the more you'll win. Bear in mind that you only get paid once per payline. If you land five of the same symbol on a payline, you've won with five symbols, but technically speaking you've also won with four and three matching symbols. However, you're only paid for the biggest win on each line (i.e. the five-symbol win). Thankfully, slots let you win on more than one payline at a time. If you land chains of high-paying symbols on lots of paylines on the same spin, you could be in for a huge payout.
There are two types of payline: fixed and adjustable. If a slot's paylines are fixed, this means that every single payline is covered by all bets. If a slot's paylines are adjustable, this means that you can choose how many paylines you want your bet to cover. Bear in mind that the more paylines you go for, the more your bet will cost, though the more chances you'll have of winning. After all, if you land enough matching symbols on a payline but that particular payline isn't covered by your bet, you won't win.
To find out what a slot's paylines are, simply consult the pay table. This lists all of a slot's features: as well as paylines, the symbols and their payouts are listed, as is information about special features and how to trigger them. The pay table shows each payline going across the slot's grid so you can see the lines you can win on for yourself. It also mentioned what direction the paylines run in.
All-Ways-Win
Back when the first fruit machines came out, they had a single row and a single payline. As slot machines became more advanced, they got more paylines. Many online slots are able to have a huge number of paylines thanks to the all-ways-win system. This basically makes every possible line across the reels into a payline. A standard three-row, five-reel grid has 243 possible 'paylines' that can run across it. Why 243? This is the number you get when you take the number of positions on each reel and multiply all these numbers together, i.e. 3 x 3 x 3 x 3 x 3 = 243.
If you come across a slot that uses the all-ways-win system, you're not restricted to landing symbols on just a limited number of set paylines to win. Instead, you win by symbols on consecutive reels (again, starting with the leftmost reel). Land three or more matching symbols on reels 1, 2 and 3 and you'll win – each symbol can be anywhere on its reel.
Of course, not all slots have three rows and five reels. For those with a bigger grid, the number of ways you can win also increases. If you're playing a four-row, six-reel slot with the all-ways-win system, for example, the number of ways you can win increases to 4,096, or 4 x 4 x 4 x 4 x 4 x 4. There are even some slots whose grid can expand during bonus rounds, giving you more ways to win than during the base game.
It's worth mentioning Megaways slots as well. These are slots that use the all-ways-wins system, but with a twist. Every time you spin, each reel can have anything from two to seven symbols on it. If you happen to have seven symbols on all six reels, the number of ways you can win is a huge 117,649! Most of the time when you play Megaways payline slots, you should have at least a few hundred or thousand ways to win.
Summary
Now you know all about payline slots, there's only one thing to do: play some slots yourself! Try out some regular slots that have standard paylines, or go for slots that use the all-ways-win system and play with huge numbers of ways you can win. Remember to check out the pay table first to see what slots paylines there are. If you're lucky enough, you'll land lots of high-value symbols on more than one payline and receive a hefty payout.
Our Most Popular Slots Articles